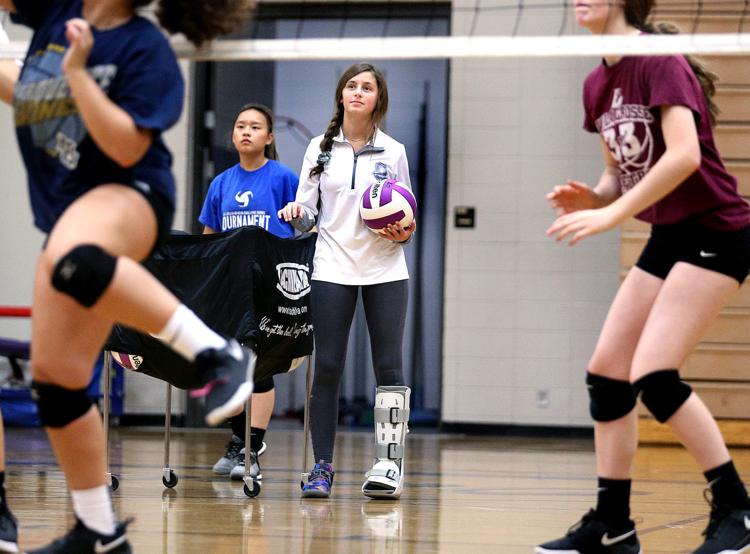 As a three-sport athlete, Devyn Schmeling is used to rolling an ankle and walking it off.
But when Devyn, a sophomore at Onalaska High School, came down awkwardly during a summer league basketball game at UW-La Crosse, she knew something was wrong.
"I went down to the floor, and my foot was just dangling there," she said. "I started screaming, because I couldn't feel anything."
Doctors found that Devyn had two broken bones, a dislocation, a high ankle sprain and detached ligaments — one of the more complete and gruesome leg injuries they can remember.
And they believe it could have been prevented.
"I've known Devyn for 10 years or longer, and I know how aggressive she is as a player, but could this have been avoided?" said Dr. Paul Molling, who works in family medicine for Mayo Clinic Health System in Onalaska, and who treated Devyn immediately after her injury.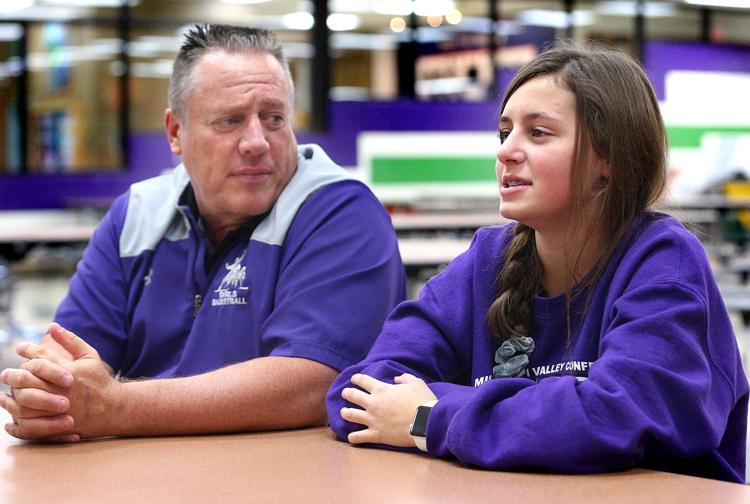 "It's hard to look back like that at an injury," he said. "But Devyn was doing 10 hours of activity, wearing herself down mentally and physically. And when you do that, your body doesn't respond as if it were fresh.
"I remember going home that night and thinking, 'What are we doing wrong with our kids?' "
Injuries to Devyn and a host of other student-athletes have caused doctors and coaches in the La Crosse area to reconsider how hard adults should be pushing children and adolescents, even in the highly competitive world of prep sports.
As a result, Mayo and UW-L have partnered to arrange a Youth Sports Safety Symposium, which they expect to hold annually. The symposium, set for Oct. 12, will include presentations by doctors and coaches, focusing on appropriate training and proper nutrition.
It's information Devyn wishes she'd had four months ago.
In what was supposed to be her summer break, she worked longer and harder than she had during the school year.
Devyn's days included an hour of strength and speed training, an hour of basketball, two hours of softball and at least one volleyball game. She remembers feeling fatigued, but motivated to push through it. She was hurt during the second of back-to-back basketball games.
"I really wonder if fatigue played a role" in the injury, said Shane Schmeling, Devyn's father and the Onalaska girls basketball coach. "If she'd been fresher, maybe she would have landed with more stability and only sprained her ankle.
"We spend so much time teaching basketball skills, how to play, but we don't teach nutrition or sleeping patterns or injury prevention. I don't think we're looking out for what's best for our kids, and as a basketball coach, I'm as guilty as anyone."
It wasn't his daughter's injury alone that caused the change of heart. On the teams he coached this summer, Schmeling said he noticed an unusually high number of ankle and leg injuries. And he suspects overtraining was at least partially to blame.
So, with the basketball season less than two months away, Schmeling is in no rush to get Devyn back on the court.
She's spent the past few months doing rehab and is about to start more intensive physical therapy, and after that, she'll have to relearn how to walk, how to run. By early next year, she hopes to be close to 100%.
"It's definitely been hard, because I'm used to being active and doing whatever I want to do," she said. "Now, I have to sit on the couch and watch everyone else do those things. I'm not going to push it, though. I'm trying not to do too much."
Doctors say that's the best thing she can do.
Dr. Andrew Jagim, head of sports medicine research at Mayo in Onalaska, said rest and nutrition will be critical as Devyn resumes training and practicing.
"I think a lot of people underestimate the amount of activity a lot of young athletes do, and with that comes high demands for proper nutritional intake," said Jagim, who recommends a diet of lean proteins, healthy fats and complex carbs. "It's especially important for young athletes, who are experiencing growth and development in puberty. They have to make sure that they're eating not just enough overall food, but also the right kinds of foods."
"We need to educate parents and coaches about what's best for our student-athletes — nutritionally, mentally and physically," Molling added. "The idea is to make our community better by doing what's best for our students."
Devyn, despite everything in front of her, expects to make a full recovery. She expects to return for the home stretch of the basketball season. And she expects to play a sport in college, whether it's basketball, volleyball or softball.
Spending time on the sidelines has both reinforced those aspirations and caused her to realize that they are not guaranteed. But taking better care of herself, she said, will only tip the odds in her favor.
"It's definitely given me a different perspective," she said. "I don't take things for granted anymore, and I won't do anything my body can't handle."
Get local news delivered to your inbox!
Subscribe to our Daily Headlines newsletter.