Hourslong delays for eastbound Amtrak trains arriving at the La Crosse station are not uncommon, but Amtrak's planned Twin Cities-Milwaukee-Chicago intercity passenger service aims to offer more reliable scheduling.
"This second train will be dedicated just between Chicago and St Paul. It will not go on beyond St. Paul, it will turn around and go back. So that is going to eliminate a lot of those delays already," said Trista MatasCastillo, Ramsey County commissioner and chair of the Great River Rail Commission, a group of governmental officials advocating for the passenger rail project.
Service is set to begin in 2024 or sooner, according to the Wisconsin Department of Transportation website. Amtrak spokesperson Marc Magliari confirmed riders should expect service to begin according to the state agency's timeline.
The train will run from Chicago to the Twin Cities on existing tracks used by Amtrak's Empire Builder and will replace and extend one of the seven Hiawatha services between Milwaukee and Chicago.
"For tourism, for students, for businesses, there's a huge benefit," said Peter Fletcher, La Crosse Area Planning Committee executive director. "With the added service, two trains a day, there are opportunities to go down on one train and come back on another, so that opens up a lot of business opportunities."
The arrival of a second train from Twin Cities, Milwaukee and Chicago comes as ridership rebounds from the pandemic. In fiscal year 2019, between October 2018 and September 2019, there were over 970,000 boardings and exits on the Amtrak trains in Wisconsin and over 130,000 in Minnesota.
Ridership in both states sank over the next two years because of the COVID-19 pandemic, but Amtrak reported total ridership grew by 89% in fiscal year 2022 with overall ridership returning to 85% of pre-pandemic levels. While state-specific data is not available for fiscal year 2022, ridership on the Hiawatha route more than doubled and ridership on the Empire Builder route increased by over 37%.
The Twin Cities-Milwaukee-Chicago second train is expected to serve more than 124,000 riders in its first year of service.
Only one passenger train runs in each direction from Chicago to St. Paul a day on the Empire Builder, which continues west to Seattle or Portland. Eastbound trains are often delayed before reaching St. Paul.
According to Amtrak data for fiscal year 2021, 57% of Empire Builder riders arrived at their destination on time, compared to nearly 95% riders on the Hiawatha.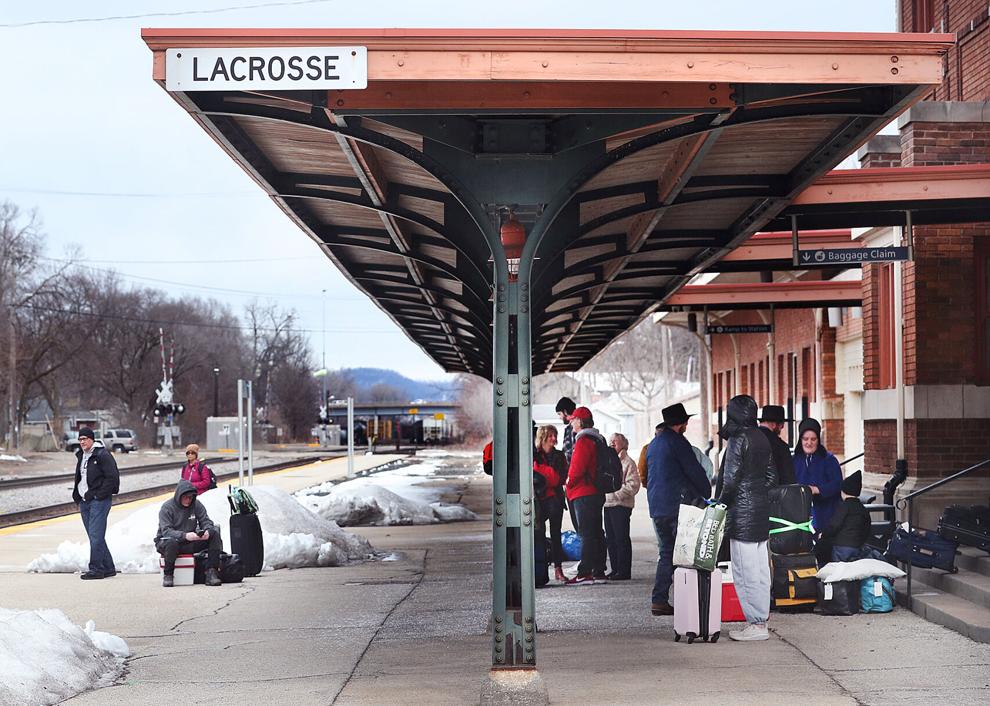 "The longer the route, the more opportunity there is for disruption at all the stops along the way. That's a lot of rail to keep cleared, weather, floods, snow," said MatasCastillo. "Right now passenger rail stops for freight, and they're using the same track."
Track improvements
The second train project includes upgrading infrastructure between Winona and La Crosse that has caused increased conflicts with passenger and freight rail. "It's not just passenger improvements here, it's also freight improvements," said MatasCastillo.
Local government agencies in Wisconsin and Minnesota have been interested in expanded passenger rail service for over a decade, after then-Wisconsin Gov. Scott Walker scrapped high speed rail plans.
"The discussion changed from, 'Well, this is what we have as far as our existing service, how can we improve it?'" said Fletcher.
The Minnesota Department of Transportation in 2012 requested Amtrak to study the feasibility of adding a second train to run between Chicago, Milwaukee and the Twin Cities. The passenger rail operator issued a report in 2015 finding sufficient demand to expand operations.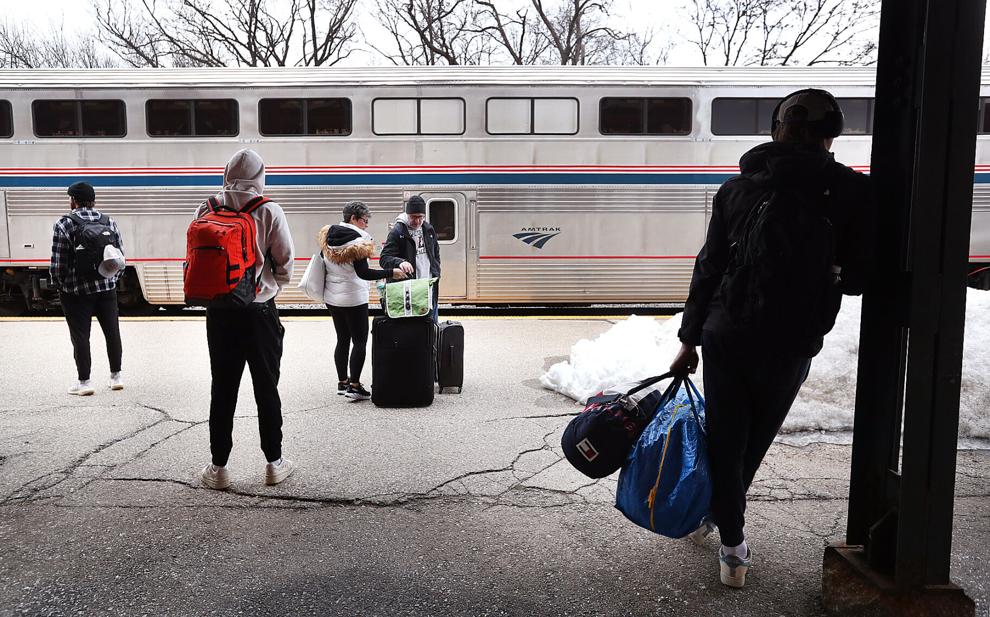 In the following years, the state transportation departments and partner organizations needed to complete a variety of environmental, engineering and service studies while applying for federal grants and securing state funding.
Railroad improvements in La Crosse, La Crescent and Winona total $53 million, with a Federal Railroads Administration grant covering 60% of the cost and Amtrak committing $5 million. Wisconsin and Minnesota provided over $6 million and $10 million respectively.
"In Minnesota, it took us a couple of years to get the funding dollars allocated," said MatasCastillo. "The $10 million dollar match from Minnesota came into play, which gets us now moving to the next phases."
The state governments of Wisconsin, Minnesota and Illinois are in negotiations to split annual operations costs. An additional federal grant of $12.6 million will fund 90% of operating costs in 2024 and 2025.
After a period of public comment last year, the final design plans for rail improvements are scheduled to be completed this year with construction starting in 2024 and ending in 2025. Ongoing supply chain issues may make it difficult to secure the materials needed for construction and train engines, said MatasCastillo.
"We'd have to have available rail cars to assign and crews that are trained to operate," said Magliari. "The Empire Builder already exists, we have crews that are qualified on the route, that is an easier hurdle to get over."
Infrastructure improvements include track extensions and signal upgrades aimed at reducing conflicts between passenger and freight trains and increased speeds and platform upgrades are planned for the La Crosse and Winona stations. Following a brief closure due to a staffing issue, the Winona station has reopened, said MatasCastillo.
Drivers also can expect safer train intersections and shorter waiting periods at gates, said Fletcher.
"For the long-term operation of the service, the corridor improvements are going to make it run more efficiently in avoiding any delays," said Fletcher. "Because of those improvements, the freight movement through this area will be better, safer."
Under an agreement with Amtrak and Canadian Pacific, which owns most the rail corridor, service could begin before construction starts in 2024.
"The opportunity for an early start is something that would be great if it could happen but we'll wait and see. We know it's certainly coming in the future," said Fletcher.
25 must-visit hidden gems from across the US
25 must-visit hidden gems from across the US
The World's Largest Mailbox, Casey, Illinois
Mermaid statues and European influence in Solvang, California
Salty dunes at White Sands National Park in Tularosa Basin, New Mexico
The world's only Corn Palace in Mitchell, South Dakota
On the set of 'The Truman Show' in Seaside, Florida
Underground waterfall in Ruby Falls, Tennessee
Bishop Castle in Rye, Colorado
The wonders of Fly Geyser in northern Nevada
Wild horses in Assateague Island
Byodo-In Temple and the Japanese American experience in Kaneohe, Hawaii
Take a dip at Hamilton Pool Preserve in Travis County, Texas
Escape to Apostle Islands in Lake Superior, Wisconsin
First National Monument in Devils Tower, Wyoming
The colorful Heidelberg Project in Detroit, Michigan
Going up the Fenelon Place Elevator in Dubuque, Iowa
Explore Mackinac Island in Michigan
Brick ruins at City Market Catacombs in Indianapolis, Indiana
Millionaire Village in Jekyll Island, Georgia
Yellow brick road at the Oz Museum in Wamego, Kansas
A macrocosmic adventure at Meow Wolf in Santa Fe, New Mexico
Mile High Swinging Bridge in Linville, North Carolina
Petrified Forest National Park in Arizona
Winterthur Museum, Garden and Library in Winterthur, Delaware
Drive through Antelope Canyon in Page, Arizona
Mendenhall Glacier waterfalls and icebergs in Juneau, Alaska