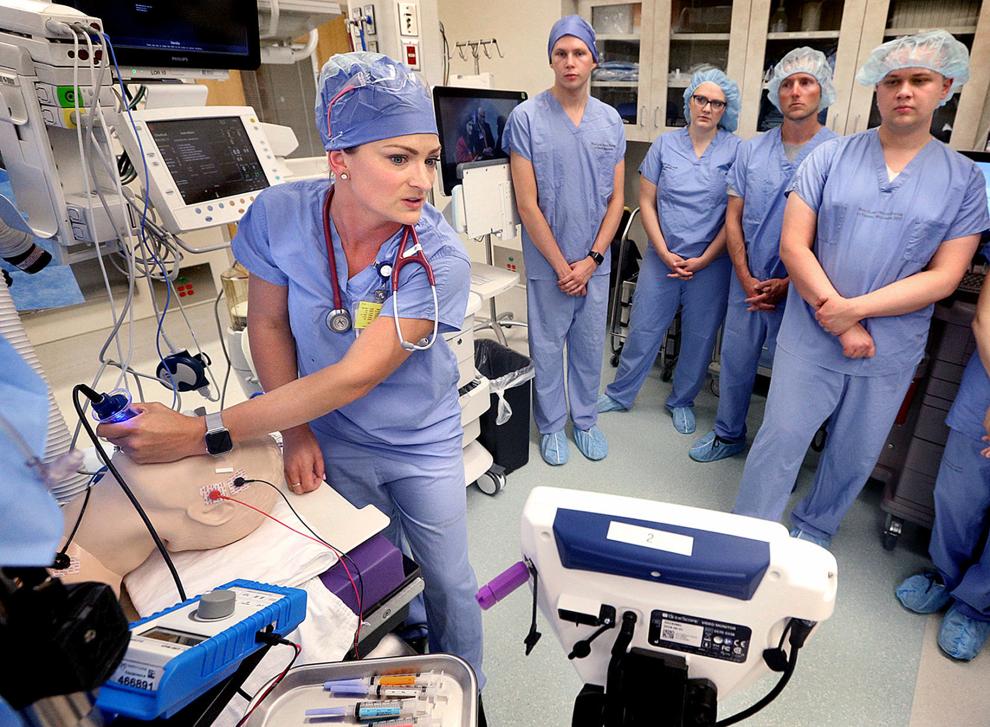 Education and training are the fundamentals, but the best anesthetists also come armed with a joy for human interaction, a love of learning and a passion for collaboration.
"There are so many different people you connect with," says certified registered nurse anesthetist Jessica Peterson. "You feel like you're contributing to the patient and to the other (professionals) in the operating room. I find the direct patient care really rewarding — making the patient feel safe and cared about and as comfortable as they can be during a surgical procedure."
Peterson, along with fellow CRNA Michelle Dahl, gave 20 individuals a peek at their role in the operating room during an Anesthesia Career Day clinic Saturday morning at the Mayo Clinic Health System Center for Advanced Medicine and Surgery. Attended by college nursing students and practicing nurses, the clinic combined classroom and hands on learning, with attendees donning scrubs and masks for the operating room tour and simulation exercises.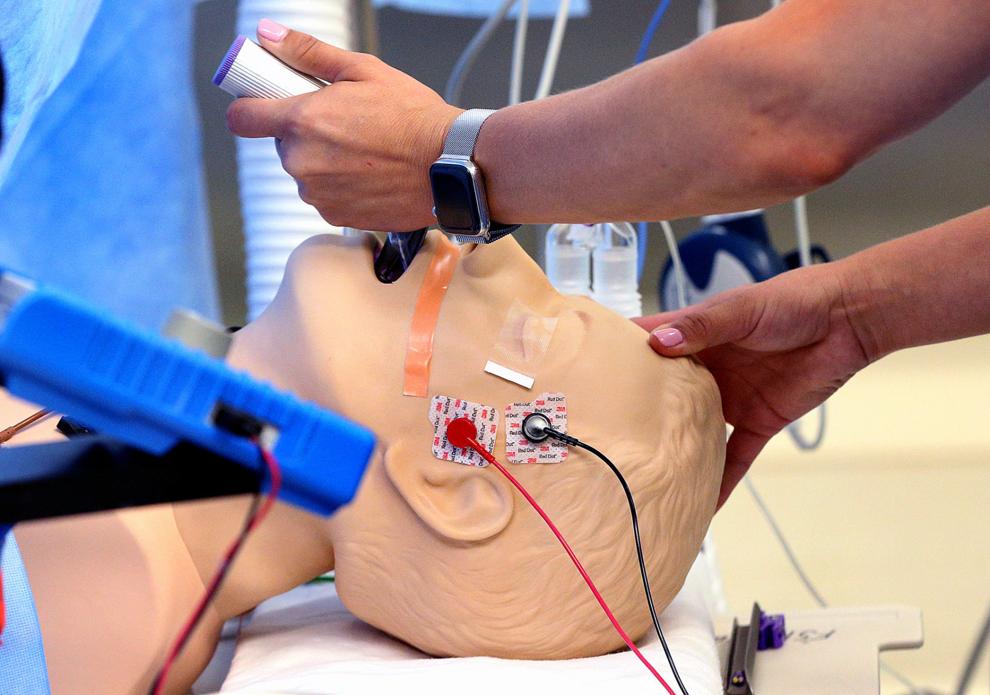 Offered twice a year, the clinic begins with an overview of HIPAA laws and confidentiality and an introduction to nurse anesthesia, including how their role interacts with those of the technical and surgical staff, whether the procedure calls for general or peripheral anesthesia and evaluating medical history and age to determine the adequate dosage. The job doesn't end once the the anesthesia is administered — the anesthetist is responsible for monitoring vitals and the level and depth of the anesthesia for the duration of the procedure.
"You need the right sedation and pain medication to keep the patient comfortable, help prevent nausea and vomiting and get them back home as quickly as possible," Peterson said.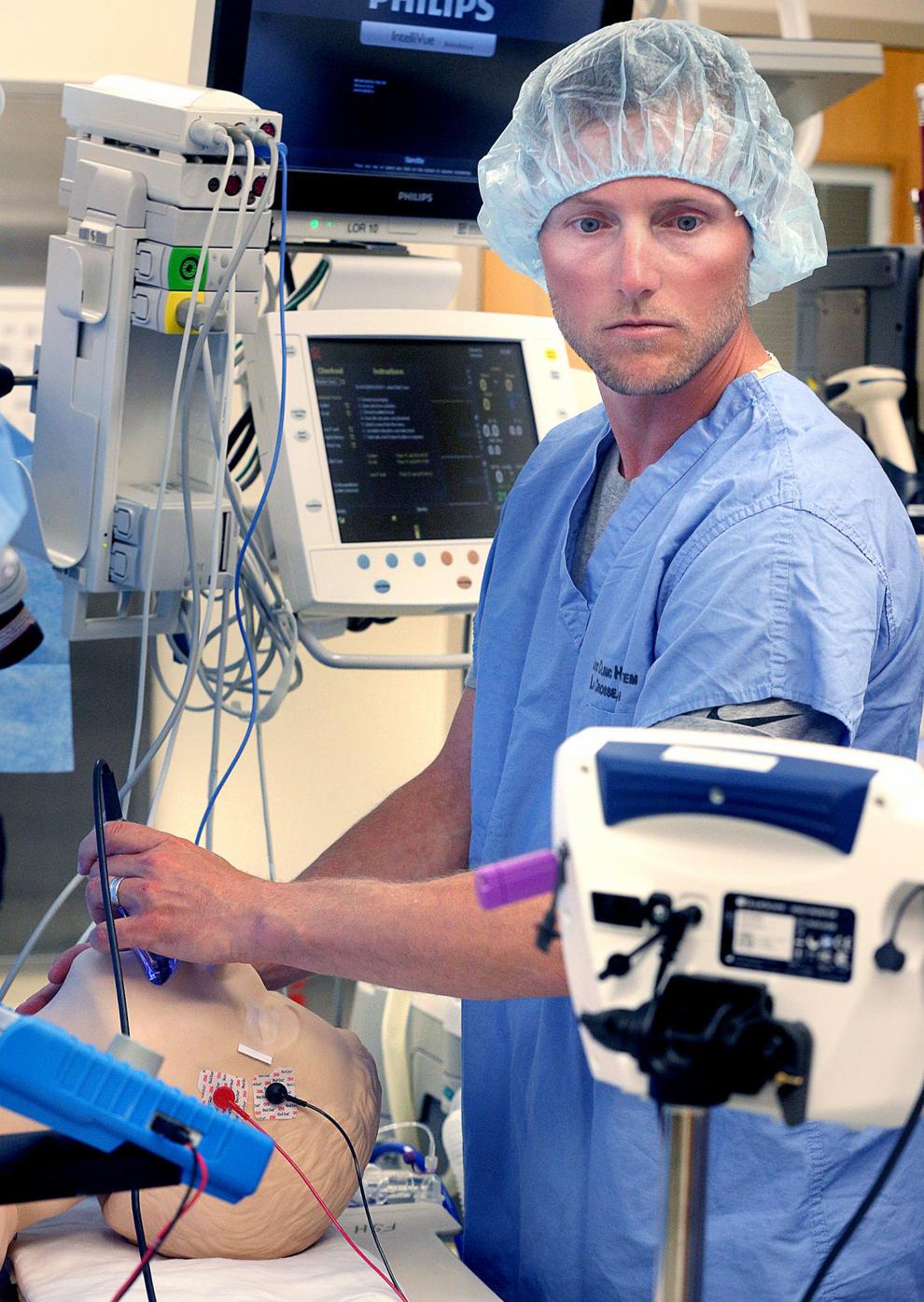 Education and course of study for a career in anesthesiology includes science, physiology, pathophysiology and pharmacology, followed by training in a clinical setting. Demonstrating a bit of the latter, Peterson and Dahl simulated general, peripheral and neuraxial anesthesia on dummies, allowing students to explore different pieces of equipment and ask questions.
Keeping up to date "with the ever-evolving medical technology," Dahl says, is the most challenging aspect of the career, and notes an attention to detail and a genuine desire to put people at ease in a stressful situation are key.
"It's a great opportunity to make a difference in a patient's surgical experience," Dahl says of her job. "You're there to take care of them during the entire perioperative period."
"It's a great opportunity to make a difference in a patient's surgical experience. You're there to take care of them during the entire perioperative period." Michelle Dahl, CRNA
"It's a great opportunity to make a difference in a patient's surgical experience. You're there to take care of them during the entire perioperative period."

Michelle Dahl, CRNA