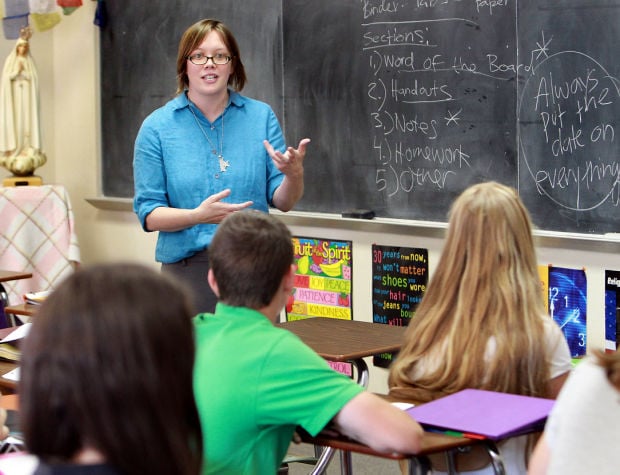 The spirit of Christmas is in every lesson Sister Julia Walsh teaches.
The Aquinas High School theology teacher made a pledge to celebrate the holiday each day this year when other people were packing away ornaments and dragging dried-up trees to the curb.
Months in, gimmicks have lost their luster, but Walsh keeps the spirit alive in her Scripture class. Learning theology between algebra and history class has the unique effect of forcing students to apply religion to other things, Walsh said. By going back to the messages of joy and love so common to the holidays, Walsh hopes to teach her students how to be peacemakers.
"I want every single student to know that they are loved," Walsh said. "That's kind of my self-evaluation."
The lessons Walsh covers in her Scripture class at Aquinas can't be learned in any public school, and the same goes for the required reading.
"I see that many of you have these flexible Bible covers," Walsh said to a new group of students. "They're probably not going to do the best job."
Walsh, a Franciscan Sister of Perpetual Adoration, teaches the Bible to incoming freshmen. She covers the Old Testament and New Testament, but starts each year with an important precursor.
"The first thing we study is human dignity," Walsh said.
The Christian belief that all mankind is made in God's image is central to all of Walsh's lessons. Sharing her Christmas experiment with students helped give them a greater understanding of the holiday — and their faith.
Students got a kick out of Walsh's journey.
"She just, like, brought a lot of Christmas cheer to class," said Maya Walters, 15, an Aquinas sophomore.
Megan Hansen, 15, laughed as she remembered Walsh wearing a Christmas sweater to school one day in April.
But year-round Christmas was more than just kitschy fun for students.
Hansen said she also learned the value of helping other people in need.
"It shouldn't just be a one-day-a-year type thing," Hansen said.
For Walsh, the commercial side of Christmas got hokey real fast. She lost a taste for cookies a couple months in. A small Christmas tree and Nativity scene on the classroom windowsill are some of the few signs of her lasting holiday spirit.
Instead of treats or decorations, Walsh's ongoing Christmas is represented by an internal mission.
"The meaning has shifted," Walsh said. "To being about, how do I communicate joy and peace every single day?"
The same mission carries over to her classroom. She started the second day of class with a Christmas reading from the Bible for new Aquinas freshman.
They come excited and nervous about a new school, a new year. Her goal is that they learn how to be a "loving peacemaker in a chaotic world," Walsh said.
It all comes back to human dignity.
"I hope that my teaching style instills within the students a realization about their own dignity," Walsh said. "And what it means to honor the dignity of others."