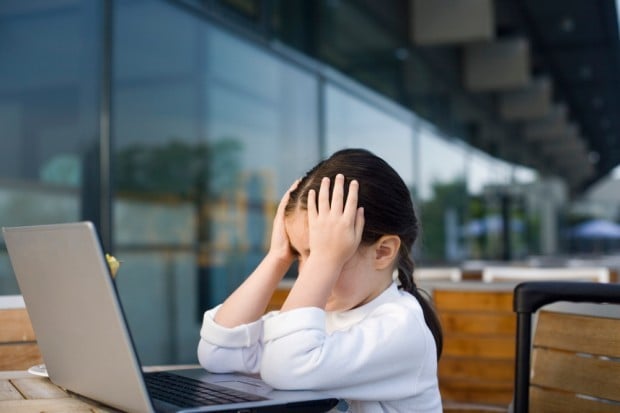 Stress, anxiety, panic disorders, depression, obsessive compulsion and sleep deprivation. Physical and emotional issues usually affecting some adults are now the signs of today's troubled kids.
Elementary-age children are being treated for depression, and high school guidance counselors say mental health issues are on the rise.
Franciscan Skemp Behavioral Health clinical therapist Christine Hughes is among the local experts who see an increase in elementary, middle and high school students battling emotional disorders. Many are pushing themselves too hard and are driven to achieve.
"I figure kids are more stressed out. ... They have homework from kindergarten," she said. "I think it has something to do with the increased demands on kids academically that they're not just all skipping on a playground and having a great day."
Family issues can be the trigger; so can testing or relationships or varied expectations, Hughes said.
Hughes and others say kids are sleep-deprived, and despite often being high achievers, they exhibit low self-esteem and resort to self-mutilation that includes cutting and eating disorders.
"We need to stop ourselves and the notion that we are ... tied to technology and need to communicate and have a need for things and perfectionism and certain standards," said Randy Kahn, a Family & Children's Center therapist who works in the agency's Viroqua office.
"We really bought into this weird picture, and yet something so obviously is out of whack in so many serious, troubling ways, and we don't do anything about it," Kahn said.
Cookie cutter designs in education aren't working, society has bought into media and capitalism, and some children are under tremendous pressure to meet the standards of annual tests, Kahn said.
"There are probably plenty who manage stressors fairly well, but what I see is an epidemic of anxiety disorders. We are a culture of high anxiety," he said.
Keely Rees, associate professor of health education and health promotion at the University of Wisconsin-La Crosse, sees it as a cycle that starts with parents who feel like they have to keep up with what other parents and kids are doing.
And while research has shown a positive correlation between student involvement in school activities and success, Rees worries about those who take it to extreme.
"If parents would do one thing at a time - maybe music or some physical activity thing - but there is no stopping for some people," she said. "And instead of picking one or two things, they're picking 10 things at age 4 or 5."
The over-booking translates into middle and high school, and Rees sees students arriving at college in high gear, choosing a major and two minors and opting to be involved in as many organizations as they can.
You have free articles remaining.
But while students tell Rees "it's the economy" and they want to get more experience, she continually sees "burned-out and stressed-out" 20-somethings.
"We need white space in our days and in our weeks as adults as well as kids," Rees said. "There's a line. Too much is too much. We want high-achieving students, but we also expect them to figure out who they are."
Some of the students therapist Kahn treats are taking time to look at what will make them happy - studying abroad, volunteering in a Third World country, traveling overseas and looking at careers that appeal to them intrinsically.
"They are doing what feels right," he said. "They are not continuing in this perfectionistic or feeling of imposed anxiety of where I should be and what I should do."
At-risk kids show many of the same signs, depression, discouragement, said Mark Stahlhut, who meets daily with a handful of area students through his work with Attic Correction.
"Almost all aspects of their life are not working well. They've given up on a lot of things and found other ways of coping, alcohol and other drugs, which is just another way to stop trying," Stahlhut said. "If they don't run the race, they can't win."
School teachers care and provide students with flexibility, but for some kids, he said, focusing on education isn't a priority.
"A lot of issues of life are played out in the school arena," Stahlhut said. "In some ways school is the one thing they can control. ... They don't have the power to succeed, but they have the power to fail."
To address how complicated and busy lives have become since the 1990s, First Congregational Church will sponsor the regional premier of "The Race to Nowhere: The Dark Side of America's Achievement Culture" Oct. 4 at the Pump House.
The 80-minute documentary was created by a concerned mother-turned-filmmaker who decided to take a look at the "hollow achievement and pressure to perform that has invaded America's schools," according to the film's synopsis.
The film aims to open viewers eyes to the price kids pay for the "race to nowhere" that includes stress-related illness, depression and burnout and young people who are unprepared and uninspired.
It is also "a call to families, educators, experts and policy makers to examine current assumptions" on how to best prepare youth for the future, according to the synopsis.
"Children, teens and adults too often do not have time to sit and be when our schedules are clogged with numerous activities and obligations. ... People are always running from one thing to the next," said Jerilyn Dinsmoor, co-director of Christian education at First Congregational Church.
"When our lives are completely over-booked and we're stressed, we aren't exploring the interior freedom I believe God desired for us," Dinsmoor said.
The church chose to sponsor the film as part of its year-long "Simply Living, Simply Loving" theme.
It will be followed by a panel discussions including teachers, school administrators, parents and students.