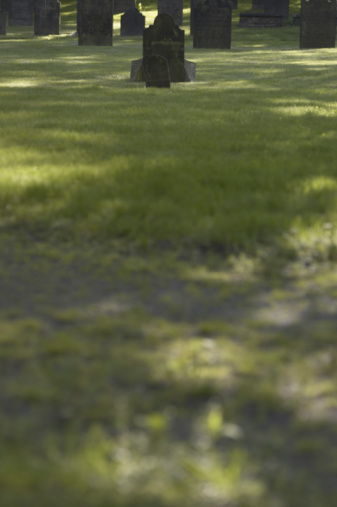 ST. JOSEPH, Wis. - Sister Helen Gohres wanted to leave the earth the same way she lived on it. Simply. The earth has nourished me all these years, the Franciscan nun would say. It's my time to return that nourishment.
Gohres died in September - at age 92 - in her bed at the Villa St. Joseph, a nursing home for members of her order, the Franciscan Sisters of Perpetual Adoration.
According to her wishes, her body was laid in an air-conditioned room, where it was washed and dressed in a simple cotton gown and laid in a shallow wooden box.
Friends and family paid their respects the next day and shared stories about her life at a wake.
On the second morning after her death, Gohres was wrapped in cloth and brought to the chapel for a funeral Mass and then carried to a grave on the hillside behind the nursing home.
Nuns picked sunflowers and balsam, which they dropped into the grave before covering her with soil.
Gohres' grave was the first spoke in a series of wheel-shaped clusters. A few months later, she was joined by her good friend, Sister Ruth Winnike.
When each cluster is full, an oak tree will be planted at the center. The rest of the 1.3-acre site has been seeded with short-stem prairie grasses and can accommodate hundreds more members of the congregation who choose natural burial.
"It's the way I intend to go," said Sister Lucy Slinger, the FSPA's environmental advocate.
Gohres' burial marked the culmination of a two-year effort in which the FSPA established the area's first natural burial ground - a new concept that harkens back to an older way of life, and death.
"It's not new," said Joshua Slocum, executive director of the Funeral Consumers Alliance. "It's just a return to what everybody did for thousands of years up until the late 19th century."
Slocum has seen a growing interest in so-called "green burial" since he began researching in 2002. Then, there were two U.S. cemeteries offering natural burials, in which bodies can be interred without embalming, concrete grave liners, fancy caskets - or with no casket at all.
Now there are more than 20, and while that is still small compared to countries like Great Britain, which has about 200, it represents what Slocum thinks is a generational shift in this country, where younger people are more environmentally conscious and less concerned with the notion of permanence.
Older Americans are accustomed to visiting the grave sites of loved ones. And while they might imagine their children will visit theirs someday, Slocum, who is 36, says they probably won't.
"It's not because they don't love you," he said. "I haven't been to my grandmother's grave in over 20 years. When I want to remember her, I take out her recipe book."
Younger people simply aren't as interested in owning real estate after they're gone, he said.
People like Rebecca Brown, a self-described mall rat who raced snowmobiles and drove in demolition derbies before making a lifestyle change about four years ago. Now the 34-year-old West Salem event planner indulges her fashion interest with vintage dresses and carries her own silverware to avoid using plastic. She grows her own vegetables, eats mostly organic foods and composts.
"Ideally I'd like to do a green burial - wrapped in a biodegradable shroud or wicker casket," she said. "I'd like to be buried on my own land and compost away. ... Every day I make choices - I try to avoid plastics, eat organic food - why would I want to undo that permanently in my death?"
For now, Brown says she would settle for cremation - the greenest option available to Coulee Region residents who don't have access to a private cemetery. But while it is cheaper and simpler than traditional burial, cremation uses nonrenewable energy and can release toxins such as mercury - contained in dental fillings - into the atmosphere.
The Franciscan cemetery - which is reserved for members of the order - is the only natural cemetery approved for a conditional use by the La Crosse County board, said Jeff Bluske, director of zoning and planning.
"This is kind of unique for this area," he said, "and probably something that should happen more."
Groups like the Minneapolis-based Trust for Natural Legacies are working to establish a natural cemetery within driving distance of the Twin Cities and in the meantime plans to lobby existing cemeteries to open sections for natural burials, said president Theresa Purcell.
Though interest in green burial has burgeoned in recent years, it has yet to bring about market shifts in places like La Crosse. "We've never had to look into it," said Trish Grathen, executive director of Oak Grove Cemetery.
Since 1852, about 30,000 people have been buried in the 80-acre cemetery, the oldest in La Crosse. Concrete vaults - or grave liners - have been used consistently since the 1940s, said superintendent Adam Casper.
But if people start asking, Grathen said, the 1,500-member association would consider it.
The same thing happened with cremation, which was uncommon 40 years ago but now accounts for the disposition of nearly half the bodies in Wisconsin.
Cremation costs a fraction of traditional burial and has become increasingly popular since the economic downturn of 2008, Grathen said. It is a popular option for families who need to transport a loved one from another state for burial.
"Everybody has a different draw to this," Purcell said. "For a lot of people it's a spiritual choice. For a lot of people it's a monetary choice."
Joe Schams, funeral director for the Coulee Region Cremation Group, has helped the Franciscan sisters with their natural burials and says there is a growing consumer interest that the funeral industry should recognize.
"If we don't allow it, it will happen without us," he said. "A lot of people want simplicity. There can be a lot of elegance in simplicity. Just because somebody doesn't want a high-priced funeral doesn't mean it can't be nice."
Yet Slocum, who sees his role as primarily a consumer advocate, worries that natural burial will become a boutique industry "where you pay money not to buy things. ... I hope it doesn't become something that just yuppies can afford."
The greenest casket, he says, is the one you don't buy.
For many Americans, the laws regarding care for the dead are shrouded in mystery.
"Most of what people think they know about funerals is absolutely wrong," Slocum said. "Most people will arrange a funeral for someone once, maybe twice. They get their information from the salesman."
Embalming - traditionally performed with formaldehyde, a toxin - is not required by law. Nor are grave liners, the concrete boxes that most cemeteries use to keep the ground from sinking when caskets disintegrate.
In fact, a funeral director isn't even required.
Kathy Doerfer is one of five core volunteers with Threshold Care Circle in Viroqua, Wis., who provide workshops and advice for people interested in home, or family-directed, funeral services.
"Like home birth, it's something people want to take back," Doerfer said.
As with natural burial, the motivations range from spiritual to economic to ecological, though Doerfer says there is also a psychological benefit to preparing a loved one's body for burial.
"It helps with the grieving process to spend time with the body," she said. "My mom died, and then she was just whisked away. It didn't seem quite right."
Slinger, the environmental advocate for the FSPA, has made arrangements for her body to be buried in the nuns' cemetery just down the hill from the gardens she tends. Though the 59-year-old isn't planning to die any time soon, she embraces the notion with the Franciscan philosophy.
"We're so afraid in this society of welcoming death," she said. "It's not the end. It's the beginning."
Be the first to know
Get local news delivered to your inbox!