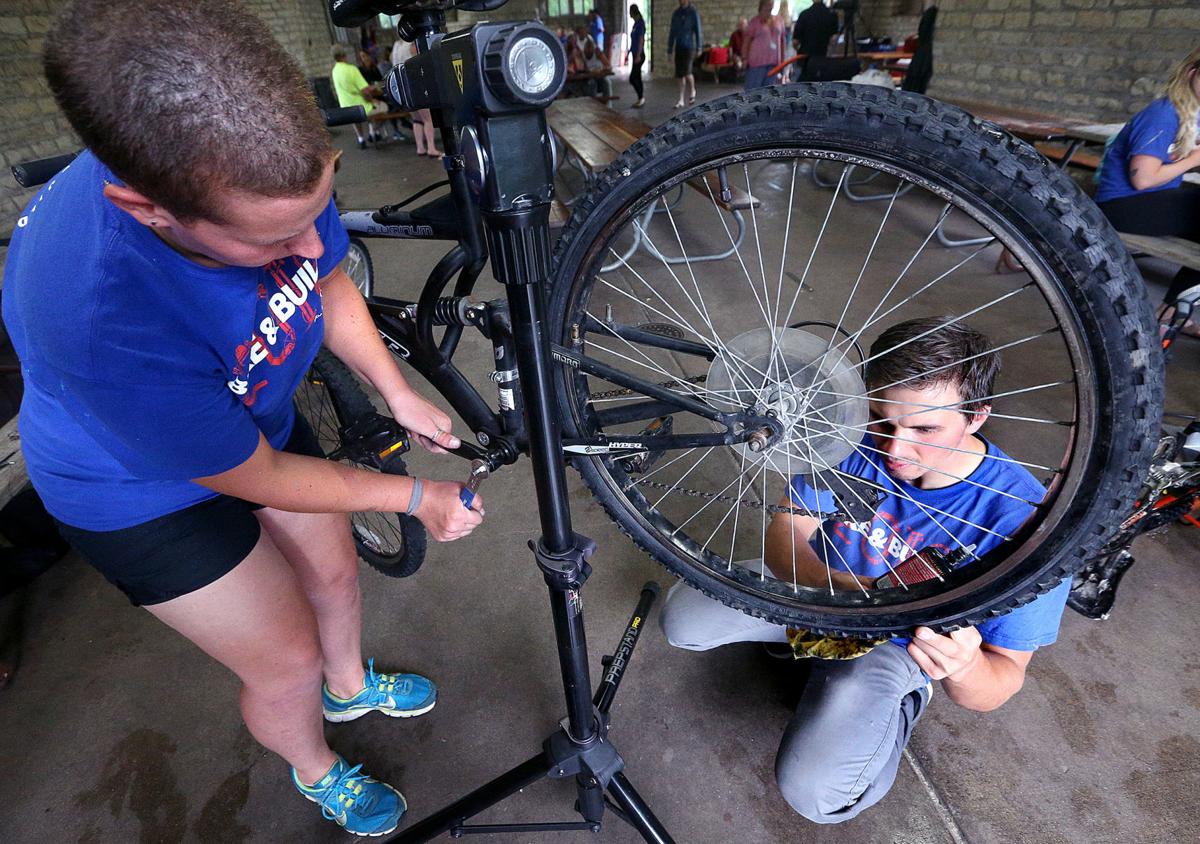 Caroline Striegal has spent the past 30 nights sleeping beside a group of peers, sometimes on beds, sometimes on floors. So a night at the Catholic Charities Warming Center wasn't out of her comfort zone.
But context is everything.
Striegal, 22, of New York, and 26 other Bike and Build participants and leaders arrived at the Third Street Warming Center late Thursday afternoon, learning the check-in protocol from La Crosse Collaborative to End Homelessness project manager Julie McDermid, eating in the small kitchen space, using the facility showers and resting in the rows of reclining chairs.
Typically, riders in the Bike and Build program stay overnight with host families, and the Warming Center provided the group's sole overnight immersive experience during their 14-week ride cross country to promote affordable housing.
"Sleeping beside a stranger ... I can imagine there is a great sense of solidarity but also loneliness," Striegal said. "Definitely being in this space makes you think about the issues — becoming more aware of the reasons people are here and what that would be like hour by hour, day by day. One thing Bike and Build has helped us realize is the lack of permanence for people who need a place to stay. It's important to realize this problem does plague this entire country."
The U.S. Department of Housing and Urban Development considers a home affordable if mortgage payments, taxes and basic utilities total 30 percent or less of the household's income, yet about 12 million renters and homeowners spend more than half their income on housing. Nationwide, only 35 affordable and available rentals are available for every 100 low-income renters.
Founded in 2003, Bike and Build has guided 3,500 college-age men and women through one of five routes across North America, each spanning up to 4,000 miles. Involvement in the program requires more than pedaling, with participants required to complete 500 miles of outdoor cycling practice, raise $5,000 and spend at least 10 hours volunteering at a local charitable build site before departure. They must also study a curriculum on affordable housing, which includes talking with a person in their community impacted by the issue, taking what they've learned and sharing with fellow Bike and Build members and organizations along the route.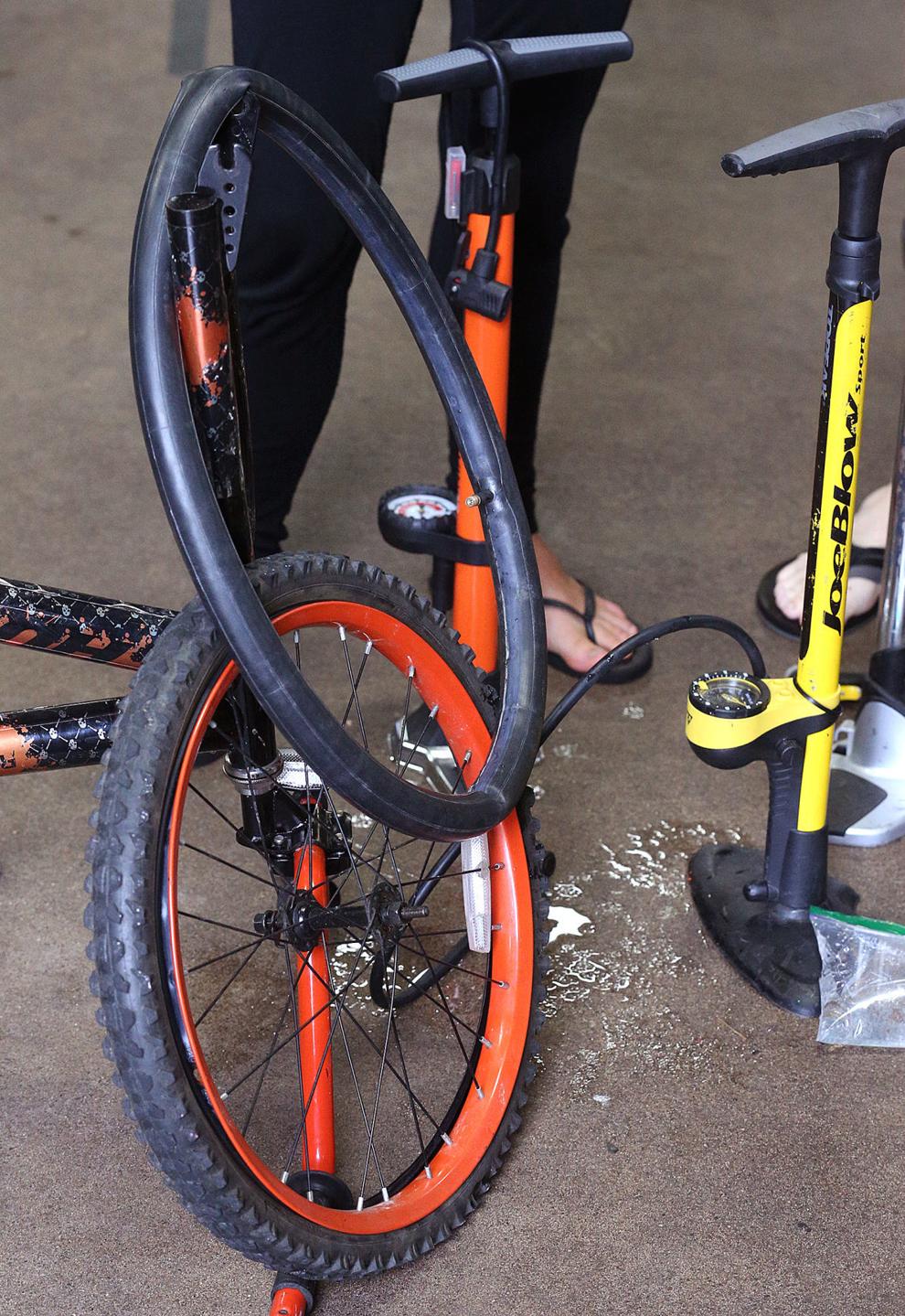 Participants remain active beyond cycling — they clock in up to 110 miles a day, averaging 75 — pausing for build days once or twice a week, during which they help organizations such as Habitat for Humanity with hands-on construction or repairs. They also provide input on the distribution of Bike and Build grants, reading over applications from affordable housing organizations and selecting which projects to fund. During the past 15 years, Bike and Build has awarded $6.4 million to 1,400 organizations.
Riders on the Northern U.S. route departed from New Hampshire on June 10 and spent two days in La Crosse, doing service projects Friday morning at the Warming Center and the YWCA Ruth House, an emergency housing shelter and support program for homeless women undergoing treatment for drug or alcohol addiction. Prior to dispersing for painting, cleaning and stocking duties at the two locations, the group learned about the efforts of the La Crosse Collaborative to End Homelessness, which secured housing for 50 formerly homeless individuals or families in 2017, and the Warming Center, which is open from Nov. 1 through April 30 and reached its 40-person capacity most nights last year.
"The people are really taken care of here," said Thomas Mueller, 19, who flew in from Germany to take part in Bike and Build. "They talk to them and try to change the situation. They use the (Warming Center) as a tool, not as a bandage to cover up homelessness in this area. That's really impressive."
Jessica Kozlowski, 30, a Bike and Build leader, says in her hometown of Santa Rosa, Calif., housing is expensive and she has seen the financial burden seep into other aspects of people's lives, magnifying everyday stresses and costs.
"I see it really weighing on people," said Kozlowski, who spent the last year with AmeriCorps and plans to be a financial advisor. "The physical, mental, emotional challenge — all the layers of affordable housing. It's hard to navigate the systems when you don't have the resources."
Kozlowski praised the collaborative approach to housing efforts in La Crosse, and Striegal found value in learning the individual concerns and methodology in each community, and how those links could benefit the country as a whole.
"It's a multifaceted, intersectional issue," Striegal said.
After commencing their service projects, the Bike and Build crew met in Myrick Park to host a free bike clinic for kids age 5 to 14, focused on safety and simple repairs, with some games for good measure. The group will leave for Lake City, Minn., today and is expected to arrive in Washington on Aug. 25, continuing to serve, build and spread the word along the way.
"The gratefulness of the beneficiaries has been amazing," Mueller said. "Talking to them and seeing them about to cry — it's really heartwarming and reminds us why we're doing what we're doing."