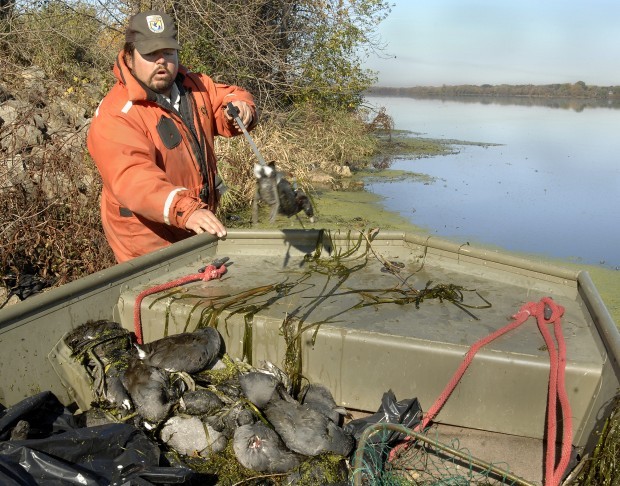 When thousands of blackbirds in Arkansas and hundreds of songbirds in Louisiana were found dead this weekend, people's imaginations went wild. But as strange as the news might have seemed, mass wildlife deaths aren't unusual. Ask Calvin Gehri.  
A biology technician for the U.S. Fish and Wildlife Service in La Crosse, Gehri has collected dead waterfowl on the Mississippi River every spring and fall for the past eight years.  
There usually are too many to count. In November, he estimated about 4,000 corpses were floating in the water above Lock and Dam No. 8 at Genoa, and another 400 upstream in pool 7.
"In La Crosse there are thousands of birds dying every year, but because they're not hitting people's roofs and lawns it's not getting as much attention," said Krysten Schuler, a scientist with the U.S. Geological Survey's National Wildlife Health Center in Madison, where scientists were testing birds collected in Arkansas and Louisiana to find out what killed them.
Mass wildlife die-offs aren't unique to La Crosse, or to birds. The lab has documented more than 90 such events since April, affecting mostly birds but also frogs, sheep and deer across the country.
Though they might seem mysterious, mass mortalities have explanations, Schuler said, and they often are anthropogenic - meaning the result of some human activity.
"Unfortunately (public speculation) seems to be going to the more sensational - UFOs or the apocalypse."
In the case of the Mississippi River waterfowl, the culprit is the trematode, an intestinal parasites carried by the faucet snail, an invasive species likely brought to this continent by ships from Europe and Asia.
Biologists recorded the first mass mortality of water birds in 1996 on Lake Shawano in northeastern Wisconsin. Rebecca Cole, a parasitologist at the Madison lab, discovered the connection to the trematode in 1998.
The first Mississippi River die-off was reported in fall 2002 and since has occurred twice a year when species such as the lesser scaup and American coot pass through on migration. An estimated 25,000 birds have died, most on Lake Onalaska.
Fish and Wildlife staff count the dead birds, document the time, location and circumstances, and collect samples of each species, which are sealed in plastic bags, put in Styrofoam coolers and shipped to the Madison lab for testing. Each time, the answer comes back trematodes.
Wildlife biologist Jessica Larson remembers the first mass kill she encountered.
"I rounded this corner of the dike and all of a sudden it was just black bodies everywhere," she said. "You can't count individual birds - you have to count hundreds."
Unless the dead birds are near a boat landing or causing a nuisance, Larson said, they're left as food for eagles, coyotes and raccoons.
Schuler hopes the higher-profile deaths will bring more public attention to the plight of wildlife.
"I'm hoping what the public takes away from this is a greater awareness of wildlife health," she said. "It's a little unfair for all these other species to be dying and blackbirds get all the attention."