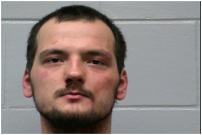 A man claiming to be a vampire punched a member of a band playing Tuesday at the La Crosse Center and drove a barricade through a window of the tour bus, according to police reports.
Scott Mehtala, 23, told police he was high on heroin when he assaulted a guitarist for American Fangs when he was confronted about smashing the window about 10 p.m. He tried to run but was tackled by another guitarist until police arrived at 200 Jay St.
Guitarist Nik Slimp chipped a tooth and needed stitches, reports state.
"I'm a vampire," Mehtala told police when they asked him what happened. Everyone else, he said, was "a normal."
He whispered to an officer who he considered a "normal" and asked where his tattoos were, reports state.
Mehtala then said he was "jumped by vampires," who were members of the Hollywood Undead, a band also playing Tuesday night at the La Crosse Center.
He also told police he felt unsafe, but that he was protected by his "super human hearing," according to reports.
Mehtala had a 0.12 percent alcohol level.
He told officers en route to jail that he feared more vampire attacks and said he needed to take a nap in Superior, Wis., where he lives. He wouldn't believe he was in La Crosse.