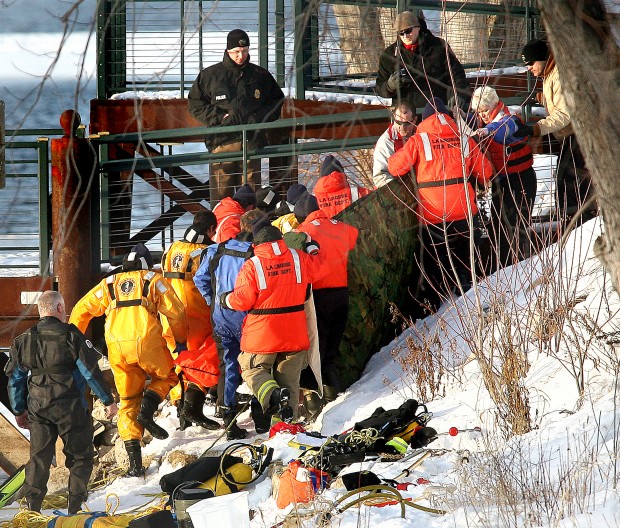 Murky water and a Mississippi River bottom cluttered with debris made the search for a missing 21-year-old college student like "diving in a strong cup of coffee," expert rescue diver Bill Powell said.
Massive rocks, trees and wreckage from a collapsed bridge concealed the body of Craig J. Meyers for two days, until an underwater camera Tuesday afternoon caught a hand that almost glowed white 30 feet below the surface, said La Crosse Dive Unit Commander Erwin Chavarri.
"Winning the lottery and finding him were about in the same ranking," Chavarri said. "This was a long shot, and we really got lucky."
Divers pulled the Western Technical College student's body from the ice-crusted, 28-degree river at 4:41 p.m. about 20 feet off shore, just north of the Courtyard by Marriott hotel.
"That was a gift from God," Powell said of recovering Meyers under such conditions.
A cousin had reported dropping Meyers off on the 700 block of Market Street about 1:50 a.m. Sunday, after he spent the evening at a wedding reception at All-Star Lanes, 4735 Mormon Coulee Road, and two downtown bars, according to La Crosse police.
Meyers indicated he was near his girlfriend's home, though she lives on Sixteenth Street.
A Sara Lee Bakery surveillance camera showed a man matching Meyers' description walking alone west on Cass Street about 2 a.m. Sunday, police said. A bloodhound Monday tracked his scent to the river, where police Sunday had discovered a set of footprints in a snow bank leading out onto the ice.
An autopsy is planned Thursday at the Minnesota Regional Medical Examiner's Office in Hastings, with preliminary results expected the same day. Meyers' body had no obvious signs of trauma, said La Crosse police Capt. Mitch Brohmer.
The grim discovery only reignited a decade-old rumor of a serial drowner preying on young men.
Eight men - Richard Hlavaty, 19; Charles Blatz, 28; Anthony Skifton, 19; Nathan Kapfer, 20; Jeffrey Geesey, 20; Patrick Runingen, 23; Jared Dion, 21; and Luke Homan, 21 - all drowned in La Crosse area rivers between July 12, 1997, and Sept. 30, 2006. Each had blood-alcohol content of 0.20 percent to 0.42 percent.
A FBI review of the drownings found no foul play or link between the victims, based in part on the absence of forensic evidence and lack of physical trauma, plus circumstances varied significantly in each case, La Crosse police Chief Ed Kondracki said in 2007. La Crosse police had requested the federal agency review the reports.
"I can tell you that the report indicates that it is not unusual that many of the victims drowned with alcohol intoxication as a contributing factor," Kondracki said.
The drownings sparked creation of the Alcohol Task Force to review drinking behavior in the city and the start of Operation: River Watch foot patrols in Riverside Park, while police increased education and enforcement efforts.
Be the first to know
Get local news delivered to your inbox!