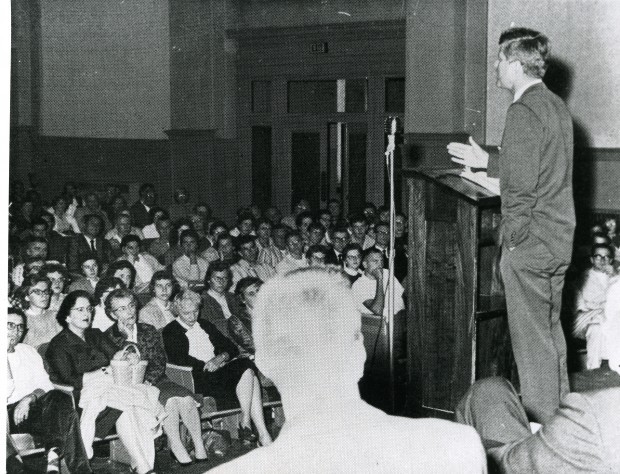 University of Wisconsin-La Crosse Chancellor Joe Gow said he is "always amazed how big a footprint this campus makes on the city" when he flies above La Crosse.
The campus covers a substantial 128 acres. But the economic, cultural, intellectual and athletic imprint the 100-year-old school has left on the community undeniably has been just as substantial.
But what if it had never taken root and grown over those 128 acres?
"I know that I'm a little biased," Gow said, "but I can't imagine La Crosse without UW-L."
Consider the many benefits La Crosse would reap if it landed a convention of 8,000 people - that stayed in the city for nine months.
Or the economic blow the community might face if that convention was cancelled, said Joe Heim, a political science professor at UW-L.
UW-L now draws more than 8,000 students, who live, eat and spend money in La Crosse at least nine months of the year, Heim pointed out.
To keep its campus running and those students studying, the university also employs more than 1,000 people, who earn from $24,000 to $198,000 a year, said Bob Hetzel, UW-L vice chancellor for administration and finance.
No UW-L likely would mean 9,000 fewer people contributing to the local economy.
The university provides the area with good-paying, professional jobs, said Dave Clements, executive director of the La Crosse Area Convention and Visitors Bureau.
They also tend to be stable jobs, even in poor economic times. UW-L added 57 new jobs this year under its growth plan. Those wages help prop up per capita salaries in the area, said Heim.
UW-L's most recent economic impact study, done from July 2001 to June 2002, shows the university made $8.9 million worth of local purchases in the year and did business with 250 local vendors.
UW-L also helps fund city services, paying about $12.3 million in taxes to La Crosse from 1995 to 2007, said Hetzel.
When UW-L hosts an event such as the annual WIAA State Track and Field Championships, it pumps more than $3 million directly into the local economy, said Clements.
Countless other UW-L-sponsored events - such as the National Conference of Undergraduate Research earlier this year, homecoming weekend, parents weekend and graduation - put heads in hotel beds and create more business for the local economy, said Clements.
When Clements talks to travel writers and national meeting planners about La Crosse, he points to the three colleges in the city as one of the highlights.
"It speaks well to the diversity of who we are as a community, the job opportunity and the educational opportunity," he said.
UW-L is among the pieces that makes La Crosse a great community, recognized this year by "U.S. News and World Report" magazine as one of the 10 best places to live, he said.
"It is part of why so many people come here for a career stop of three to five years and end up staying for 25 years," he said.
That's what happened to Heim. If UW-L wasn't here, he wouldn't be, either.
Heim was accepted in 1968 to UW-Madison's law school but decided he wanted to try teaching for a year to see if he liked it.
He did, and since has become something of a local celebrity as a political commentator.
Likewise, 2009 graduate Matt Duckett would not be a professional artist or the director of a local art studio without UW-L.
The 30-year-old probably still would be in a cubicle at a local company, doing mindless tasks "that a robot can't do yet," he said.
Duckett used to pass the time between phone calls doodling on a sketch pad, creating "ridiculously intricate drawings" of his messy cubical.
"I was good, but didn't have a scaffold to start building on," he said. "I didn't have an environment to direct that energy in a constructive way."
So he took a week of vacation, grabbed his painting supplies and produced a successful first painting.
He would enroll at UW-L as an art student a week later.
"I was like, if I pursue this, I can do this," he said. "If not, I'm pretty good at answering phones, too."
The university gave him enthusiastic professors to push him in the right direction, an artistic space to create in and a network of people to bounce ideas around, he said.
"It is an environment where everyone is going somewhere and is headed in some direction, and everyone kind of leans on each other and gets better at what they are doing," he said.
Duckett now is director of Green Bay Street Studios, and a young representative on the city arts board. He creates on a much larger scale than he ever would have fit into his cubical - his latest commissioned piece is 33-by-8 feet.
"I don't have to worry about limitations," he said, walking around the warehouse studio he opened in March 2008.
The studio started as space for him and several other art alums scratching for a collaborative work environment like they had at UW-L. It now provides the community with a place to see contemporary art and take workshops and classes.
"I think we are always worried about there being a brain drain in states like Wisconsin and places like La Crosse," said Jennifer Williams Terpstra, chairwoman of UW-L's art department. "To see this level of ambition and creativity happen is essential."
Duckett said he wouldn't be where he is now without UW-L.
"I probably would have made some failed attempt at being an artist, without really having an experience in art," he said.
Without UW-L's University Gallery, the public would have one less local venue to see art, said Terpstra. Without the theater or recital halls, there would be less space to hear music, watch plays or dances and let young talent thrive.
UW-L provides athletes at all levels with a similar stage on which to perform.
Without its stadium, track, swimming pool and other sports venues, high schools would have to look somewhere else to compete. Sports fans would have 19 fewer teams to cheer and fewer star athletes to admire, such as former UW-L runner Andrew Rock, who in 2004, earned Olympic gold in the men's 400m track relay.
"We've had a number of athletes go on to compete professionally and they've provided many with a sense of pride," said Joe Baker, UW-L's athletic director.
Athletes also become role models to young children when they travel to schools or host athletic camps and clinics, said Baker.
"It's great to see the look on some of these kids faces when they look up at these guys and say, 'Man, you're big,'" said Baker.
"It helps the community in so many ways people don't think of or appreciate, because it has become the norm," said Baker. "We are so used to it that we take a lot of it for granted."
An obvious way the public can benefit from UW-L's brain power is to take a continuing education class.
A less obvious way might be turning up an arrowhead in the backyard.
The Mississippi Valley Archaeology Center at UW-L gets a lot of questions about the former residents of the Coulee Region, the ones here before European settlers pushed West.
When the first archaeologist arrived at UW-L in 1978, he received a phone call about artifacts uncovered at the site of the soon-to-be constructed Valley View Mall. It was among the first major archaeological sites identified in this area.
MVAC formed in 1982, and since has recorded hundreds of archaeology sites in Wisconsin and done several dozen major excavations in La Crosse County.
Along the way, MVAC not only helped train students to become archaeologists, but taught the general public a thing or two about American Indian history and the remnants they left behind.
On any given day, MVAC staff may be asked to help identify some bones a sheriff's deputy found in the woods, lead locals in getting their hands dirty in archaeology field school, or educate teachers and kids about historic cultures.
"It's amazing to hear a kid say, 'You're touching stuff that hasn't been touched in 800 years,'" said Constance Arzigian, laboratory director, research archaeologist and paleoethnobotanist at the center.
They aren't the only UW-L experts that can be handy to have in the community.
Turn on the TV or open a national newspaper and you might see some UW-L names, such as Professor Tom Volk, who has a national reputation for his knowledge about fungi, or Carl Foster, a noted expert on exercise.
UW-L also brings nationally recognized experts in their field to La Crosse, said Gubbi Sudhakaran, chairman of UW-L's physics department.
Its annual distinguished lecture series in physics offers the public the chance to hear from some of the "best brains" in science, including Nobel Prize winners, said Sudhakaran.
"How many counties or cities can boast they've had 10 Nobel laureates visit in 10 years?" he said.
The National Conference of Undergraduate Research in April brought students and scholars from 300 different universities nationwide to the campus and the community.
"My personal opinion is you take UW-L away and you'll see a vacuum in this place," said Sudhakaran."A lot of people know La Crosse because of UW-L."
Be the first to know
Get local news delivered to your inbox!