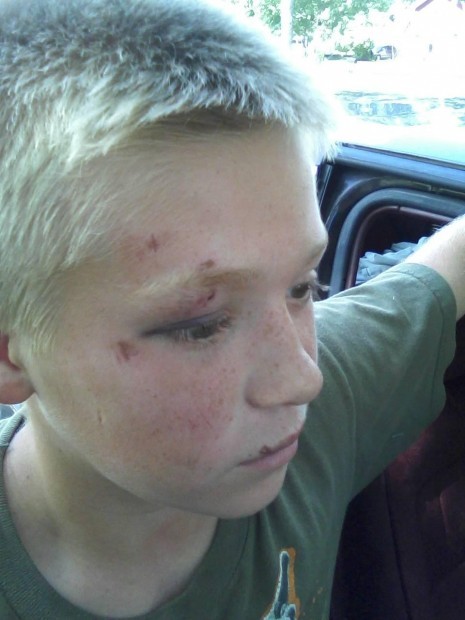 CHASEBURG — Just any deer won't do for 13-year-old Collin Lenvner this fall. He'll be hunting with a vengeance for one particular animal: the deer that totaled his bicycle and left him with a concussion earlier this month.
Lenvner was two-wheeling downhill at a good clip Aug. 15 near Sebion Lane, on his way to milk cows for a neighbor, when a deer came out of nowhere and collided with the teenager on his bike.
Lenvner can't recall if it was a buck or doe — he wasn't wearing a helmet — but he does remember flipping end-over-end with the bicycle and seeing the stunned animal stumble into the woods.
After landing hard on the pavement and shoulder of the road, Lenvner managed to stand up on his own and assess the damage to himself and the bicycle, which happened to belong to his 15-year-old sister, Mackinze.
Lenvner initially thought he had fared better than the bike, which had bent wheels, a dented frame and messed up handlebars. But after continuing on his journey and arriving at the farm, he soon found out he was in need of medical and dental assistance.
"I milked a few cows and was exhausted," he said. "I knew something was wrong and had to go home."
Collin's dad headed straight for the hospital after hearing the story from his son and seeing his physical condition, only to find out the boy had received a concussion, broken tooth, cut lip, black eye, scrapes, bruises, but thankfully no broken bones.
Wisconsin, unlike Minnesota, doesn't operate with no-fault insurance, so since the deer failed to leave any insurance information with Lenvner, the young man is now without wheels to get around and has plenty of medical bills for his family to pay. He has tried unsuccessfully to repair his old bike and will need to come up with alternative transportation until he can afford to buy another.
Lenvner is now convinced that bike helmets should be mandatory when riding, and in his case, maybe even a snowmobile helmet wouldn't be a bad idea.
He's looking forward to hunting season this fall and has his sights set on a deer that might have green paint on his hide and is ready to become meat in his freezer.
Lenvner can be contacted at 608-377-0430.