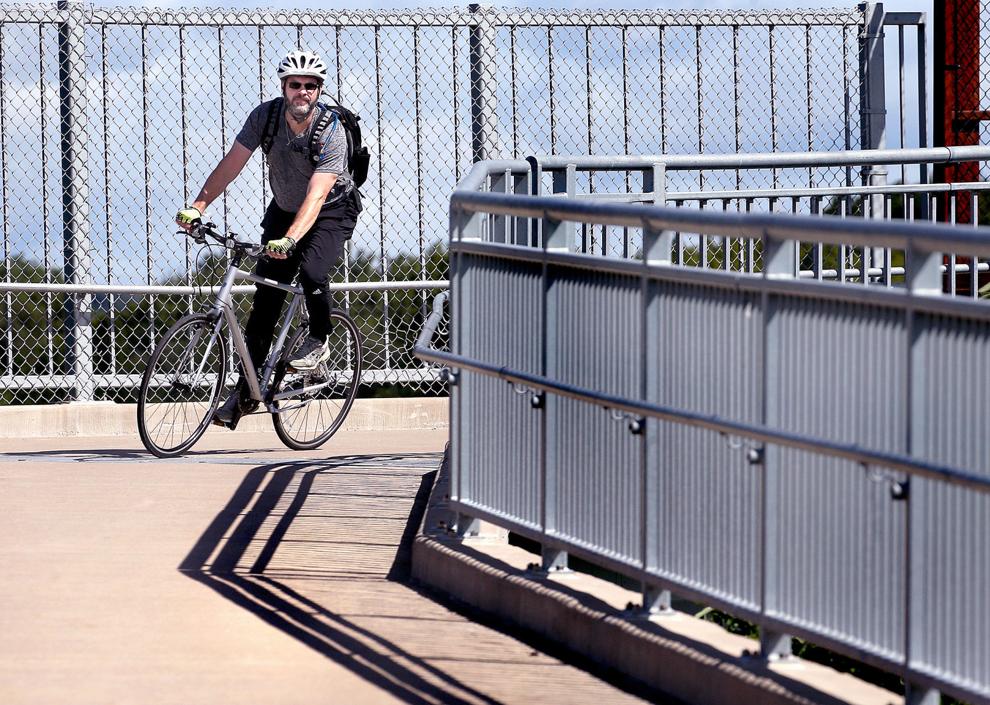 As Labor Day weekend nears, La Crosse is gearing up for the area's annual Bicycle Festival.
The celebration spans four days and kicks off Friday night with mountain and BMX bike games for the whole family at Lueth Park. There, organizers will light up the pump track to illuminate the festivities into the night.
Area bicycle shop owners are looking forward to both the opportunity to take part in the festivities as well as the influx of traffic to the area and through their stores.
Erik Pueschner, owner of Smith's Bike Shop since 2016 and area cycling enthusiast, helps out with the Friday Night Lights ride at Lueth Park and is looking forward to seeing his 3-year-old daughter attend the event on her balance bike — a small child's bicycle without pedals that will allow her to learn how to ride without training wheels.
Pueschner and his wife have volunteered with Friday Night Lights for the past two years and they're expecting between 50 and 100 people at Friday's event.
"It's always a great time," he said.
Robbie Young, owner and operator of Coulee Bike Company in Onalaska, said he's looking forward to Friday Night Lights' new location. In previous years, the kick-off event was held in upper Hixon.
Young recently completed the Ride Across Wisconsin, a bicycling trip that spans the distance between La Crosse and Green Bay, with 500 to 900 other riders and sees the Labor Day festival as a great way to promote local bike-focused businesses as well as introduce visitors to the region.
"I've ridden with a handful of people from Chicago-area who make it a point to come up to La Crosse every year for the Labor Day Bike Festival," he said. "I think a lot of those people plan other trips back to the area having enjoyed themselves on this weekend."
The annual Bicycle Festival is in its ninth year, said Jeremiah Burish, the director of sports and events as well as the coordinator of the event at Explore La Crosse.
It's hard to say how many attendees will show up because it's a free event, but past years have seen as many as a few hundred riders with at least 30 to 40% coming from 60 miles or more out of town. Some attendees have traveled from Texas, Arizona and Washington to ride during the Labor Day Bike Festival in La Crosse.
"We've had 10 states represented for multiple years, people from all over the country have come to this event," Burish said.
Two longer rides are scheduled for Saturday and Sunday, with a 65-mile gravel ride from La Crosse to Nodine and back scheduled for the first of the two days, and a 100-mile road ride on the second.
Saturday's event is the festival's version of a "European classic … with five steep climbs and six gravel sections."
Sunday's "Monster Pide" offers shorter and longer versions, depending on the rider's stamina, and includes 10 climbs, six of which are considered real "Driftless Monsters" — hills with 300 feet of elevation gain and at least one grade of 14% or greater, according to the event schedule — and a total of 7,400 feet of elevation gain.
"It's called the 'Monster Ride' because it has what we call 'monster hills,'" Burish said. "It tests your abilities, tests your fortitude."
Riders can cut the ride as long or short as they want and Burish pointed out that the ride is meant to be a fun experience and not a race.
"We encourage people to come out and enjoy it and bring some friends and try to conquer the monster."
On Labor Day, riders are invited to recover on an easy 46-mile route frequented by locals after long, challenging rides — the Barista's Epic Coffee Ride is designed to help them recoup after Saturday and Sunday's events.
The holiday-weekend-long celebration is hosted out of Riverside Park, where riders will meet before heading out on their journey.