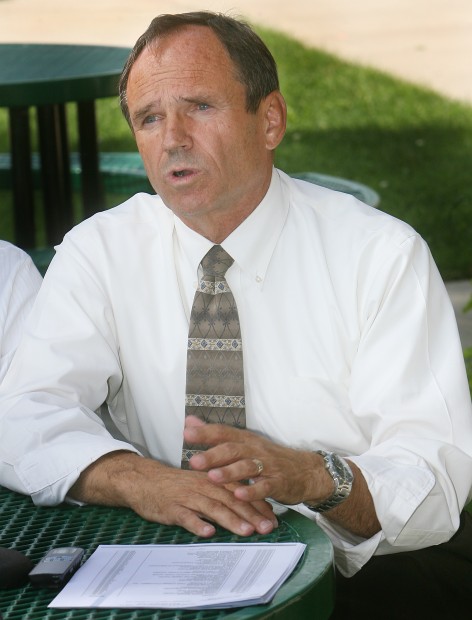 La Crosse area Democrats have filed a petition with more than 21,700 signatures calling for a recall electoin of Sen. Dan Kapanke, one of eight Republicans targeted for his support of a controversial bill to curtail collective bargaining rights for public workers.
If 15,588 signatures are validated, Kapanke will be just the fifth Wisconsin lawmaker to face a recall election. Only two have been unseated.
Kapanke said Friday he believes the bill – now entangled in a court battle over the way it was passed – was necessary to balance an estimated $3.6 billion budget deficit and that he would cast the same vote again even knowing it could cost him his seat.  
"This certainly trumps any one person's ambitions or political career," he said. "We are elected to put our fiscal house in order… You've got to do what's best in your heart – what you feel is best for the future of the state."
Recall supporters rallied earlier Friday outside the La Crosse City hall, where they celebrated collecting more than 20,000 signatures in fewer than 30 days - less than half the time allotted to gather the names required. They then loaded up the box of petitions and headed to Madison.
Kapanke is one of eight Republican senators targeted for recall over support for Gov. Scott Walker's bill to curtail collective bargaining rights for public employees. Eight Senate Democrats who fled to Illinois in an effort to block the bill are also targeted.
 An earlier version of this story follows:
La Crosse area Democrats say they will file petitions today with enough signatures to trigger a recall election of Sen. Dan Kapanke, one of eight Senate Republicans targeted over votes to curtail collective bargaining rights for public workers. If approved, it would be just the fifth recall election of a Wisconsin legislator.
Recall organizer Pat Scheller said volunteers have gathered more than the 15,588 signatures needed and that they plan to take them to Madison after a noon rally today at La Crosse City Hall.
It is expected to be the first completed of 19 active recall efforts registered between Feb. 24 and March 2 against 16 senators.
Kapanke did not return messages Thursday, but has said the recall is "part of the process."
"I love campaigns. I just didn't think I'd do one every year," Kapanke said Saturday at the opening of a La Crosse County GOP headquarters.
He has defended his vote for the bill, which stripped most collective bargaining rights from state, municipal and school workers, as a necessary step in balancing the state's budget while minimizing layoffs.
The filing comes just before the halfway point in the 60-day window the recall committee had to gather signatures in the district.
The state Democratic Party provided infrastructure support but "not a single paid canvasser was needed to trigger the recall versus Dan Kapanke," said party spokesman Graeme Zielinski, who credited volunteers for collecting more than 20,000 signatures in less than 30 days.
"It took on a life of its own," said Scheller, who filed the original paperwork to launch the recall effort.
Scheller, a banker who describes himself as a "middle of the road" guy who isn't a member of the party, said Kapanke "is a decent person, but I think he showed a lack of fortitude in supporting the bill without questioning any of it."
Eight Democrats who fled to Illinois for several weeks in an effort to prevent Senate Republicans from passing the bill are also targeted for recall — some by more than one committee. The other six senate Democrats, including Kathleen Vinehout of Alma, are not eligible for recall until 2012.
University of Wisconsin-La Crosse political scientist Joe Heim said he was surprised by the speed with which the signatures were collected but cautions that it doesn't mean Kapanke will lose his seat.
"I don't think it automatically determines the outcome of the election," he said. "There's a certain intensity of the people favoring the recall. ... Whether or not that intensity stays through is another question."
There have been just four recall elections of Wisconsin legislators, according to the Government Accountability Board; only two were successful.
Today's filing will trigger a 31-day review period during which the GAB determines that all signatures are sufficient. Kapanke can challenge signatures during the first 10 days.
Either party can petition a judge for an extension.
Spokesman Reid Magney said the GAB may ask for more time in order to minimize the number of special elections.
"We're hoping for maybe a couple instead of 16," he said.
The GAB would order an election on the sixth Tuesday after determining the petition is in order. If there is more than one challenger, that election would be a primary followed by a general election four weeks later.
Once an election is ordered, challengers can begin circulating petitions to get their names on the ballot. They would have 10 days to collect 400 signatures.
Both parties have opened local offices in recent weeks. Republican chairman Bill Feehan said his party's decision was in reaction to the recall effort, which he called a "foregone conclusion."
Democrats need three additional senate seats to gain a majority. Kapanke is one of three targeted Republicans who won the last election with less than 52 percent of the votes. In 2008, he defeated Democratic challenger Tara Johnson by just 2,507 votes.
Despite a March 11 poll commissioned by the liberal website The Daily Kos that showed Kapanke trailing a generic Democrat opponent 55 to 41 percent, Heim says an actual election — held sometime in the summer — is another matter entirely.
For one, Democrats have to run an actual candidate.
"It's easy to say you favor a generic Democrat," Heim said. "Once it becomes a person they don't necessarily get the support."
Charles Franklin, a UW-Madison political scientist and co-founder of pollster.com, warned that poll at best indicates a tight race.
Kapanke had about $9,000 in his campaign funds as of Jan. 30, according to his last finance report filed with the state.
Heim doesn't expect either party to have trouble raising money.