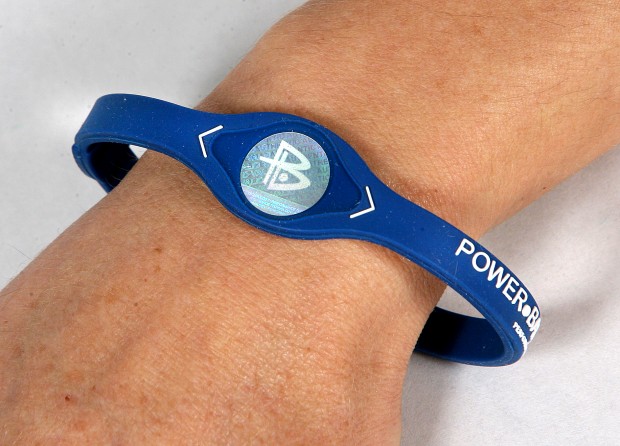 Can wearing a hologram give you better game? Make you faster? Stronger? More agile? Power Balance claims its products - wristbands and pendants made of silicon, zinc, silver, all imbedded with the same "B" hologram - can improve athletic performance.
"The hologram in Power Balance is designed to resonate with and respond to the natural energy field of the body," the Laguna Niguel, Calif.-based company states on its website.
A number of professional athletes swear they saw a boost from wearing a Power Balance hologram, said John Porcari, University of Wisconsin-La Crosse professor of exercise and sports science. Even some of his friends.
He's seen them worn on campus. Despite being priced from about $30 to $80, "they can't keep these products on the shelf because they're so popular," Porcari said.
Yet he calls Power Balance "the biggest current scam around."
"We have proof, on videotape, that it is snake oil," he said.
And on Oct. 24, ESPN will broadcast that proof on a segment of its "Outside the Lines" news magazine show.
ESPN had planned its own look at Power Balance when it learned of a study Porcari planned with backing from the American Council on Exercise. He and other UW-L researchers regularly test fitness programs and devices.
So Oct. 1, two ESPN reporters, two camera people and a sound person were at UW-L as Porcari took 21 athletes through two sets of tests.
All wore a silicone bracelet throughout: a Power Balance band for one round and a lookalike placebo for the other. The subjects didn't know which they had on for which round.
Power Balance's own tests first were done without a band, then with the band. It saw improvement with the bracelet.
Porcari said that's not surprising. "Subjects did better the second time," he explained, "because there is a learning curve and now you know the test and you perform better."
The UW-L study, too, consistently showed better performance in the second round, whether wearing the Power Balance bracelet or placebo.
"It really shows the power of the placebo effect," Porcari said.
Porcari repeated his study Tuesday with another 21 students, sans cameras. It produced the same results, he said.
Power Balance contends its "performance technology" is based on "optimizing the body's natural energy flow," similar to concepts behind many Eastern philosophies.
The company, which began marketing the products in 2007, has testimonials from high-profile athletes such as basketball players Shaquille O'Neal of the Boston Celtics and Lamar Odom of the Los Angeles Lakers, baseball pitcher Scott Kazmir of the Los Angeles Angels and Teemu Selanne of the NHL's Anaheim Ducks.
Athletes often are superstitious, Porcari said, so if they do well with the bracelet, they'll keep wearing it.
"If athletes believe they can perform better, then maybe they will perform better, but it has nothing to do with the so-called magical powers of the bracelet," he said. "They don't want to believe it doesn't work, but it's all in their head."
Power Balance responded to the UW-L study with a written statement:
"Our family and our company believe in Power Balance and apparently so do thousands of fans around the world. ... We hear from many users that they experience benefits, which are often different for different people. At the end of the day, we understand there will always be skeptics and we're not trying to convince everyone, which is why we offer a 30-day, no-questions-asked refund to anyone who is not completely satisfied. Ultimately, we encourage people to try it for themselves."
But Porcari said he is concerned athletes hired to promote a product don't care if its claims are false or exaggerated - or might send the wrong message to young, budding athletes.
"Then you get a 10-year-old who wants his father to buy him a bracelet because he is thinking about the power of the bracelet and shortcuts to performance," Porcari said.
"It sets the template for some magic bullet out there that can replace hard work. Then it snowballs into supplements and other performance-enhancing products."
Be the first to know
Get local news delivered to your inbox!