For long term care providers, the passing of a resident is not a rare occurrence, and the loss is always deeply felt. But as the spread of the coronavirus takes more and more lives, the emotional impact has become greater and greater, tinged with a sense of indignation.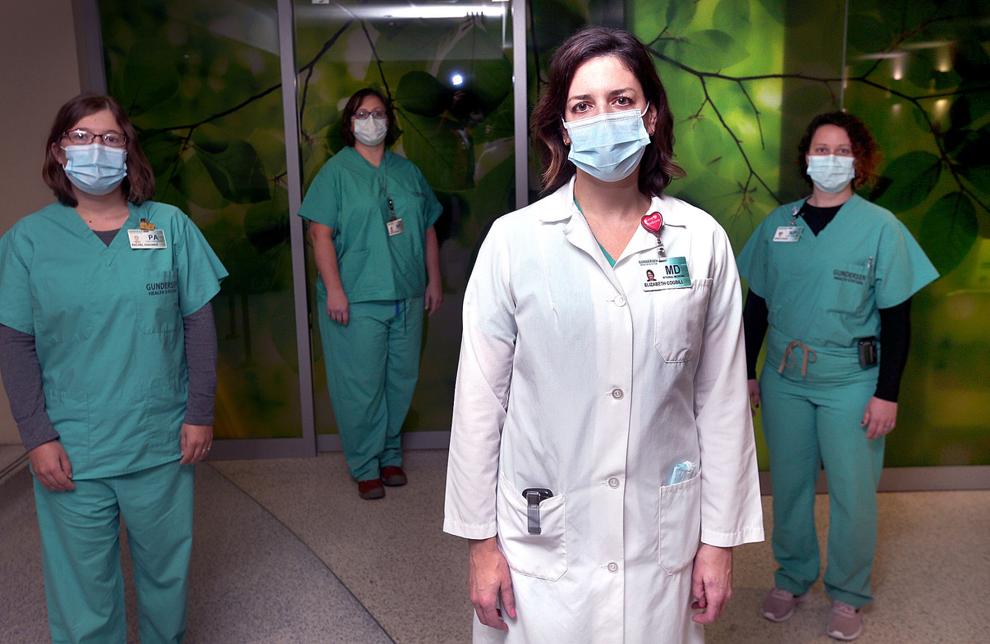 "Losing someone is hard at any time, but losing someone to COVID feels different, it feels more wrong and it feels more unfair," says Rachel Keehner, physician assistant in geriatrics at Gundersen Health System. "We've learned throughout there is nothing fair about COVID — it doesn't discriminate, it affects everybody of every age group."
In La Crosse County, the coronavirus is entering its ninth month of spread, with cases climbing rapidly since late summer. As of Oct. 31, 4,550 cases were confirmed among local residents, and deaths had reached 22. The majority of those fatalities, says the La Crosse County Health Department, occurred among residents at long term, assisted living or nursing facilities, with at least nine locations experiencing outbreaks and four different locations reporting deaths as of last week. At each of those locations, at least one staff member had the virus.
The majority of local positives for the virus have been among the college age sector, but it is the older population which has suffered the worst symptoms, and all the deaths have been attributed to adults over 60, with three quarters in patients over 80.
"What we do know from national data (is that) older people who reside in nursing homes and assisted living facilities do tend to be the most frail of our population and with that often comes many medical conditions and chronic diseases, and what we've seen in the La Crosse Community mirrors that national data" says Dr. Elizabeth Cogbill of Gundersen Geriatrics, who is the medical director for two area long-term care centers and performs rounds at several others.
The Centers for Medicare and Medicaid Services since February has continuously issued and revised actions and rules for nursing homes, including restrictions on visitors, mandatory reporting of COVID-19 cases to residents and their families, testing requirements and participation in a training program. On Sept. 17, CMS loosened some visitation policies, including allowing for indoor visits if there has been no new onset of cases in two weeks and broadening compassionate care allowances.
In La Crosse County, each facility follows set guidelines. PPE is worn — at minimum staff use a surgical mask and face shield, and in the presence of a coronavirus outbreak, respirators — sanitation is thorough, and testing of staff and residents is done on a regular basis, with frequency increased if the virus is active on the premises. Visitation policies follow the guidance of those from CMS, with some facilities having chosen to heighten those restrictions for enhanced safety.
"The facilities have been working so hard to prevent COVID from entering the facilities, and when it does stopping spread, and this has been going on since March," says Cogbill. At present, Cogbill says, "all our facilities in town right now feel they have enough" PPE, and she notes entities spearheading local coronavirus prevention efforts are diligent in making sure those needs are met.
As residents are not leaving the facilities during the pandemic, staff is cognizant that viral entry is the result of those who come and go, including themselves and visitors. Many of those employed are younger, healthy individuals, and while contracting the coronavirus may not be dangerous for them, they have parents, grandparents and patients to worry about. Every action causes a reaction, and even more than most employees at nursing homes and assisted living facilities are limiting their contacts and excursions.
"I think all of us who go into these facilities in any capacity — staff, visitors, family, anyone — we are very mindful, we don't want to be a risk to to this vulnerable population, and that changes the choices we make outside of work," Cogbill says. "I have absolutely changed how I grocery shop and how I put gas in my car. I don't go into other people's homes and I don't allow them into my home, and it is very restrictive and I miss it. I miss my friends, I miss going into restaurants, I miss not wearing masks and seeing people's smiles. And that is a sacrifice (these workers) are absolutely willing to make, but I would be lying if I said it wasn't emotionally, personally difficult."
Wearing PPE for long shifts, many of which extend well over eight hours, is "physically not comfortable," Cogbill notes, but staff "do feel that these residents are their family, and they understand wearing the PPE is critical so they do that willingly. It does get tiresome and it does get burdensome to have such a heightened sense of vigilance for so long at the place that you work."
Each facility is doing "the absolute best they can — there is no way to prevent COVID from entering buildings no matter what you do," Keehner says, adding that sites where outbreaks have occured "certainly have not done anything wrong. You're always trying to come from behind with COVID — by the time someone has the virus they've already spread it. ... We're all on the same team. We're all trying to fight the same battle and we continue to need the community's support in doing that."
The challenges for these facilities extend to the endlessly fluctuating guidelines from government entities in regards to coronavirus precautions. Belinda Nickelatti, director of nursing at Bethany St. Joseph Corporation, says staff is "taking it day by day." She said, "The amounts of changes from the CDC, CMS and the state of Wisconsin is staggering."
"We continue to support each other a team," Nickelatti says, noting, "Every department has stepped up to ensure residents receive the care they deserve."
Staff in administration, recreational therapy, social work, maintenance, housekeeping, dining, records and even Olive the pet therapy Goldendoodle have expanded their roles amid the pandemic, Nickelatti says, including assisting residents with Zoom calls, FaceTime, Facebook email and letter writing with loved ones, and conducting safe visits outdoors. Scheduled indoor visits, she says, will resume only when the local coronavirus positivity rate is consistently below 10.
In the interim, Bethany St. Joseph is encouraging residents to socialize more with each other, noting "residents who are willing and able to develop friends within our building are more resilient."
Wanda Plachecki, executive director of long-term care and residential services in La Crosse County, and Erica Schultz, director of nursing at Lakeview Health Center and Assisted Living in West Salem, in a joint response to the Tribune were candid about the tumult caused by COVID-19, saying, "2020 has been a tough year."
"Besides all the changes in their home lives, our staff have had to adjust and change almost every way they do their work," they said. "From universal source control and the extra personal protective equipment to the extra cleaning/sanitizing to the constant reminders and pleas to take care of themselves outside of work –- there are so many new things to know and remember. And we have repeatedly asked them to change what they do, as new information and guidance has become available. This is challenging and emotionally stressful. When we ask staff what it is they are most fearful of, they routinely tell us that it is the fear of unknowingly having the virus and passing it on to someone they care for."
The staff remain committed, positive and resilient despite the stress, coming in on days off to get tested, learning to use telehealth and keeping up with the latest viral prevention education and strategies. In support, BSJ, the pair notes, is ensuring benefits cover time off if staff are required to quarantine due to potential exposure or are sick, and encourages staff to take time off to relax. At the facility, laughter and camaraderie boosts morale, with Placheck and Schultz saying, "Although we can't replace family, we can be a caring partner as we care for and support the whole person. They are focused on the future. Together we are better and stronger."
Patrick Senzig, administrator for Eaglecrest Riverside, says, "I'm fascinated on how well our staff have stepped up to the challenge to implement policies and procedures to keep our residents and their coworkers safe. It just goes to show that our employees are here for the right reasons. Their hard work and efforts don't go unnoticed." Staff encourage and uplift each other, he says, and Eaglecrest hosts prize drawings and provides free meals to boost morale.
That being said, Senzig says it is evident how much the pandemic is wearing on everyone, from the PPE requirements to the mental wear and tear.
"I'm not going to lie and say it's all been roses and rainbows in long-term care," Senzig says. "This environment is emotionally challenging on all parties as many situations contest our ethical decision making. Regulatory agencies have restricted visitation for residents and we're being challenged on when is an appropriate time to offer a compassionate care visit as people near end of life. Our staff are witnessing the heart wrenching conversations residents have with their loved ones on why they haven't visited in seven months or why they're standing outside the window and won't come inside. Our residents don't always understand the pandemic which leaves them with a lot of questions."
For staff, witnessing the confusion and distress the pandemic has caused residents, and seeing some suffer and ultimately succumb to the coronavirus, is heartbreaking.
"They've expressed they're often closer to these patients than they are to their own grandparents because they see them more often and they spend more hours a week with these people than anyone else," says Keehner. "I think we've seen more recently the effects of losing these people that they love and losing them so fast that they don't have time to recover and grieve the loss. (The staff) are resilient, they continue to come back to work every day, but you can see it in them how devastating this has been for them."
The distress is even greater for families, some of whom haven't hugged their parent or grandparent in several months due to visitor restrictions. Local facilities acted swiftly to find alternative ways to maintain connections, including visits conducted virtually, through windows or outside.
At Riverside, staff will take on simple but meaningful tasks family would normally fulfill, such as changing holiday decorations in a resident's room and delivering gifts. Lakeview has made a point to accommodate the preferred communication methods of families, purchasing devices for video visits, hosting outdoor concerts and tri-shaw bike rides, and arranging drive-by birthday celebrations. Updates on safety measures being taken and other coronavirus related issues are frequently shared with families via social media and phone.
Most notably, staff have become the consoling presence during last moments, with end of life visitor exceptions not allowing for multiple loved ones to be present. Other families cannot be there at all due to their own fragile health or employment as frontline workers.
"These staff members have really stepped up and they've been a big comfort to the families of these people who are dying, (at times) standing in for the family when they can't be there and providing (residents) as much love and time as they can," Keehner says.
For many families, placing a loved one in long term care is a stressful, wrenching decision, and coronavirus fears have only exacerbated concerns. However, due to their stringent measures these facilities may offer the best protection for the elderly and ailing.
"The requirements and standards that are set forth for skilled nursing facilities are extremely high," says Senzig. "We are performing more infection control practices than most. It's very evident that the community spread is high and people are contracting the virus no matter what they do. We continue to test our staff for COVID on a weekly basis as this is an important defense in fighting the virus. It's highly important for our government to provide long-term care with the support and resources they need to combat COVID-19 and keep our residents safe."
Plachecki and Schultz advise those considering long-term care for a loved one ask about precautionary protocols, from testing schedules to training to universal source control, and outbreak procedures, communication plans and staffing strategies.
"Be informed so that you make the best decision for your loved one. Our long-term care campuses are working hard to keep our residents as safe as we can and are always happy to review our procedures with you," Plachecki and Schultz iterate.
With a vaccine unlikely to be approved until 2021 and the pandemic on the upswing statewide and locally, facilities are prepared and "in it for the long haul," Keehner says, but the fears persist. "I think everyone is scared of COVID. We're exhausted and the end is not in sight. For all of the staff members and our whole community it has been difficult and continues to be very challenging."
Slowing the spread requires the cooperation of every single person. Masking and distancing are musts, and families should be prepared for holiday celebrations to look different this year. Even Thanksgiving dinners and Christmas parties have the potential to become super spreader events, and every outbreak means more and more individuals requiring quarantine, with the very real possibility of care facilities becoming short staffed and struggling to maintain standards of care.
"As Elizabeth has said, we're all interwoven from birth until death. From college age to elderly, we're all connected and it really requires everyone working together for the best outcome," says Keehner.
Cogbill is effusive in her gratitude for every person taking their role in coronavirus prevention seriously, and she praises those putting their own health on the line to fulfill the physical, mental and emotional needs of those most vulnerable to the virus."One of the things I wish I could show people is the staff and how hard they are working," Cogbill says. "If anyone is a hero in this fight, it's these boots on the ground, frontline workers in these facilities who are sacrificing personally so they can provide the very best care to these people. And it is really moving and powerful thing to see. Everytime I'm in a facility, I am overcome with gratitude."
"If anyone is a hero in this fight, it's these boots on the ground, frontline workers in these facilities who are sacrificing personally so they can provide the very best care to these people. And it is really moving and powerful thing to see." Elizabeth Cogbill, Gundersen Geriatrics
Kris Ruckman, of Eau Claire, Wis., shares messages with her 97-year-old father, Bob Anderson, earlier this year through a window at River Pine…
"If anyone is a hero in this fight, it's these boots on the ground, frontline workers in these facilities who are sacrificing personally so they can provide the very best care to these people. And it is really moving and powerful thing to see."

Elizabeth Cogbill, Gundersen Geriatrics