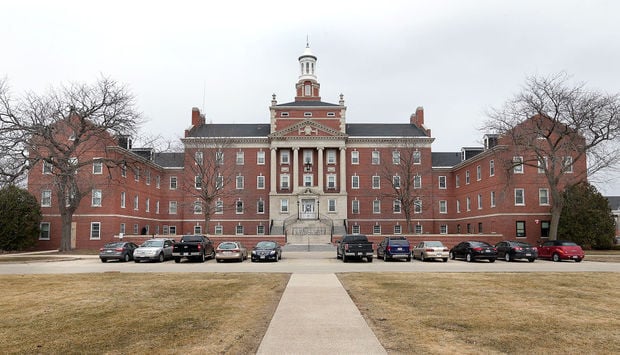 A bipartisan Senate measure, reacting in part to the "Candy Land" drug scandal in 2015 at the Veterans Administration Medical Center in Tomah, aims to shield whistleblowers at VA facilities from retaliation and to "hold bad actors accountable," said U.S. Sen. Tammy Baldwin, a Wisconsin Democrat who is co-sponsoring the bill.
"We must work across party lines to build a VA that protects whistleblowers, many of whom are veterans working to improve the system," Baldwin said. "We also need to make sure we are empowering the VA to hold bad actors accountable because our veterans deserve nothing less than high quality service and care."
Baldwin introduced the Department of Veterans Affairs Accountability and Whistleblower Protection Act Thursday, along with co-sponsors from both sides of the aisle — including Democratic Sens. Jon Tester of Montana, Bill Nelson of Florida and Jeanne Shaheen of New Hampshire, as well as Republican Sens. John McCain of Arizona, Marco Rubio of Florida and Jerry Moran of Kansas.
The VA implosion stretches as far back as early 2012, when an emergency room doctor in the Phoenix VA Health Care System's raised the specter of dangerous conditions in the ER department.
It percolated until late in 2013, after the original complainant was placed on administrative leave, when Dr. Sam Foote, a retired internal medicine doctor at the Phoenix VA, turned whistleblower and revealed that veterans were dying while awaiting care at the Phoenix VA and that records about waiting times were falsified.
The scandal boiled over in May 2014, when VA Secretary Eric Shinseki resigned under fire after a blistering report listed problems throughout the VA system. But it has continued, with a rash of complaints last year about delayed or nonexistent care and falsified hospital and time card records at VA facilities.
In January 2015, a report by the Center for Investigative Journalism chronicled over-prescriptions at the VA Medical Center, with patients labeling the hospital's chief of staff, Dr. David Houhlihan, the "Candy Man."
You have free articles remaining.
That scandal included the death of 35-year-old Marine veteran Jason Simcakoski from "mixed drug toxicity" at the Tomah VA shortly after Houlihan added another opiate to the 14 drugs Simcakoski was already prescribed. After Houlihan's was dismissed from the center — and then opened a practice in La Crosse — he agreed in January to surrender his medical license permanently.
Factoring into the Tomah VA scandal were a whistleblower's reports of excessive opiate prescriptions, which the Center for Investigative Journalism's reports alleged had quintupled between 2004 and 2015.
The Wisconsin Republican Party, which has targeted Baldwin in the 2018 midterm elections, made the Tomah VA scandal into a campaign issue in March, accusing her of ignoring the problem when it was brought to her attention in 2015.
Among other things, the VA Accountability and Whistleblower Protection Act would:
Authorize the VA secretary to reprimand, suspend, involuntarily reassign, demote or remove individuals from for misconduct, subject to an internal grievance process.
Empower the VA secretary to remove, demote or suspend most non-senior executive service employees for longer than 14 days without pay, subject to an appeal of their removal or demotion subject to appeal and a final decision. The decision also is to be subject to a Federal Circuit Court review.
Bar the secretary from retaliating in any way against employees who file complaints with the Office of Special Counsel. The act also would establish an Office of Accountability and Whistleblower Protection for employees who reveal major problems at the VA.
Streamline the secretary's authority to rescind an employee's bonus or relocation expense reimbursement and allow reduction of a senior executive service employee's retirement pension upon conviction of a felony related to work performance.
Require the VA to provide periodic supervisor training on whistleblowers' rights; how to address employee reports of a hostile work environment, reprisal or harassment; how to motivate, manage and reward employees, and how to manage employees who are performing at an unacceptable level.
Require the VA to provide reports to Congress on employee morale, the types of actions taken against employees and the effectiveness of those actions.