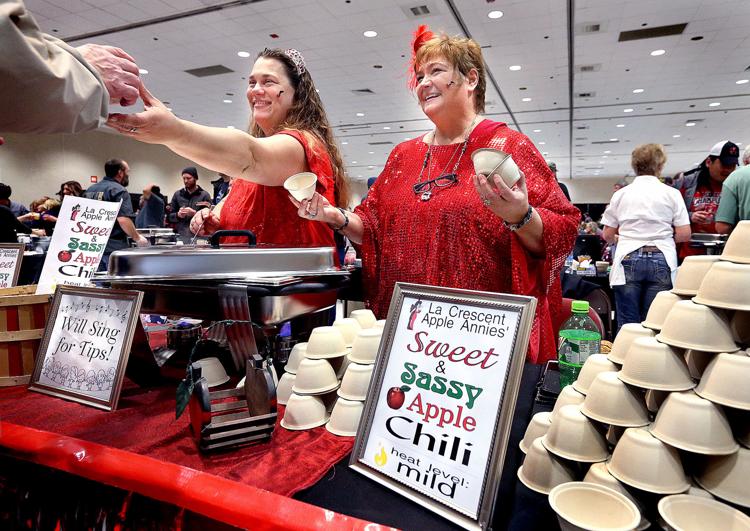 The savory, spicy aroma of chili wafted up the stairs and out the front doors of the La Crosse Center on Saturday, drawing in hungry passerby and community-minded diners for the fifth annual Beer By Bike Brigade Chili Slam.
With 53 varieties, ranging from mild to heartburn-inducingly hot, meat-free to meat-lovers, the estimated 1,000 patrons at the fundraiser had plenty of options to please their palates and satisfy their hankerings for a steaming bowlful on a cold day.
The Beer By Bike Brigade, which hosts regular philanthropic-minded community gatherings, was founded by "a group of people who wanted to do a silly little bicycle bar hop," said Alan Kantowski, co-organizer of the Chili Slam with Mario Youakim. "It grew and grew, and through the generosity of the group started to support community needs."
Each year, the Chili Slam supports a local organization, including Habitat for Humanity and Big Brothers, Big Sisters, with proceeds from the 2019 cook off benefiting the La Crosse Area Mountain Bike Race Team for the second consecutive year. More $5,000 went to the group last year, funding bikes and helmets for low-income team members, bike racks and repair tools. The team has doubled in size during the past year, from 35 members to 80, and donations from yesterday's event will help the team support its members with equipment from Coulee Bicycle Co. in Onalaska and continue to grow.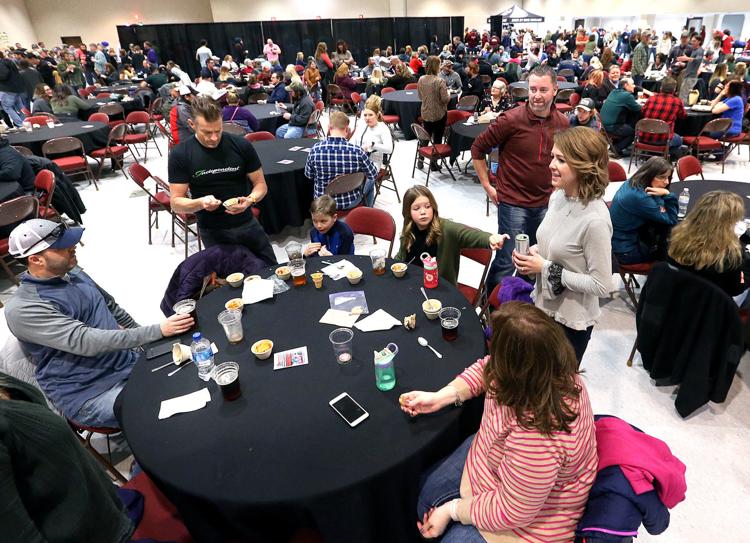 "We're extremely fortunate to have their support," said Traci Breit of the La Crosse Area Mountain Bike Race Team. "Kids are able to participate who wouldn't normally be able to."
"The mountain biking community is really close," said six-year team member Avery Luebke, 16. "You meet a lot of good people."
Patrons paid $5 to enter the event, voting for their favorite chilis with additional $1 donations. The winning chef will take custody of the coveted, traveling BBBB trophy, crafted by Paul Reardon of Blue Steel Bike — and bragging rights. Smith's Bike Shop took the honors in 2018, with Fazye's earning the title in 2017. Chili makers, which include local businesses, restaurants and nonprofits, pay for their own ingredients, some using the preparation as social gathering.
"We made it last night as a team," said Breit, who created the recipe for their sweet venison chili. "It would be spectacular, super fortunate if we won."
Fanny Freckles of Mississippi Mayhem (also known as Rebecca Brown) was looking to convert the carnivores in attendance with her Vegan Monster Mash Chili, tagline "No frank, just beans."
"I like the cause, and just wanted to come out and support the community and eat good food," Freckles said of entering a dish for the first year. "People are saying it's one of the best vegan chilis here and the best they've had overall."
Taking her monster mash theme seriously, with frosty makeup and a zig-zag striped beehive hairdo, Freckles attracted curious customers to her booth and hoped they would walk away pleasantly surprised by her hearty chili.
"A lot of people say chili isn't chili without meat — they don't know beans," Freckles quipped.
Tasting their way around the La Crosse Center North Hall, friends Ellie Hoffman and Erica Flynn cast their vote for the chili verde Three Rivers Lodge, which followed Hoffman's motto of "don't be afraid of spice." Three Rivers Lodge, which earned the trophy in 2016, appeared a top contender once again, with tasters abuzz with compliments.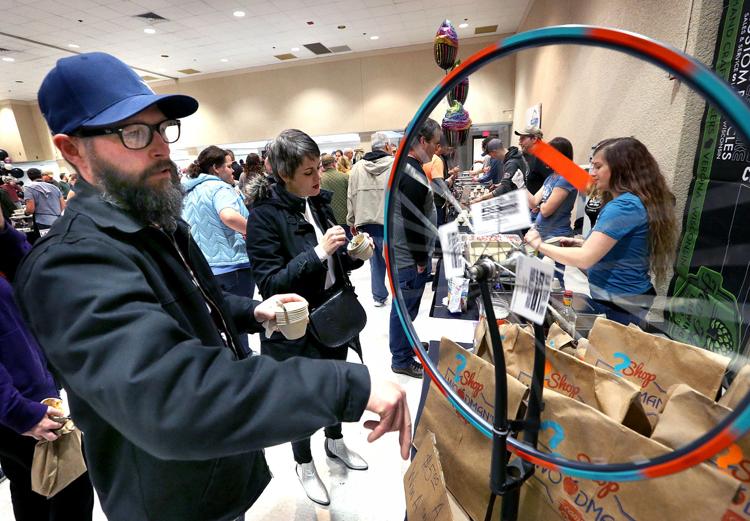 Restore Public House, which is slated to open soon at the former location of The Mint at 1810 State St., introduced future customers to its culinary skills, serving up a vegetable-centric, spicy duck fat delicacy.
Local artist Annie Morris, whose husband helped man the booth, was delighted to take part in the Chili Slam, selling greeting cards she collaborated on with Youakim at the event merchandise booth. Card sales will support local arts education, from large scale murals to paints, paper and colored pencils for classrooms.
"Mario is a beautiful conduit for bringing the community together for a good cause," Morris said. "He puts in so much time to support the community."