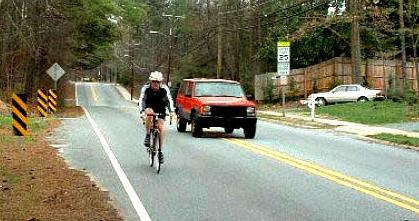 A turf battle between a bicyclist and a pickup driver took a heavy toll on both: The cyclist's $2,000 fat tire bike and a $500 child's bicycle attachment were flattened, and the driver faces charges of endangering safety and criminal damage to property.
The confrontation occurred at about 5:30 p.m. Tuesday, when Daniel Lexvold, 35, of La Crosse was driving his pickup on Bliss Road and allegedly disobeyed a state law requiring vehicles to give cyclists three feet of space when passing, according to the criminal complaint.
Bicyclist Joshua Miner, 40, also of La Crosse, took issue with Lexvold's passing too closely to him and his sons as they rode bicycles along Bliss, according to the report. One of the boys was on the bicycle attachment behind Miner, and the other was riding his own bike.
Miner approached Lexvold's older model Dodge pickup at Main Street and Losey Boulevard, where the truck was stopped for a red light.
That's where the police report reflects a he-said, he-said encounter, with this account from Miner:
Miner contends that Lexvold rolled down his window, listened to a brief lesson on the 3-foot law, made an obscene gesture toward Miner and rolled the window up.
Miner tried to go around the front of the pickup, but Lexvold edged his vehicle forward, hitting him.
Miner took his son off of the child's bike in the back and put him on the sidewalk and returned to pick up the bicycle, when Lexvold moved his pickup forward and stopped several times.
Miner decided to leave his $2,000 Surly fat-tire bike and the $500 child attachment in the street, and Lexvold promptly ran over them and drove off. Miner managed to get the license plate number.
A witness confirmed Miner's narration.
Lexvold's version, after police tracked him down:
A bicyclist approached his window, but Lexvold could not hear what the man said because his truck radio was too loud.
He did not want to roll down his window because he wanted to avoid a confrontation, although he acknowledged making an obscene gesture.
He told police he did not see the two boys.
As he tried to drive around the bicyclist and the bikes, the cyclist threw the bike under his pickup's tires.
Police arrested Lexvold, who was charged Wednesday in La Crosse County Circuit Court with one count of recklessly endangering safety and one count of criminal damage to property.
No one was injured in the confrontation, and the pickup was not damaged, according to the report.