Biographer Daniel de Visé details the epic career of cyclist Greg LeMond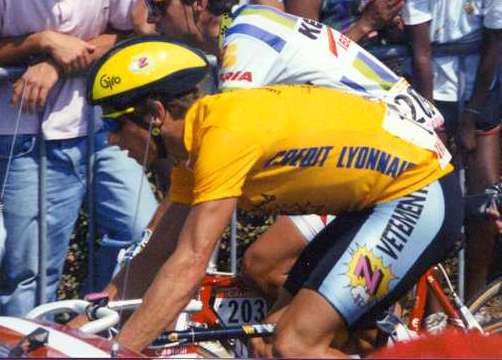 In many ways, their lives were parallel. Both bore the scars of childhood trauma, overcame potentially fatal health crises and achieved phenomenal feats of athleticism.
Greg LeMond and Lance Armstrong were both celebrities in the sport of cycling. Only one emerged with his reputation unscathed.
The story of LeMond, the first American to win the Tour de France, is one of extreme rises and falls — physically, emotionally and publicly — and yet Armstrong emerged as the media darling, both during his high-profile career and the epic fallout from his doping scandal. For author and journalist Daniel de Visé, the disparity in recognition was vexing, and with his new biography, he hopes to promote the legacy of "the true king of American cycling."
"The Comeback," released in June from Grove Atlantic, was something of a passion project for de Visé, an award-winning news journalist, investigative reporter and shared recipient of a 2001 Pulitzer Prize for deadline reporting. Growing up in a "cycling-obsessed" family, de Visé followed LeMond's career from childhood, and thought of his childhood idol when mulling his next book subject.
"I was walking around the neighborhood thinking, 'What's a really dynamic story with ups and downs and suspense?' ... (Greg's) story was full of that," de Visé said.
De Visé found other biographies narrowed in on small portions of LeMond's life. Instead, he opted for an all-encompassing approach, chronicling LeMond's youth, career, retirement and beyond.
The research process was intensive, beginning three years ago and sending de Visé on a quest to read "every significant thing ever written about him."
In addition to combing through hundreds of articles and transcripts, de Visé met personally with LeMond on three occasions, including in La Crosse during the cyclist's appearance at the 2016 Apple Blossom tour, held in conjunction with the Liz Fest charity ride. LeMond has ties to the Coulee Region: He is married to La Crosse native Kathy Morris, whose family owns Allergy Associates of La Crosse. The couple, who have three children, lived in Medina, Minn., until 2017, and now reside in Tennessee.
"When writing a book they say you have to be ready to spend two years of your life with someone — meeting them, talking to them, thinking about them," de Visé said. "I feel very fortunate (Greg's) a terrific person. He has a great enthusiasm, an almost childlike joy, and all the hardships he experienced haven't extinguished that, which is really wonderful."
LeMond experienced trauma early in his life. Growing up in California and Nevada, he was sexually abused by a neighbor, Ron, at just 7 years old. It was a secret he kept for decades, one which continued to infiltrate his thoughts even in moments of glory.
As a young teen, LeMond, who skied in his youth, was introduced to biking, entering his first race in 1976. The following year he finished second in the Tour of Fresno. After winning additional races, including the 1980 Nevada City Classic, LeMond turned pro in 1981. Though he broke his collarbone in 1982, he became the first American to win the World Championship the next year, and competed in his first Tour de France in 1984, taking third. Two years later, he would be the first American to win the the 21-stage, multi-week race, totaling some 2,200 miles and grueling ascents. His defeat of five-time winner Bernard Hinault, who waged an aggressive, merciless attack during the race, was stunning, but brought back painful memories.
"As hundreds of thousands of French cycling fans chanted his name, Greg's mind drifted back to another man who had tortured him, to Ron, his abuser," de Visé wrote in the book. "Greg wondered in horror if Ron was out there somewhere, watching him on television that very moment."
Press and prestige followed LeMond's win, and he developed his own brand of cycling gear, Team LeMond, making him a millionaire.
"You know, it's almost like we're too lucky. We have everything," LeMond's wife, Kathy, is quoted as saying in "The Comeback." The luck would not last.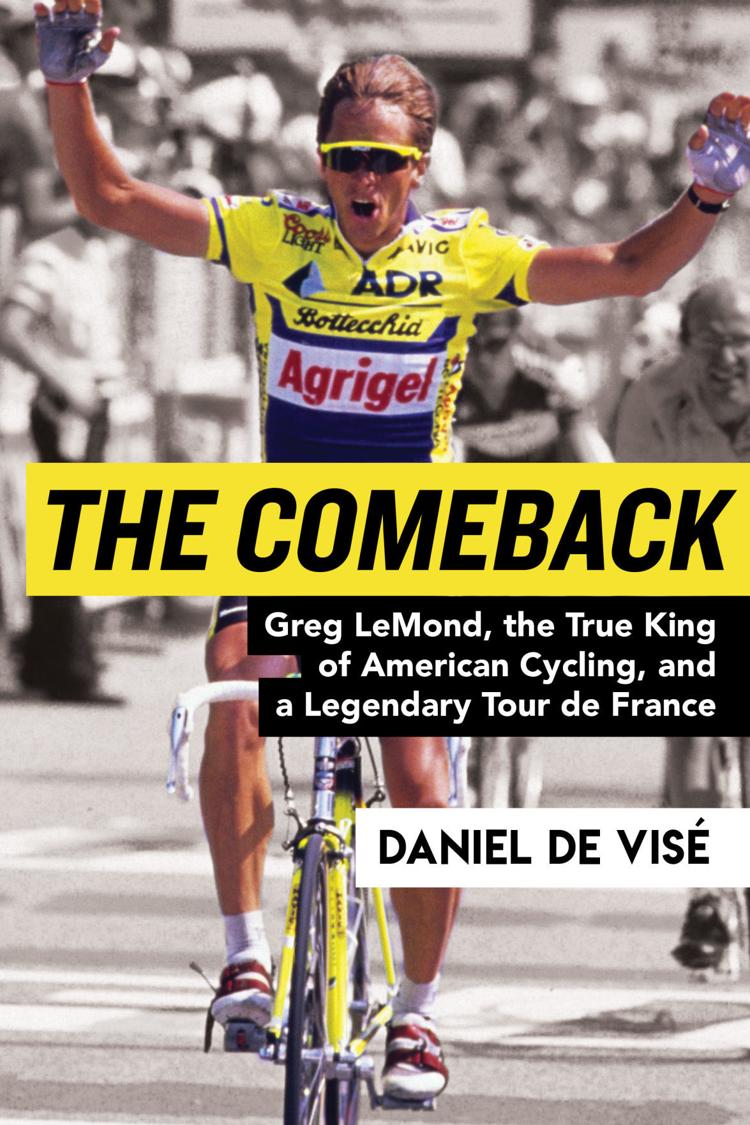 In April 1987, LeMond was left critically wounded after being accidentally shot on a hunting trip. He was struck by over 100 lead gun pellets. His lungs had collapsed and he was suffering from massive blood loss when he arrived at the hospital. Two of his ribs were broken from the impact, and more than 30 pellets, in areas including the heart, liver, and limbs, were deemed too risky to remove from his body. A massive blood clot had to be drained from his lung, and his muscles had began to deteriorate.
"Like most people who were fans, I didn't realize he had almost died," de Visé said of LeMond's condition. "Back in 1987, an event like that wasn't really covered in (the news)."
He initially feared his career was over, but LeMond began easing himself into biking within a month of the accident, and began strength training to build up his muscle mass. His progress came to a halt when he developed an intestinal blockage. He opted to have his appendix removed as well, so he could use that operation as a cover for the much more serious reason for the operation.
A contract with the PDM cycling team required LeMond to resume racing before he was fully recovered. He developed tendonitis, missing the 1988 Tour de France, and was unsettled to learn that doping was going on among PDM team members. He switched to the ADR team.
At the 1989 Tour de France, LeMond had no illusions of winning. But he yet again made history, beating two-time Tour winner Laurent Fignon by just eight seconds, the closest win ever — so close, in fact, it took a beat before LeMond realized what had happened.
He had not only won, but he had done so at an average speed of over 54 kilometers an hour, the fastest ever time.
His triumphant streak continued, beating Fignon again in the World Championships road race the following month and taking first. That winter, he was named Sports Illustrated magazine's Sportsman of the Year, the first cyclist to receive the title.
"Just six weeks before my 1989 Tour de France win, I wanted to quit," LeMond said in an interview with the Tribune. "If my wife did not convince me to stay in the sport until the end of the year, I would have never experienced my second or my third Tour de France victory."
Awash in success, Le Mond was wooed with multi-million dollar contracts. He joined team Z-Tomasso and signed TV and book deals, meeting celebrities and appearing in a commercial. He won the Tour de France a third time in 1990, but came in seventh in the 1991 tour, marking the start of his decline. In 1992, LeMond had his last great win, taking first in the Tour DuPont.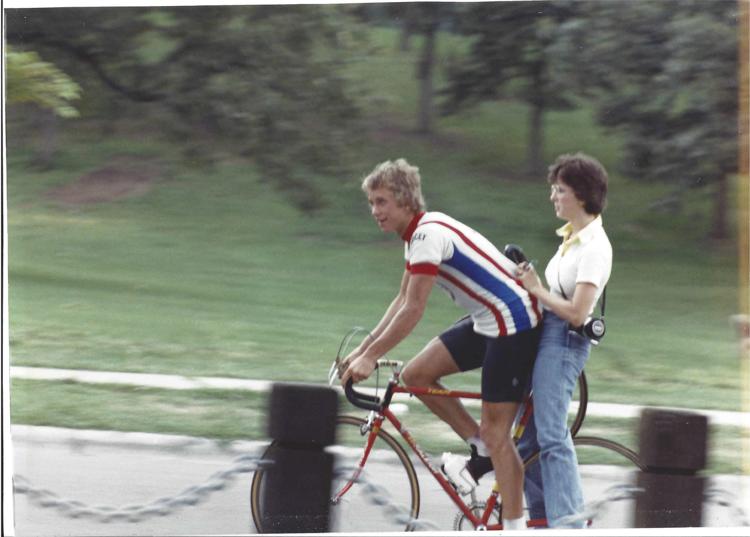 With the rise in the use of EPO, a peptide hormone used to enhance performance, LeMond could not keep up in races, and was told by a doctor in 1992, "If you're not on EPO, you don't have a chance" at winning. It was the day after he withdrew from the 1994 Tour de France that LeMond received a call from the man who would prove to be the new face of cycling, and ultimately of scandal: Lance Armstrong.
Armstrong, who won the World Championship road race in 1993, was absent from the cycling world for years following his diagnosis of testicular cancer. He reemerged in 1998, having started an eponymous cancer research foundation and joining the Postal Service team.
Much like LeMond, Armstrong had suffered in childhood, abandoned by his father and and abused by his stepfather, and found catharsis in cycling. Though LeMond found Armstrong a bit cocky, he offered support and encouragement. However, he began to hear rumblings that Armstrong's comeback was fueled by more than adrenaline.
The prevalence of doping was highlighted in 1998, when the Festina cycling team, whose team doctor was Michele Ferrari, was discovered to be running a "systematic doping program." Though EPO was banned, some cycling teams "organize(d) their doping efforts under team doctors, many of them glorified drug runners," de Visé noted in the book. LeMond remained a vocal anti-doping advocate. He had remained clean himself throughout his years of racing, and was hopeful most American cyclists were clean as well. But when Armstrong won the 1999 Tour de France in the fastest time on record, media outlets including the New York Times published their suspicions that Armstrong was doping. Armstrong brushed off the accusations and rapidly became a celebrity, raking in endorsements, paling around with movie stars and starring in ad campaigns.
"I think Greg was at his peak in 1989, and became reasonably well-known," de Visé said. "Lance a decade later became fabulously well-known. Greg never approached that level of celebrity."
Debates continued of whether Armstrong was a cycling miracle, somehow emerging from cancer stronger and faster, or if he was using. In 2001, it was revealed that Armstrong was seeing Dr. Ferrari. When asked for comment by the media, LeMond responded, "If Lance is clean, it is the greatest comeback in the history of sports. If he isn't, it would be the greatest fraud." Armstrong confronted him, accusing LeMond of doping to win the 1989 Tour de France, and threatened, "If you want to throw stones, I will throw stones."
True to his threats, Armstrong and his team waged a war to discredit and humiliate LeMond, painting him as an alcoholic and drug user. LeMond hit rock bottom, feuding with family, briefly leaving home and feeling overwhelmed by memories of his childhood molestation. Armstrong, meanwhile, continued to win the Tour each year. The pair's feud waged on, and LeMond became a "cycling pariah." Armstrong won a seventh tour in 2005.
The next year, Floyd Landis took first, but failed a drug test. In 2010, Landis confessed to doping, accusing his teammates, including Armstrong, of doing the same. That year Armstrong rode in his last Tour. Shortly after, another teammate, Tyler Hamilton, seconded that Armstrong had doped. By 2012, following investigations, Armstrong had been stripped of his titles.
A decade after Sports Illustrated honored Armstrong as Sportsman of the Year, he was named the magazine's "Anti Sportsman of 2012."
"Lance Armstrong made a fortune cheating the sport, cheating his sponsors, and cheating the system," LeMond told the Tribune. "In the end he paid the government $5 million, a very small penalty for what he did. He did a tremendous amount of damage to pro cycling, and I do not believe he has done all he could do to make amends to the people he hurt."
Armstrong's star was rapidly crashing. LeMond's was rising as he was once again recognized as the sole American winner of the Tour de France, a title he holds to this day. He went on to open LeMond Bicycles, later morphing the business into LeMond Composites. LeMond and Kathy moved to Tennessee last year after three decades living in Minnesota, and remain close with her family in La Crosse. LeMond remains a cycling legend.
"He is one of our great athletes," de Visé said. "I think his comeback is unprecedented."
LeMond says he avoids reading his biographies, wishing to keep his memories pure and protect himself from unfavorable depictions, but has committed to reading "The Comeback" in its entirety. Currently partway into the book, he says, "I like what I am reading," and has gotten feedback from friends that the book reflects Kathy's unwavering love and support, instrumental in every facet of his life.
"I think the saying 'For every great man there is a great woman' is so true, although I would put me down a notch — at most I would say 'good man' — but when it comes to my wife, 'great' is the appropriate word," LeMond said. "I know I would never (have) had the career I had if I did not marry Kathy."
"The Comeback" is available at Amazon and Noble.