Jan. 11 holds special significance for Melissa Holtan.
For the first three decades of her life, Holtan commemorated it solely as her mother's birthday. Then, when Holan was 34, it also became the date of her lumpectomy after a surprising breast cancer diagnosis.
And 15 years later, on Jan. 11, 2017, it gained a third relevance, marking the day of her transformational double mastectomy.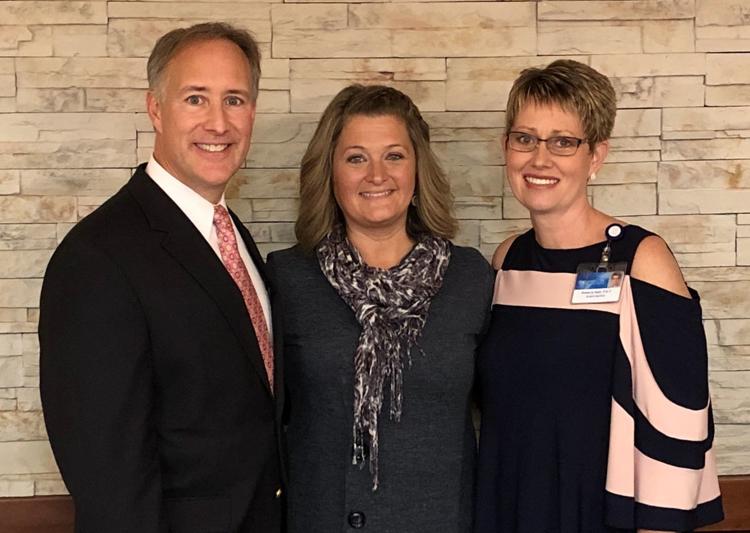 "I could not believe my ears," Holtan, 52, recalled of hearing the first available appointment date for the life-altering procedure. "... My poor mother would once again need to spend her birthday in the waiting room while her daughter had cancer removed from her body. Sounds like a cruel joke. We couldn't think of it that way though. Instead we considered it a 'God wink' and that everything would be OK."
More than 2½ years later, Holtan is doing better than OK, in remission and relishing each day with her doting husband, Tim, three daughters — all registered nurses — and two adorable grandchildren, one born in the midst of Holtan's spring 2017 chemotherapy treatments. As breast cancer awareness month comes to a close and Mayo Clinic Health System celebrates its new Stephen and Barbara Slaggie Family Cancer and Blood Disorders Center, Holtan is sharing her two-time battle with the disease and her decision to undergo reconstruction of her breasts.
"Everyone has a story, and I feel the best way to tell it is to help others along the way," Holtan said. "My hope is that I may touch the heart of at least one person in a similar situation and that my story helps make their decision about treatment and reconstruction a little easier."
Holtan was a young mom when she discovered a lump in her left breast during a self exam in 2002. Having no family history of the disease, she felt immense guilt and shame, wondering what she could have done better or differently in regards to her health. Luckily, the cancer hadn't spread to her lymph nodes, and after a lumpectomy and six weeks of radiation, Holtan was soon doing better physically and emotionally, back to feeling "invincible."
And for a decade and a half, Holtan was the picture of health until a routine mammogram revealed a mass in her left breast. Her cancer had returned, this time more aggressively.
"I want to see my kids get married. I want to meet my grandkids. I want to grow old with my husband. The things people want to do, I was scared I wouldn't be able to," Holtan said of the heart-breaking diagnosis.
It was a "two-second" decision to have a double mastectomy, Holtan says, and after the surgery she opted to start the reconstruction process with Dr. Matthew Sherrill, a plastic surgeon at Mayo Clinic Health System La Crosse, and Rebecca Kath, a physician assistant in Mayo's plastic surgery department. Because the tissue in Holtan's left breast was still healing from the radiation 15 years prior, Kath encouraged her to consider an alternative to a traditional implant — a latissimus dorsi flap procedure. This surgical method takes an oval shaped flap of skin, fat, muscle and blood vessels from the back muscle, "tunneling" it under the skin to the chest region, where it forms a new breast mound.
Holtan was resistant to taking a more invasive route, and proceeded with the expanders until it became apparent her left breast "was not going to cooperate" and conceded the flap procedure was her best option. She continued with the expander on her right breast, starting chemotherapy in March and concluding her eighth round in June 2017. In November, Sherril put in Holtan's right implant and performed the latissimus flap on her left side, inserting a new expander to ensure both breasts would be symmetrical when completed.
About 40 reconstructive implant surgeries are done at Mayo Clinic Health System in La Crosse each year, but the flap procedure is particularly common, Sherrill said, with a basic implant the most efficient choice if the breast tissue will allow. While flap surgeries can also be done using tissue from the abdomen, using the latissimus dorsi is faster and safer.
"Anytime you're moving tissue around, you have to bring the blood supply with it," Sherrill explains. "By using the back, you don't have to disconnect and reconnect, you just rotate."
While the abdominal version of the surgery generally takes 8 to 10 hours, with a five-day post-op hospital stay, the latissimus dorsi procedure can be finished in about four hours, with the patient released the next day. With this procedure, however, an additional implant is likely needed to add bulk and shape to the breast, and patients may also have fat grafted from their abdominal area to add shape and a more natural feel to their implants.
"Everyone's reconstruction journey is different, just like everyone's cancer journey is different," Sherrill notes.
In May 2018, Holtan had the left implant placed, and, after weeks of massage and occupational therapy to help regain range of motion in her back and shoulder area, Kath introduced Holtan to the option of nipple tattooing. For about four years, Kath has been performing 3D nipple and areola tattooing for breast reconstruction patients, an innovative process that takes around two hours, with a touch up several weeks later, and uses shading for realism.
In summer 2019, Holtan opted for the tattooing, noting she was initially hesitant to undergo yet another procedure but trusted Kath's expertise.
"(She) is the absolute best at what she does ... she said it will fool your eye into thinking they are real, and they actually do (look real)," Holtan said.
Holtan is effusive in her praise of Sherrill and Kath, citing their balance between professionalism and caring. Kath herself marvels at Holtan's positivity throughout her ordeal — Holtan even invited Kath to give out her phone number to other patients in need of advice or a sounding board. All three urge women to be diligent about self breast exams and annual mammograms.
"Breast cancer is very common, but if people catch it early, they have a lot more options available, and it is a very treatable and survivable disease," Sherrill notes.
After entrusting them through four operations and countless appointments, Holtan likens the end of her reconstruction journey to a "break up" with Sherrill and Kath. Recently retired and living in Blair after three decades in Holmen, she is "still working on my new normal."
"(I'm) trying to figure out what my role should be with all of this and how I can help others," Holtan said. "Instead of letting this be a time in my life that I want to forget — which I sometimes want to — I hope to be a positive reference or resource to anyone who needs to know that it will be OK."
Get local news delivered to your inbox!
Subscribe to our Daily Headlines newsletter.