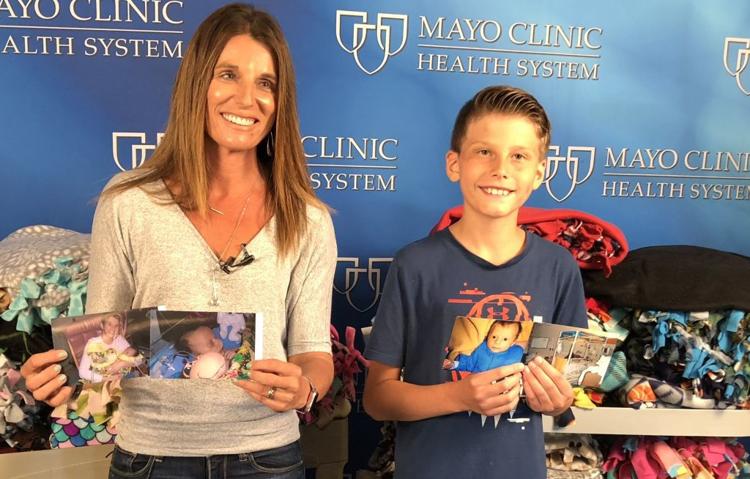 Wrapping her son in that little yellow blanket, Leah Fortun felt her troubles wash away.
The countless hours in the hospital. The image of her little boy, 3 weeks old, hooked up to machines. The sense of dread that filled her when he went into surgery, again and again.
"A couple older ladies brought the blanket in on a cart, and it was the first time I smiled that whole time," Fortun said Wednesday, 12 years removed from her son Carter's heart operations. "Knowing that someone else cared enough to make that blanket … was such a big light for me. When I got home, I said that I need to do that for other people."
Fortun, who teaches sixth-grade language arts at Onalaska Middle School, has spent the past 12 years doing exactly that. She and her students have made and donated more than 1,000 tie blankets — gifts meant to comfort those who desperately need some.
Wednesday brought the family's story full circle.
Fortun and Carter, who just finished sixth grade, hauled nearly 50 blankets to Mayo Clinic Health System in La Crosse, a day after they did the same at Gundersen.
Carter, of course, cannot remember his own health struggles. But he takes pride in knowing he's making at least a small difference in other people's lives, the same way that yellow blanket once touched his own.
"It's special because I got one, and I wanted to do the same for others," he said.
"It's surreal," Fortun said. "It seems like that was so long ago in some ways, and in other ways," it feels like yesterday.
Making 100 tie blankets is much more than a mother-son project, especially when both are busy with school.
You have free articles remaining.
Register for more free articles.
Stay logged in to skip the surveys.
Like she has every year, Fortun got some help from the teachers and students in the Onalaska school district, a group of 300 that donated materials, rolled up their sleeves, then got to work.
Carter, who had never made a blanket before, picked a fleece with dogs on it. It took him about an hour, he said, to create something he hopes will bring someone else comfort, even joy.
That would make him feel "good and happy," he said.
In past years, Fortun has donated the blankets through Project Linus, a national organization that hands out thousands of blankets annually.
Because of recent staffing changes with the local chapter, Fortun and Carter did the job themselves. They even brought the leftover materials to the Coulee Region Humane Society, which uses them as cat and dog toys.
"It's nice to be able to give back," Fortun said. "So many people did so many wonderful things."
Carter, meanwhile, has never felt better.
He still meets with a cardiac specialist, but his heart conditions have little to no impact on his day-to-day life. He's even been cleared to play football, his mom said.
Years ago, after he was well enough to go home, Carter would sleep with the yellow blanket from the hospital.
Fortun said times have changed, that Carter is a typical middle school boy — a little more proud, a little less sentimental.
Still, she said, it is not unusual to see Carter bouncing through the family's house, a flash of youthful energy, a blanket wrapped tightly around his shoulders.