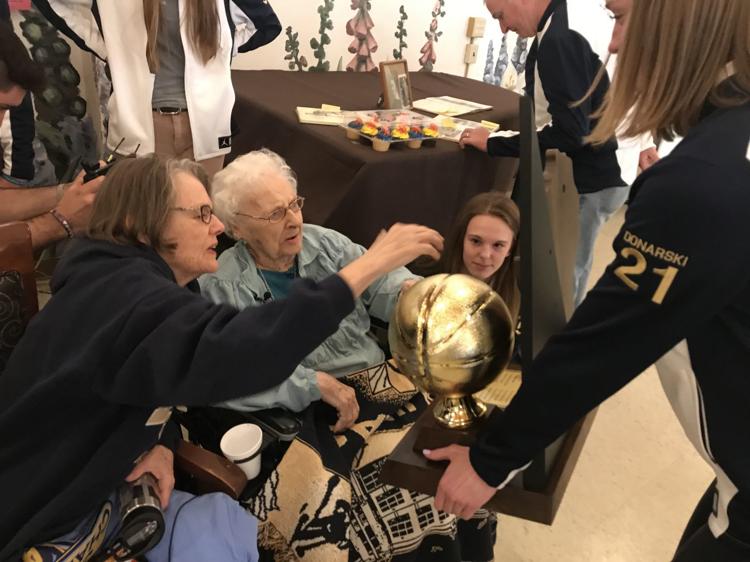 Perhaps the oldest fan of the Aquinas girls basketball team got a special visit Thursday — one that called for painted nails, coiffed hair and an old, yellowed yearbook.
Blugold players and coaches stopped by Hillview Health Care Center to see the 100-year-old Dolores Zabolio, less than a month after the Blugolds secured their second consecutive state title, and less than two weeks before Dolores' 101st birthday.
"Thank you, thank you," Dolores said as she met with the team, which brought her an armful of Aquinas gear, including a T-shirt, blanket and water bottle.
She even got to touch the state championship trophy, pressing her hand against a golden basketball the size of her head.
"I can't believe it," she said. "This is a real big honor."
It all started a few weeks ago, when Dolores and her daughter, Mary McGrath, saw a story about the Blugolds in the Tribune.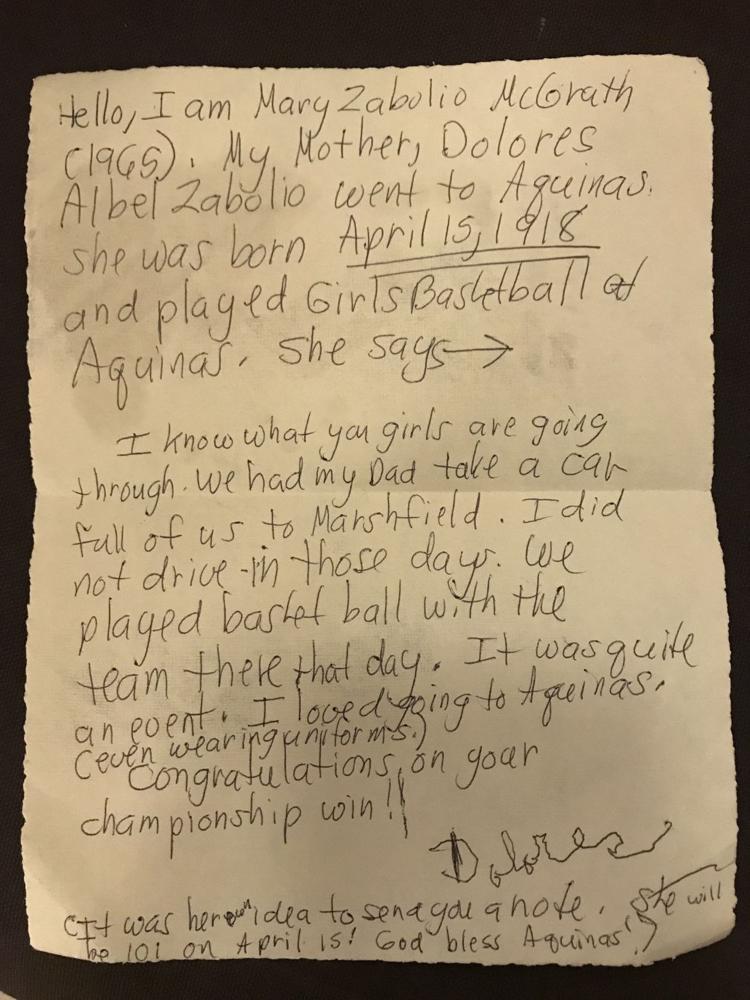 With her daughter's help, Dolores wrote a letter congratulating the girls on their championship and mentioning that, more than 80 years earlier, she had played for Aquinas' intramural girls basketball team.
"I know what you girls are going through," the letter read. "We had my dad take a car full of us to Marshfield. We played basketball with the team that day. It was quite an event."
A yearbook from the mid-1930s built upon her story. In one black-and-white photo, a fresh-faced Dolores and a few of her teammates are down on one knee, a basketball at their feet, their coach giving them instructions.
Dolores' yearbook and memory could be the last bridge between present day and this particular piece of Aquinas sports history.
Team officials said they were surprised to learn that girls at the school were playing organized basketball in the 1930s, 40 years before Title IX and the rise of girls sports.
For one reason or another, Aquinas girls basketball appears to have lost steam by the 1940s and '50s, finding new life after the passage of Title IX in 1972.
"To have an outpouring of support … from an Aquinas basketball player in the 1930s is pretty amazing stuff," head coach Dave Donarski said. "This is a great opportunity to bring two generations together."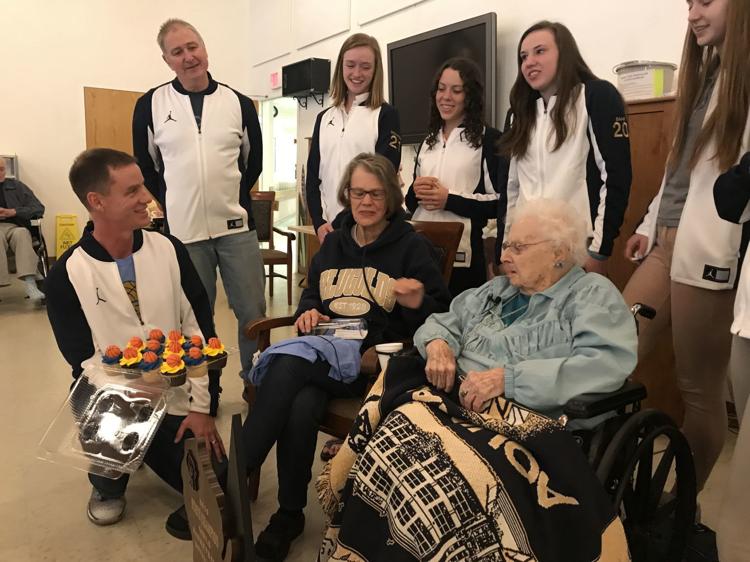 Added senior guard Megan Scheidt: "It's cool to be able to meet with one of the first (girls basketball players) at Aquinas. It shows that we have support that we don't even notice."
The girls seemed to informally adopt Dolores as a grandmother during their visit.
They let out a collective "aww" when they talked about the letter, which — even though Dolores struggles to write — she insisted on signing herself.
After learning that Dolores had done her hair, one of the girls looked down at a strand of her own, flipping it back.
"I wish I had done my hair," she said.
The team also sang "Happy Birthday" to Dolores, handing her a box of blue and gold cupcakes, each one decorated with a basketball ring.
"Today is a blessing," Mary, her daughter, said. "It's an absolute blessing."
Dolores has lived much of her life in the La Crosse area.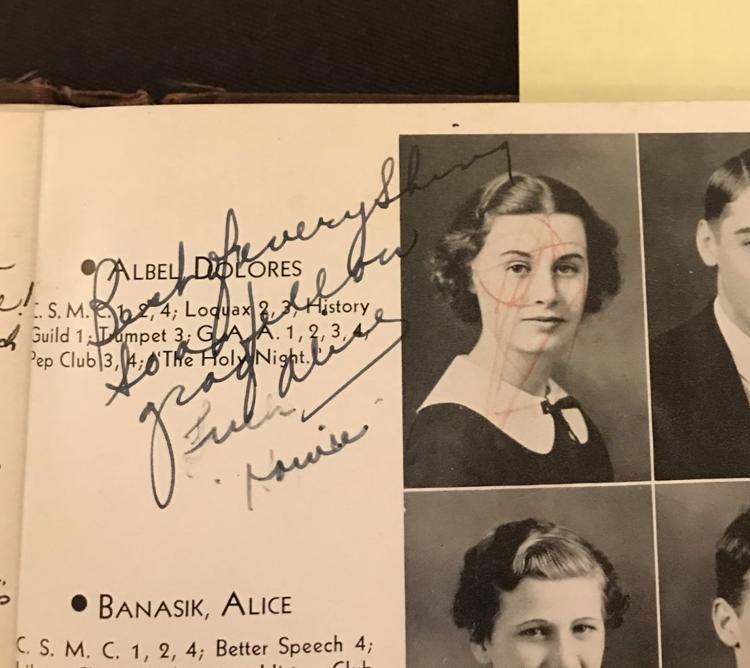 After attending Aquinas, she pumped gas and sorted mail at the Genoa IGA, which her family ran.
She raised a family and lost her husband to a heart attack when he was 44. Ever since, Mary said, Dolores has been on her own.
She moved to the nursing home at Hillview several years ago, but she has remained sharp, friends and family say.
Exercise is still an important part of her life. She usually joins in when Hillview residents get together to kick a beach ball around or to perform stretches in their wheelchairs.
More than anything, staff say, Dolores loves visitors.
"She's a very kind-hearted person and just loves being around people," said Kim Haskey, support systems manager at Hillview. "She couldn't believe they left school to go see her."
Wrapped in her new Aquinas blanket, Dolores shook the line of young hands, thanking the girls for coming. The group took a few final pictures.
The Blugolds have designs on a third consecutive state title — one that Dolores hopes she will be around to see.
Maybe that's why, as the girls streamed out the door, Dolores did not give them a traditional goodbye.
"Well, come again," she said.