Despite low milk prices, supply issues and trade disputes with China and Mexico, Brad Pfaff, secretary-designee for the Wisconsin Department of Agriculture, Trade and Consumer Protection, is optimistic about the future of agriculture in Wisconsin.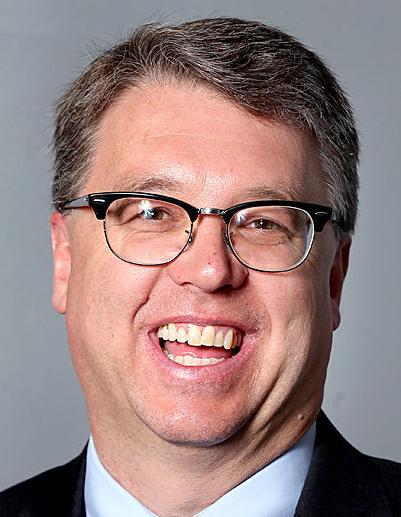 "I want to set the table by saying this: Agriculture in this state is an economic powerhouse," Pfaff said Monday to a room full of local business leaders. They were there for a La Crosse Area Chamber of Commerce special forum on the state of agriculture, held at at the Black River Community Center.
Pfaff, who comes from a farming family and grew up in La Crosse County, began working as DATCP secretary five months ago. He was deputy chief of staff to U.S. Rep. Ron Kind before being appointed to the position by Gov. Tony Evers. He also worked at the U.S. Department of Agriculture as the national deputy administrator for the Farm Service Agency during the Obama administration.
Wisconsin agriculture contributes $88 billion each year to the state's economy, of which almost half is from dairy, according to DATCP data. About one in nine jobs in the state are agriculture-related.
"No other state has such an advanced agriculture economy as what we have," Pfaff said. "I ask you today to continue to believe and to continue to invest because there are tremendous opportunities available in agriculture."
While federal officials and dairy groups debate supply management and retaliatory tariffs on dairy in President Trump's trade war with China drag on, Pfaff said he doesn't think Wisconsin needs to look to outside help to grow the agricultural sector.
"I think we can do it internally," he said.
One way is to better market Wisconsin-brand dairy products locally, nationally and internationally — especially when it comes to value-added products, Pfaff said.
Register for more free articles.
Stay logged in to skip the surveys.
Wisconsin produces more than 30 billion pounds of milk, 90% of which is made into 650 kinds of cheese. About 25% percent of that cheese is artisan cheese that can command a higher price and "provide greater value back to the farmer," Pfaff said.
And the made-in-Wisconsin label carries weight, Pfaff said, adding that he had just came back from a trip to Mexico where the Holstein cows' genetics and the milking equipment he saw could be traced back to America's Dairyland.
However, Pfaff acknowledged that "we can't value-add every product," which is why the industry should look toward dairy research and innovation, he said.
Consumer trends show that people don't drink as much milk as they used to, Pfaff said. However, milk can be enhanced with other components or altered to be lactose-free, opening up greater markets in places like southeast Asia, he said.
Pfaff then asked agriculture-adjacent businesses to continue to invest in farmers and rural communities, whether through investments in high-speed Internet, health care or access to agricultural loans.
Wisconsin is unique for the large number of small towns that dot its landscape compared to other midwestern states, Pfaff said. "We in the state need these rural communities. What do small towns supported by agriculture need to continue?"
The governor has been trying to address some of these issues, for example, by requesting $78 million in the state budget for broadband and seeking $1.6 billion in additional health-care spending statewide, including $324 million in Medicaid expansion, Pfaff said.
Evers sent a letter Monday to U.S. Department of Agriculture head Sonny Perdue as part of a ReConnect Program application for loans and grants to install broadband in rural America.