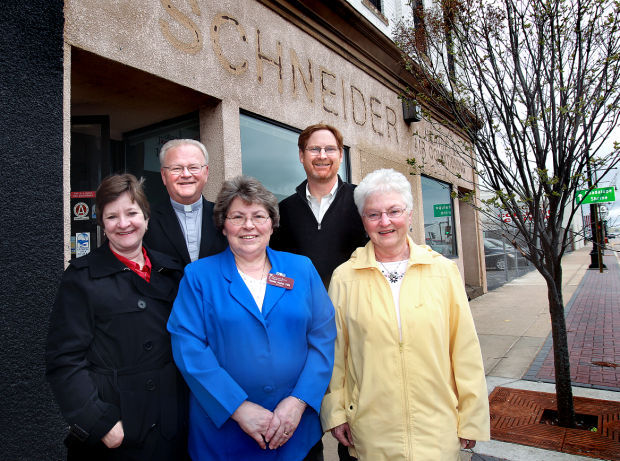 Catholic Charities of the La Crosse Diocese will launch a campaign today to raise $150,000 to cover higher-than-expected costs to convert a downtown building into a Warming Center and offices.
The money is needed to cover the gap between the expected costs of $250,000 to $275,000 and the bids of $350,000 reached after some cuts,
said Deacon Richard Sage, executive director of Catholic Charities.
The drive is to be announced this morning during a press conference at the building at 413 S. Third St., where Bishop William Callahan also is expected to speak.
"We need to raise at least $150,000," Sage said Tuesday, "but we'd like to have a little bit more" to cover unforeseen costs.
Substantial donations from the Franciscan Sisters of Perpetual Adoration in La Crosse and the diocese's Annual Catholic Appeal, as well as individual donations from $25 up, already have raised $200,000, Sage said. Thrivent Financial, a Lutheran service based in Appleton, Wis., also contributed $1 for every $3 raised up to $5,000 to bring in $20,000, he said.
The funds are to cover renovations of the 5,000-square-foot building, including amenities such as showers and laundry facilities for shelter clients, and some offices, he said.
Catholic Charities and Rick Staff, president and legal counsel of Gerrard-Hoeschler Realtors in La Crosse and Onalaska, announced their partnership in May to relocate and expand the Warming Center. Staff and his wife, Nancy Gerrard, have an offer to purchase the building, with the closing set for April 24.
Lutheran Social Services started the Warming Center in First Baptist Church with grant funding in 2010, and Catholic Charities took it over in 2011. The new center will be able to accommodate up to 35 overnight during the winter, compared with 19 at the previous site, Sage said.
You have free articles remaining.
Financial appeals will be made to individuals, parishes and congregations of all denominations, continuing the shelter's history of ecumenism, he said.
Volunteers began minor demolition in the former Schneider Plumbing and Air Conditioning building during the weekend that saved $25,000, before turning the work over to general contractor Fowler and Hammer, he said. Subcontractors include Poellinger Electric in La Crosse, Maxwell-White Plumbing in West Salem and Schneider, and the target date to open the center is its usual Nov. 1.
Catholic charities will move some of its offices to the building, including St. Lawrence Community Services, which helps people with basic needs such as rent, utilities, groceries and shelter; the agency's Immigration Department, which served about 300 people from 31 countries last year, and a program to help people on fixed incomes with budgeting and other needs.
"We will be in a position to do some case management for people who want to make a difference in their lives," Sage said. "If we can help lift people out of homelessness, this is a very unique opportunity."
Many of those who use the Warming Shelter are coping with temporary financial setbacks, and some have jobs, he said.
The arrangement between Catholic Charities and Staff, who intends to lease the building to the agency for $1 a year, "will end up being a very unique partnership between a not-for-profit and for-profit. I think it will be a model for others," Sage said.
"Rick seems to have a good heart for the work we do. He does property management, and our forte is serving people," Sage said.
Staff said Tuesday he plans an endowment drive after Catholic Charities has finished its campaign to raise about $175,000 to buy the building. He has applied for a nonprofit 501©3 status to put the property into a trust to be used as a community warming center in perpetuity.
If Catholic Charities ever decided to pull out, Staff said, another nonprofit would be able to step in and run the center.
Catholic Charities' fund drive and work on the building come first, he said.
"That piece is the most important part," Staff said. "Ours is secondary. The horse has to be first, before the cart."