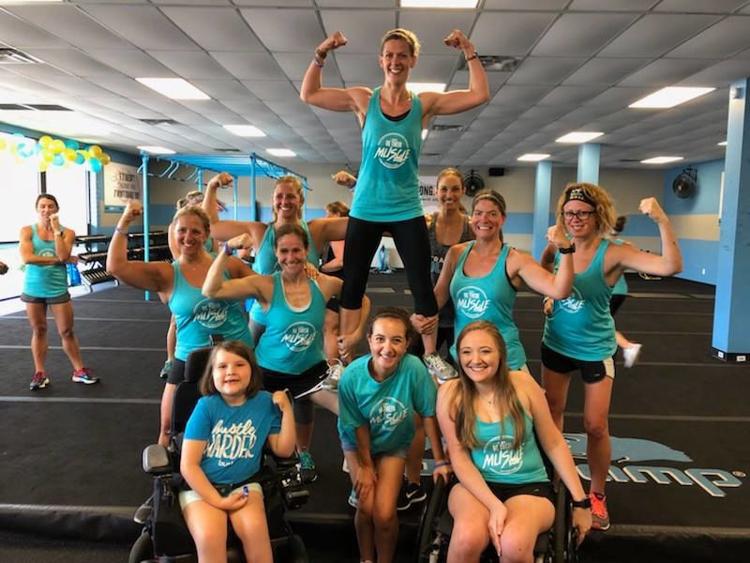 Each year, an estimated 20,000 children worldwide are diagnosed with Duchenne muscular dystrophy, the most common form of the genetic disease.
This summer, the Muscular Dystrophy Association hopes to send 3,500 of those affected in the U.S. — Coulee Region youth included — on a camp adventure where seemingly inaccessible pursuits are thrillingly possible.
To help reach the $500,000 goal to make the camp experiences a reality, 200 Burn Boot Camps in 37 states are hosting a Be Their Muscle Charity Workout for MDA, with the La Crosse South, North and Holmen locations inviting individuals to sweat for the cause at 9 a.m. Saturday, July 20, at Logan High School, 1500 Ranger Drive.
The event fee is $25, with every dollar supporting camp excursions for area youth. The workout will be comprised of a rotation between stations focused on body weight exercises, and is open to adults and teens 13 to 18 accompanied by an adult. All exercises will be adaptable to the participant's fitness and stamina level, and a DJ and vendor booths will be onsite.
Last year, the two La Crosse Burn Boot Camp franchises raised $5,446 with 175 in attendance, and with the Holmen location added this year the local goal is $7,500. It costs about $2,000 to send one child to MDA Summer Camp, and in 2018 fundraising allowed local kids including 11-year-old Addison of La Crescent to attend True Friends Camp in Maple Lake, Minn.
"It's so awesome to really make an impact on a large scale," said Leah Lawson, manager of Burn Boot Camp La Crosse South. "I know they're really depending on us every year to help out."
You have free articles remaining.
Register for more free articles.
Stay logged in to skip the surveys.
While many of us take our ability to stretch, jump and run for granted, many activities are normally out of reach for those with muscular dystrophy, which causes progressive weakness, degeneration of skeletal muscles and possible breathing, swallowing and heart problems.
MDA summer camps allow children with the diagnosis to swim, ride horses, dance, zipline and more, with volunteers, medical providers and trained staff on hand to push wheelchairs, disperse medications, encourage friendships and socialization and help develop confidence.
Individuals with muscular dystrophy have an estimated life expectancy of 27 years, and while there is no cure, medications, physical and occupational therapies and surgeries can help reduce joint, spinal and mobility challenges and slow the progression of the disease. Camp is a chance for parents to set their worries aside for a week and let their kids be kids — playing, laughing and enjoying the outdoors
The 2019 Be Their Muscle Charity Workout will allow more Southwestern Wisconsin kids to be granted stays at True Friends Camp or the Salvation Army Wonderland Camp in Camp Lake, Wis. without a financial burden on the family.
"We're showing them some love," Lawson said. "It's so cool to be a part of something big and help out these families."
To register for the Be Their Muscle Charity Workout for MDA, click here.
"It's so awesome to really make an impact on a large scale. I know they're really depending on us every year to help out." Leah Lawson, manager, Burn Boot Camp La Crosse South