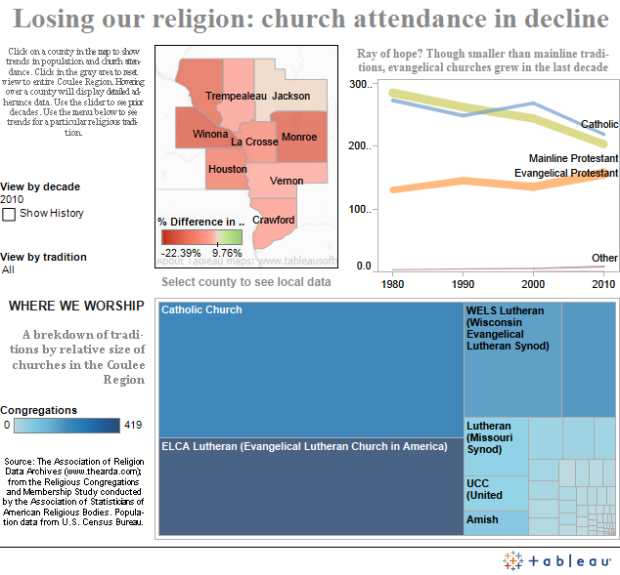 When he looked out over his congregation on Easter, the Rev. Jason Stanton, like pastors across the country, saw a lot of faces — about twice as many as a usual Sunday.
Not all will be familiar.
Among the more than 1,000 people who pack into Onalaska's First Lutheran Church will be those in town visiting family, but also those Christmas and Easter Christians, people who may believe but don't make a practice of worship.
Stanton doesn't resent them. He recognizes that even in their casual attendance they are showing a desire to connect with a higher power.
"Most of them have a hunger for some connection to the holy," Stein said. "I'm not sure the church is doing a great job of making those connections for people, meeting them where they're at."
Getting them to come back is his challenge.
The fact is that fewer Americans are going to church or affiliating with an organized religion — especially the mainline Protestant and Catholic traditions that dominate the Coulee Region and Midwest. It's a decades-long trend that has church leaders searching for ways to remain relevant and connect with people.
People like Ezra Kazee, who believes in God, reads his Bible and prays — but doesn't go to church.
"I have my own conversations with God," he said. "I have my own relationship."
He may be praying by himself, but he's not alone. Kazee is part of the fastest growing religious trend in America — the "nones," those who don't claim affiliation with any church or tradition.
Often called the un-churched, this group accounts for about 16 percent of the U.S. population, more than twice what it was just two decades ago, according to a 2010 survey by the National Opinion Research Center.
While still a relatively small fraction of the population, the rise of the nones has happened as the share of those who identify as Protestant has fallen from more than 60 percent to less than 48 percent.
"What has changed is people's willingness to say they have no religious affiliation," said Roger Finke, a Penn State University sociologist and director of the Association of Religion Data Archives, which maintains statistics on religious traditions around the world.
It's a distinctly American phenomenon, Finke said. In other parts of the world — such as Africa and China — modern religions are growing like never before.
According to survey data, they tend to be younger than church-goers — 60 percent are under 45, compared with 49 percent of Catholics and just 38 percent of Protestants.
They're more common in the West and South, though they live throughout the country. They are politically more liberal and moderate, more likely to accept homosexuality and to favor environmental protection. They tend to be slightly wealthier than evangelicals but not noticeably better educated.
A strong majority of them also believe in God, according to a 2007 survey by the Pew Forum on Religion and Public Life.
And 65 percent say they pray at least once a week.
"They're not atheists," said Laurie Cooper Stoll, an assistant professor of sociology at the University of Wisconsin-La Crosse and author of a 2008 paper on church attendance. "They're often people who say spirituality is important to them."
Church leaders are all too aware of these tends.
"It's been long enough that it's a group that's talked about," said Bishop James Arends, head of the La Crosse Area Synod of the Evangelical Lutheran Church in America. "Which is kind of sad."
Since 2000, the number of Americans who belong to or regularly attend church has been slowly eroding. The so-called adherence rate fell about 5 percent nationwide, according to data gathered by the Association of Statisticians of American Religious Bodies. In the Coulee Region — as in Minnesota and Wisconsin — the change was even more pronounced.
There is some debate about how much of that roughly 15 percent decline is a result of changes in the method of counting. What's clear is that, while local rates remain above the national average, the number of church-goers is not keeping pace with population growth.
The reasons are varied and harder to discern.
Stoll said many nones aren't rejecting the beliefs but the structure and bureaucracy of the church.
For Kazee, the problem had less to do with the church than its followers.
Raised in the Methodist church, the 35-year-old Onalaska resident said he left the church as a teenager but returned in his 20s, only to be repulsed by people he found to be hypocritical and judgmental.
"It almost seemed like church was a quick fix (for them,)" he said. "They could act any way they wanted through the week and then go to church."
It's a refrain familiar to Ben Newman, pastor of La Crosse's Cornerstone Community Church.
"A lot of that comes from people who say 'I love Jesus, but not his people,'" Newman said.
For others, the challenge is fitting church into increasingly hurried lives in an increasingly secular world where the notion of a Sabbath is a cultural relic.
"The study among church leaders is not so much loss of numbers as loss of relevancy," Arends said. "Is the church as an institution relevant to one's spirit? Too often we're saying no."
Bishop William Callahan is leader of the Roman Catholic Diocese of La Crosse. Like Arends, he decries the marginalization of religion.
"We live in a society that is determined to remove God from the culture," Callahan said. "It's not surprising that a number of people classify themselves as none."
Arends observes that religion in America is considered personal, while in places like Africa, public witness is the norm.
"We don't talk about it in polite society," Arends said. "It's much easier to say I'll be thinking about you than I'll pray for you. What risk is that?"
Arends also credits a holistic approach for the church's strong growth in Tanzania and Ethiopia, where the church provides skills training and a path out of poverty.
If people are leaving the church but not turning away from God, what's the problem?
"God created us to be in community," said the Rev. Chris Crye, pastor of Neighborhood City Church in La Crosse. "Community by its very definition requires structure. The idea of being un-churched — an individual out there seeking truth — is really a myth."
"Scripturally, we need communities," Arends said. "Whether you title that a church or not … Christ always calls us into a body so that together our skills, our gifts, our maturity can be blended. There are moments in the Gospels where Jesus goes aside to pray — but he always comes back."
Stoll said there's also value in being familiar with religious traditions.
"There's a cultural capital that goes with knowing these stories," Stoll said. "As a society, we are illiterate when it comes to religion."
People are more adamant than informed when it comes to religion, Stoll said. They'll fight to keep the 10 Commandments displayed in a courthouse, even if they can't list them.
Not every Christian church is shrinking. The evangelical Protestant tradition accounts for a small but growing share of church-goers.
Neighborhood City Church, which Crye founded in 2001, is affiliated with the Evangelical Free Church, which has seen regional membership quintuple over the past 30 years.
At Cornerstone in downtown La Crosse, there's a sign hung in the foyer. The red letters read simply "50,000."
That's an estimate of how many people in the area have no church.
"From the beginning, our church's mission was to reach into the community, to reach the lost," said Newman, the pastor. "We don't care if they come to our church, but some church."
In its 15 years, Cornerstone has grown from a group of five people gathered in a living room to a church where more than 100 people often turn out for services in the former Elk lodge that feature a live band and multimedia presentations.
UW-L's Stoll said evangelical churches don't differ substantially from fundamentalist traditions in their beliefs but have found more appealing ways to reach out to the un-churched.
"Evangelicals have tended to embrace technology. The theology is not really different," Stoll said. "They've repackaged that. They're selling it with Christian rock, wearing jeans on Sunday."
Newman, who has been with the church since 2007, said some of the appeal is the atmosphere, which incorporates trappings of modern evangelical movement — casual attire, live band, multimedia worship ceremonies — but also to active recruiting.
"We are big on pushing our folks to reach out to their neighbors ... with the hope of moving toward a spiritual conversion," he said.
Standing on the corner and preaching the Gospel doesn't draw people in, Newman said. Building relationships does.
Susan Shawley grew up in a small Pentacostal church but stopped attending as an adolescent, though she still considered herself a Christian. As she got older, Shawley said, she felt a need to reconnect. She tried some churches but didn't feel welcome.
"You walk in and you're very much on your own," she said. "You sit down, go for the service and leave."
She found Cornerstone's website and was drawn by the motto: "No perfect people allowed."
Callahan said the Catholic Church could benefit from a more evangelical approach.
"I think the authentic evangelical is always trying to connect to that element of humanity by which we are hard-wired for God. I think that connects with people," Callahan said. "That's what the Catholic Church needs to rediscover in its teaching. It's what our people have continually been asking for. ... They've been anxious to hear the burning Word of God."
But he bristles at the notion that organized religion needs to adapt its teachings to attract followers.
"The church has been here for over 2,000 years and has basically not changed any of the teachings, nor will she," he said. "We can't change that which we believe to be true. The church doesn't exist to be popular."
Stanton said some of the blame lies with the church; as a pastor, he's simply too busy managing the congregation, making hospital visits, dealing with life's demands.
But there are ways for churches to stay relevant, whether having an online presence — at age 35, he's still trying to figure out how to use new media like Twitter — as well as teaching people how to live as Christians in their daily lives.
"We define church not as the building but as the people," Stanton said. "Let's equip people to be the church where they're at."
Both Callahan and Arends see hope in Pope Francis, elected earlier this month as the new leader of the worldwide Catholic Church.
"He's a basic man, a basic kind of pope," Callahan said. "He will get us back to the realities we're trying to foster."
Arends has noticed it even among the un-churched on social networking sites.
"The excitement over Pope Francis is really interesting to watch. Every time he does another thing where he says I'm throwing off the structure. I'm going to talk to the poor people today, people that never comment on religion are saying, 'I think I like this guy.'
"I think it's a sign of hope."