He entered my life as "Squirt," the last in a litter of puppies to narrowly escape death.
Weighing in at a mere 4 pounds and just over 3 months old, the tan and white terrier-pug mix, long-legged with jutting hip bones, was rescued from drowning along with his siblings, having been deemed unsellable by the breeder. I loved him the minute I saw him.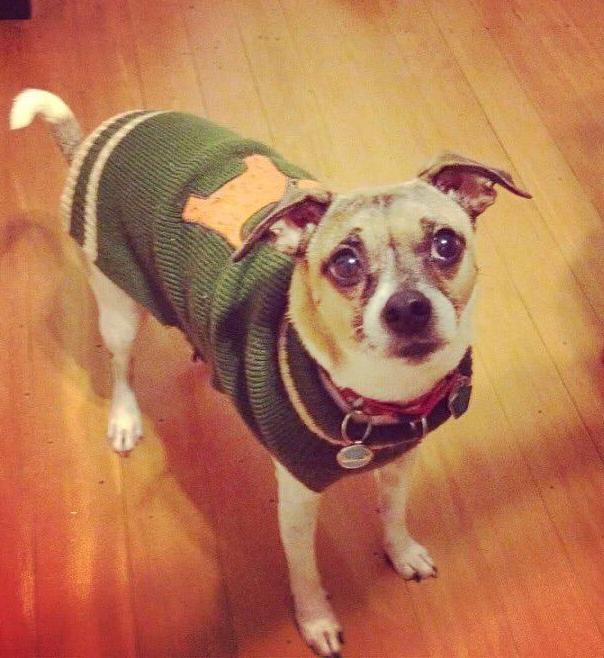 A college student at the time and living alone, he was the first dog that was solely mine, and sat wrapped in a blanket as my dad drove us home from the adoption site. An art education major at the time, I named him Picasso.
Twelve years later, Picasso was once again bundled in my lap, my dad behind the wheel, when he took his last breath.
Picasso and I were attached from the start. Speckled on his tummy, with a prominent chest and toenails in alternating colors of black and white, he had the glossy, wide eyes of a pug, the feisty disposition of a terrier and a penchant for hibernating in piles of blankets.
The first night, he crawled under the covers, and, terrified he would suffocate, I tented the top sheet with a book. I soon discovered he was happiest cloaked in layers, including sweaters in the fall and winter months — no dog has ever looked so stylish in an argyle hoodie.
True to his terrier roots, Picasso was a nervous dog with a general distrust of strangers, barking manically at joggers, mail carriers and those deemed unwelcome in his territory. He preferred to save his affection for a core group of people, of which I was the center, declining to lick but always desperate for attention, his whole body quivering, eyes wide when he felt ignored. The epitome of a lap dog, he stationed himself beside me at all times, emitting a faint purring noise when especially content.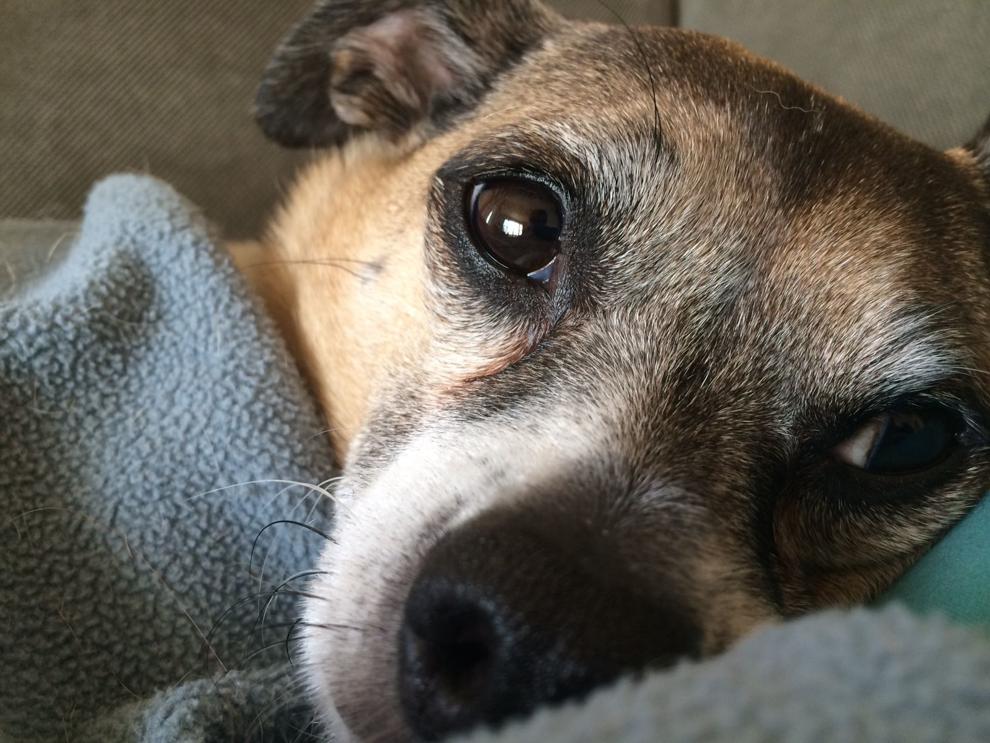 Picasso, also referred to as Baby, Munchkin Man, PQ and Pupper, had an array of delightful quirks. You could frequently find him flopping over on his side on a textured rug, rotating in a circle for a mini massage, or searching for a sunny spot to lounge in, relocating as soon as a shadow moved in. His signature treat, which became known as his "cheesy cone," was a small red Kong, filled with a spoonful of Velveeta cheese. He would clutch it in his front paws, licking furiously to get every last bit.
When my husband — who shares Picasso's July 5th birthday — and I adopted Dexter in 2012, Picasso, jealous of anyone who stole my affection, was wary but quickly warmed to the skittish yet energetic puppy, who insisted on sleeping as close to him as possible and scratching Picasso's back with his paw. The two would occasionally team up to steal from my sister's dog, Elita, one creating a diversion by barking at the front window as the other confiscated her bone.
The hairs on his muzzle turned a distinguished gray as he grew older — my husband affectionately called him Anderson Cooper — but he remained spry, tugging relentlessly on walks and diligently chasing any squirrel who infiltrated the yard. He hopped up the stairs like a bunny, both back paws moving in tandem, and held his own against Dexter in a tug of war.
When we adopted our daughter in early 2017, he largely ignored the noisy human, but they bonded over snack time, Cosette happily hand feeding him her crackers and peas as he rested his front paws on the footrest of her highchair.
Picasso was plagued by few health problems in his life, but in recent months had endured surgery to remove bladder stones, undergoing a second round of stitches just days later. It was during his procedure a mass was discovered under his tongue, feared to be cancer but revealed to be benign and removable.
He was perky as usual on the morning of April 9, cocooning himself in a blanket after his morning kibble. On cold days, it was not abnormal for him to protest leaving his spot, requiring us to lift and carry him outside. This time, when beckoned to go in the yard, he came down from the couch, limping on one leg. Assuming he had irritated it when he jumped down, I watched as he went down the porch stairs, seeming unsteady, before returning to the kitchen and falling onto his dog bed. Within seconds, his neck and legs had become limp, his mobility gone. I rushed him to the vet, my daughter in the backseat.
Placed on oxygen and and warming fluids, he was bleeding internally, his body temperature rapidly dropping. Overcome with tears, my daughter becoming upset herself and my husband in Arizona for work, I called my dad to meet us. We were advised to take Picasso to UW Madison for a transfusion, and the staff tenderly wrapped him in warm towels and placed him in a laundry basket, gently cautioning he may not survive the trip.
Cosette in her carseat, my dad drove, Picasso nestled in the basket on my lap. His eyes were open but fixated, his body unmoving as I stroked his head, tears running down my face. As we neared Wisconsin Dells, he kicked his front legs, lifting his head briefly as I soothed him and he once again went still. His body was warm, but as the minutes passed, I began to fear he was no longer breathing. After directions to the closest vet failed, we located Noble Hound Animal Hospital in Baraboo, and, as my dad gathered Cosette, I ran in with Picasso, sobbing as they told me he was gone.
I knelt over Picasso's still body as my dad gave me a hug, tears filling his own eyes. Dr. Melissa Runde, a petite and soft spoken woman, approached us, her voice filled with compassion as she shared my loss, offering to conduct an autopsy, free of charge, to give me closure after his rapid, inexplicable death.
As we waited, staff members went out of their way to help keep Cosette occupied, gifting her a stuffed bunny and showing her the office pug. As I stepped outside to call my husband, a couple, leaving with their own dog, offered their condolences, the woman giving me a hug.
Dr. Runde brought me back to a room, where Picasso's eyes had been closed, his body covered and his face sprinkled with with sparkling "fairy dust," a ritual Dr. Runde performs whenever a cherished pet passes.
Picasso had suffered a ruptured hemangiosarcoma, an often fatal cancer which appears and spreads rapidly, with few if any symptoms emerging before a sudden collapse. The cause is unknown.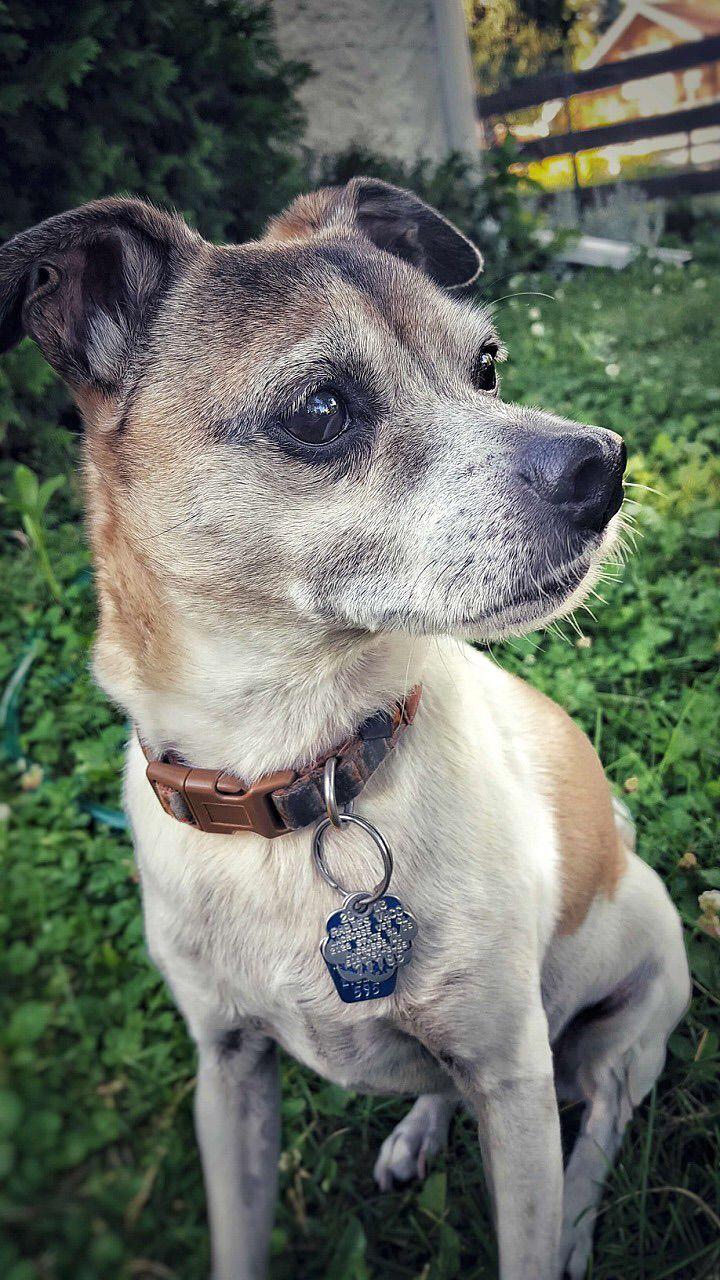 On her website, pet hospice and emergency veterinarian Elizabeth Benson describes the devastating condition as "an insidious monster that appears from nowhere and leaves a wake of suffering for owners that is profound. A lightning bolt and rolling thunder that comes from nowhere on a day that was filled with blue skies only moments ago."
I have never cared for platitudes in times of crisis, but when Dr. Runde told me it was Picasso's time, and assured me he knew how much I loved him, I found comfort in her words. There was nothing that could have been done — I hadn't failed him.
Before we left, she handed me a bag, telling me she hoped its contents would make me smile. It contained a glass jar covered in baubles, a ceramic dog on the top, and was accompanied by a poem called "The Rainbow Bridge."
"Just this side of heaven is a place called Rainbow Bridge ... All the animals who had been ill and old are restored to health and vigor. Those who were hurt or maimed are made whole and strong again, just as we remember them in our dreams of days and times gone by. The animals are happy and content, except for one small thing — they each miss someone very special to them, who had to be left behind ... When you and your special friend finally meet, you cling together in joyous reunion, never to be parted again ... Then you cross Rainbow Bridge together."
I will always be overwhelmed by the kindheartedness Dr. Runde showed me, and the compassion of all those I encountered that day.
Picasso's ashes are kept in an small wooden box beside a black and white photo of him. Every day, I pause to touch his box and tell him I love him. Every evening, my husband tells him goodnight.
I miss you every minute, my sweet Picasso. Maybe someday, I'll see you at the Rainbow Bridge.