Jourdan Vian: La Crosse delivery service cravings satisfied by Bite Squad
People who know me well can confirm: I'm a huge fan of getting food delivered to my door.
This is especially true at work, when I'm often busy writing or sitting near a phone waiting for someone to return a phone call, so I prefer to keep my lunch break short. There was a time when I saw a Jimmy John's delivery person at least once a week like clockwork.
So you can imagine my excitement when I learned a Minneapolis-based food delivery service is coming to La Crosse. I think it might be the first time ever I gave a Facebook ad a like, and it was definitely the first time I ever signed up for email notifications from a business on purpose.
Bite Squad is in the midst of a soft open in the area, working out the kinks before its grand opening Friday.
"We don't cook the food. We don't touch the food at all. We get it packaged up from our restaurant partners and we put it in our insulated hot bags to keep it hot and fresh," said chief marketing officer Craig Key.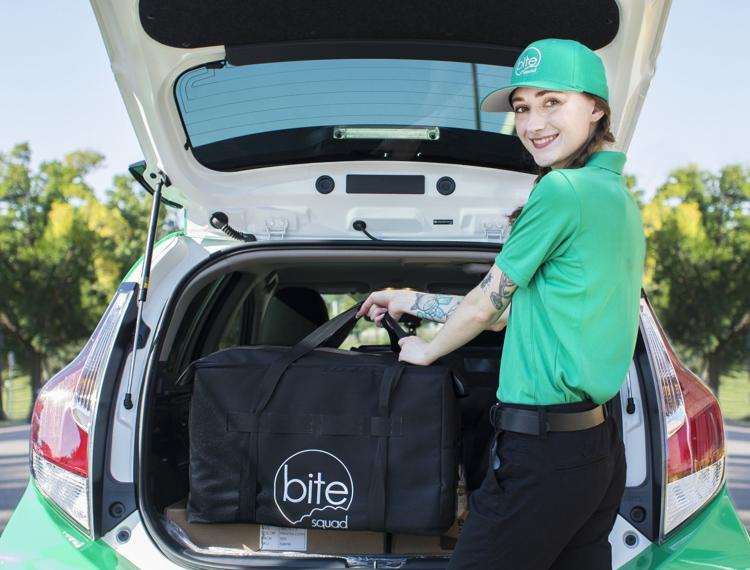 Bite Squad was attracted to La Crosse because it has a ton of great restaurants, but not a ton of great delivery options, according to Key.
"It's not too far from our home base here, but it's not a massive urban center where this could be a highly competitive and expensive market to break into, but it's also large enough where we think we can do a really healthy business here," Key said.
The company hopes to add 100 jobs to the area by this time next year and have a substantial impact on the local economy.
"They're going to have a guaranteed hourly wage, and they're going to have tips," Key said.
That sets them apart from competitors, who usually have contracted drivers, not employees. That benefits drivers, who know for sure how much money they'll be making, as well as Bite Squad, which can rest assured that it has enough drivers working to get everyone their food.
"We're able to staff up and down, just like a restaurant would staff up for a busy Friday night," Key said.
That cuts down on the likelihood of a customer needing to wait to order food because there aren't any drivers available.
"It's fairly frustrating if you need a ride. It's incredibly frustrating if you have food sitting under a heatlamp waiting to get picked up," Key said.
I've taken advantage of the service twice since getting the notification that the beta testing was open.
About 11:40 a.m. Tuesday, I gave it my first try. I downloaded the app, signed in with my email address, and got right to it. They've got about 20 partner restaurants in the area right now, and the delivery fees range from $2.99 to $4.99, depending on how far away the restaurants are. Since I work right downtown, I went with Fayze's Restaurant and Bakery and ordered the chicken bacon mac.
It was easy enough to put in my credit card info and take advantage of the checkout code to save on my first order. I agreed to the $3 tip to the driver, which seems perfectly reasonable to me, and the $2.99 delivery fee, plus $1.33 in taxes and sent it in at about 11:45 a.m.
There was a small snag when Bite Squad realized I got a side with my mac and cheese and had to call me to find out what I wanted, but since I didn't know I got a side, I can't say I'm complaining.
It was delivered at 12:20 p.m., a whole 10 minutes before the estimated time of delivery, and everything was delicious (which I should probably thank Fayze's for).
Obviously, I couldn't try it just once. I had to see if it was consistent.
So I did it again on Wednesday, ordering a chicken pesto sandwich with fries from the Eagle's Nest. I signed up for Bite Squad Unlimited, so I don't have to pay the delivery fee, which is pretty sweet. Instead, I just pay for the food and the tip.
After submitting it, I left the app open and realized that it sends you real-time updates. You can check it to see if they've started cooking it yet, if they've got a driver and if it's on its way. I like the last one the best, because then I can keep an eye on the front counter and catch the driver when he or she comes in.
I stopped at two days, since eating out every day doesn't seem like the healthiest option ever, but let's just say I'm a fan.
While the company doesn't usually do deep discounts — "We charge a fair price for what we do, and our customers tend to think that it's worth it," Key said — it is offering a year of free delivery for people who give it a try during its grand opening weekend, Oct. 19-21.
"It's a way that we can really kind of get the party started and make a big splash," Key said.