Here in the Midwest, we only mock the things we love.
If we're carefully polite and never joke, it means we're not close. If we tease you mercilessly, it means we really like you and pay attention to the little things you do.
Few know that better than Sam Shilts, one of the writers behind The La Crosse Times, a website and Facebook page he uses to poke fun at his chosen home.
"You can't really do a satirical thing based on La Crosse without having a little — or a lot — of love for the area," Shilts said.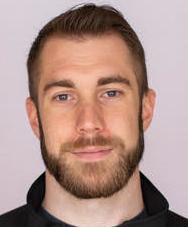 Shilts has lived here since 2007, when he moved here to attend the University of Wisconsin-La Crosse.
"I love this area. It's just a great place to be," he said.
But like a true Midwesterner, he expresses his fondness in good-hearted jokes, along with the 10 other people — most of whom are also members of sketch comedy group Live! From La Crosse — who run the site in their spare time.
Inspired by The Onion, Clickhole and The Hard Times, the group created The La Crosse Times as a way to poke fun at local issues.
"I thought it would be cool for our area to have something that's just uniquely our own," Shilts said.
Some of the strangest things happen in La Crosse, and it's a way to practice writing comedy and getting instant feedback.
He can put it up whenever he thinks it's ready.
"Watching the "likes" roll in is kind of nice to see," Shilts said, adding that likes are "the internet's version of laughing."
"That's a big part of why I do it personally," he said.
They've been working on the site since August and really went public with it Feb. 7 with a post called, "Climate Scientists Predict La Crosse to Become One Giant Kwik Trip By 2050."
You have free articles remaining.
"That was the first one we put out there, and it's currently at more than 1,900 shares, so it must have really hit a chord with people," Shilts said.
The article, written by Shilts' friend under a pen name, warns that all La Crosse citizens will become Kwik Trip employees and adds, "The report did not include whether or not the city Kwik Trip will have a Red Box, but scientists are crossing their fingers."
"It's fun to see what he puts forth because he is really a prolific writer," Shilts said.
His other headlines include "'Dukes of Hazzard Roundabout' pretty bad name in hindsight: Onalaska officials" and "La Crosse School District purchases ED-309 for crossing guard duty."
He also broke the news that "YMCA pick-up player makes case to be Monstar in new Space Jam movie," which is a great story, even if I do have a serious problem with the description of "Space Jam" as a "mostly forgettable" film, rather than a classic movie for the ages.
Shilts has a lot of fun on his own things as well.
My personal favorite is the article "Geographers conclude that Sparta is actually part of Florida." Shilts writes, "Geographers concluded a 10-year study, the findings for which 'explain a lot,' according to locals."
As a Sparta native, my only response: "Yeah, that tracks."
Shilts is most proud of his headline about the Hiawatha statue in Riverside Park, which reads, "City of 90% white people doesn't get what all the fuss is about."
His favorite story is "'Happy Birthday Tanner' completely tanks at the box office," which pokes fun at the Hollywood theater in downtown La Crosse, which has cheerful messages rather than movie titles on its marquee.
He also particularly enjoyed poking fun at La Crescent in the article, "Historic La Crescent tours canceled after discovering nothing interesting ever happened there."
The La Crosse Times has recently ventured into writing opinion, publishing a piece ostensibly by the Hatched Baby, which scolds La Crosse residents for their attitude toward the artwork.
I absolutely love the Hatched Baby as a piece of art, and I had to resist the urge to clap as the Hatched Baby threatened to go to Eau Claire, saying, "If they can appreciate Bon Iver up there, they can appreciate any kind of art."
It was, dare I say, artfully written.
---
Be the first to know
Get local news delivered to your inbox!