Mike Tighe: Close the door — keep the hot air out and cold air in
Asked how he felt about having grandkids a couple of decades ago, my late Uncle Frank ignored the underlying, perhaps malevolent, question about aging and said, with a wry smile, "All kids are grand."
That's a grand observation, to which I'll add that grandchildren not only are blessings in and of themselves but also carry bonus points of being God's way of letting you exact revenge on your own spawn for the times they caused you fits.
Of course, the ultimate bonus is couched in that tired old cliché: You get to send them home to their parents when they tucker you out.
Kate and I just came off of a two- or three-week period (the days smoosh together) of hosting eight grandchildren and their parents for varying lengths of time. The time spans included a four-day stint with four grandsons ages almost 10 to 16, a two-day sprint with two grandsons and our sole granddaughter and a one-day, overnight tilt-o-whirl with five grandsons.
Going into it, we wondered how/whether we'd survive, because our previous experiences found that two days of just adult company can be tiring and three days, absolutely exhausting — depending on personalities.
Imagine our surprise when we not only survived but also thrived. Apparently, slews of grandkids are as energizing as they are energetic.
Oh, they also can be unnerving, such as habits that prompted me to post this navel-gazing appraisal on Facebook: "Love 'em to death, but two traits of grandkids: They don't close patio door, letting AC rush out and heat pour in, and they open refrigerator door and just stand there, also letting the cold rush out and hotter air flow in, staring at everything like it's a TV. GOTTA be throwing global warming off its axis."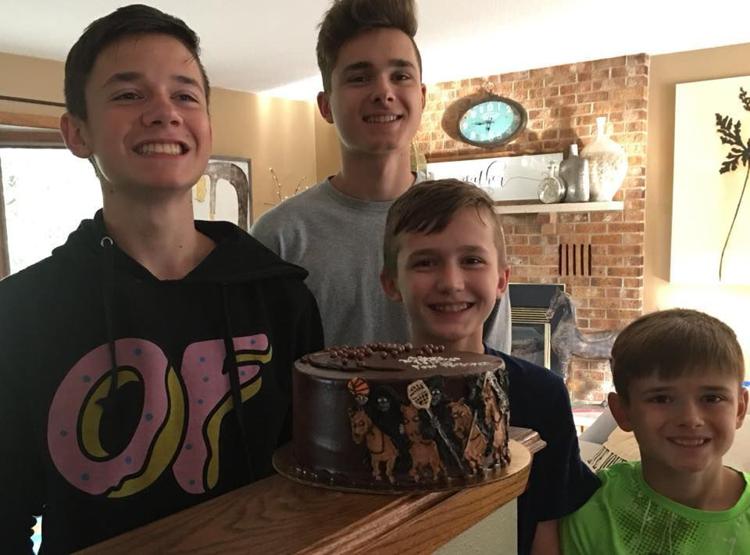 The entry elicited a mixed bag of reactions from Facebook friends:
"Take out all their toys and leave them around. Chase the dogs with pillows all day. Want constant attention. Can't ever sit at a couch or chair. Constantly hungry or thirsty."
"You sound really old, Tighe! Put your cook grandpa pants on!!"
Another respondent conveyed the same message, couched in code: "Get off my lawn."
Still another expanded on that terse message: "Next thing you know you will be sitting in your front yard yelling at the neighbor kids!"
A practical observation: "I don't care about the cold air getting out as much as the flies & mosquitoes getting in. I think we finally got them all." (Come to think about it, it took Kate and I three days and a fair amount of cursing to murder one little fly. [OH! Wait! There it is.])
Switching gears, here's another Facebook entry: "Here's one that makes a guy feel old, but smiley, at same time. Grandson Vincent asks Mom if he can go online to buy tix to a concert back in Florida, for when he gets back.
"Melissa: 'Oh, who's playing?'
"Vincent: 'Nobody YOU'd know.'
"Expression on Mom's face: PRICELESS."
The expression was as if Vincent had stabbed Melissa in the heart, another signal that she (a relatively "with-it" mom whose favorite movie probably still is "Grease") is experiencing growing pains of another sort.
The rare visit of my Four Horsemen from Florida — in addition to Vincent, also Jack, Luke and Patrick — also had some heart-stopping moments.
I was paralyzed in fear when I saw Patrick Michael, who will be 10 in 10 days, standing 7 feet above the ground, atop the swimming pool slide, as he eyed a shot at the basketball hoop 25 to 30 feet away.
My mind's eye could envision nothing except his tumbling from that height and his head smashing like a pumpkin. I nearly hollered at him not to shoot but held back, assuming that would startle him and he would fall.
I was stunned — stunned, I tell ya — when his shot from downtown swished through the net, as did another, after a single miss.
Cocooned in the derring-do of youth, Patrick had no idea that falling was a remote possibility, because he hadn't learned to fear that it might happen.
It was reminiscent of the scenario two weeks before, when 2-year-old Atticus delighted in jumping off the diving board with no inkling that things could end badly if he sank and discovered he was 8 feet under water, standing up.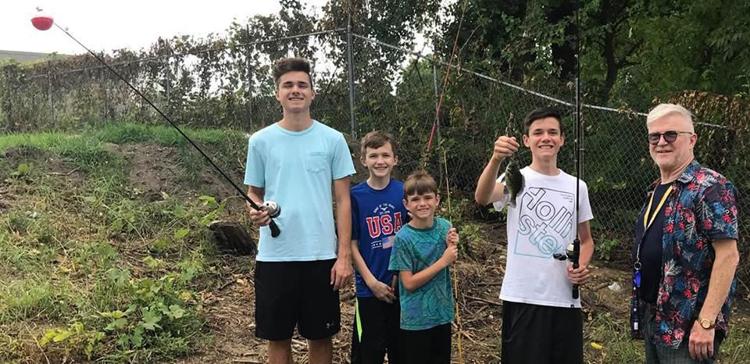 Granted, his 8-year-old sister, Amelia, swims like a porpoise, but he can't. However, the few lessons he has had obliterated any possible fear, plus his water wings made him pop to the top like a bobber after a sunfish swipes a worm and escapes.
Children generally aren't afraid of things until we teach them to be. For example, I recall the lunch more than two decades ago, when 3-year-old grandson Anthony was stuffing calamari into his maw like he hadn't eaten in months.
The other adults at the table marveled that a toddler could like something as yucky as squid — until I pointed out that it was our responsibility to inform him that the tentacles are not as delectable as the upper crust pretends. Instead of being fancied, it should be feared, and I told him so.
Another example: I'm sure none of my grandchildren are afraid of, for instance, immigrants, Muslims or people of color, because neither I nor their parents have taught them to be afraid — very afraid.
Shifting gears again, I'll note that aggressive competition can instill fear. We experienced a fair amount of that during a spirited evening of bean-bag toss.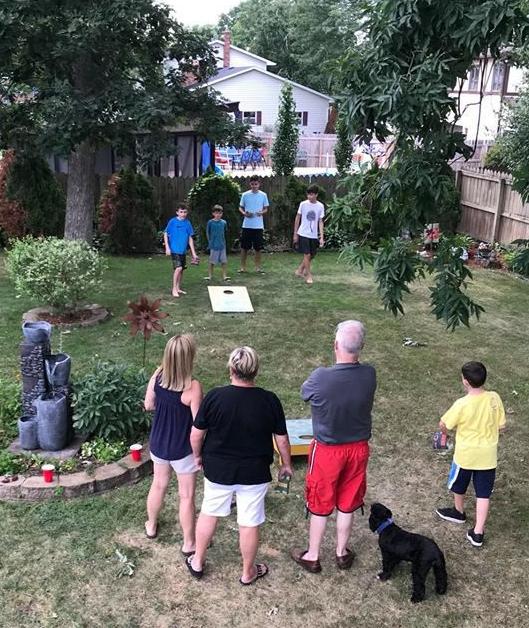 As I could have predicted, Avery refused to toss Packers bags, opting for the Bears each and every time. I can't blame the lad, as he is being raised in a resolutely abusive atmosphere of a Bears/Vikings/Cubs/Twins family for whom treatment remains elusive.
The teasing and taunting were over the top as the teams jockeyed for position. You know how cousins and brothers can torment each other — well, the boys ramped it up to an irritating degree.
I suppose that I should acknowledge that the biggest trash-talker, the most vociferous tormenter, the horrendously haranguing hazer was, uh, well, to tell you the truth — to be totally transparent — it was Kate. (If only I had videoed her happy dance.)
I, on the other hand, was a paragon of good sportsmanship, and, as I recall, one of the high scorers.
Now that they've gotten the hell offa my lawn, I kinda wish they were still here.