Mike Tighe: I (almost) shot Grandma's eye out
At the risk of dating myself, I daresay that I almost shot my grandma's eye out years before Santa warned Ralphie that he'd shoot his eye out if he got a Daisy Red Ryder BB Gun for Christmas — long before "A Christmas Story" was even a glint in author Jean "Shep" Parker's eye.
I got a small cork gun for Christmas when I was 4. It was a popular toy of that ancient era, but it was relatively harmless, propelling a light cork at such a slow speed that its impact was akin to that of a miniature marshmallow that a toddler might toss from a high chair.
Nonetheless, adults felt the need, even in 1952 — nearly 15 years before Parker wrote the short story and nearly 30 years before the Hallmark movie based on the story was filmed — to caution me to be careful or I'd shoot my eye out.
So I didn't, but one shot went off accidentally — hey, I didn't know the gun was loaded. Slow-motion views hadn't even been invented yet, but I swear the cork sailed in slo-mo about 10 feet toward Grandma in her rocking chair. The cork lodged between her cheek and her eyeglasses, and she appeared stunned.
I stood, paralyzed, as aunts and uncles swarmed around her, checking to see whether she would survive. Satisfied that I had not made them maternal orphans on Christmas Eve, they turned on me like a pride of lions attacking a wildebeest.
My trauma was nothing short of Ralphie's on Christmas morning, when he thought he had, indeed, put his eye out when a BB ricocheted all over the backyard when he shot at the imaginary Black Bart — and boomeranged back into his glasses.
Thank gawd, there was a gentle voice of reason — from Grandma, whose eye had begun to blacken. She beckoned me to her bosom, told her kids to hush up and leave me alone and rocked me soothingly with her trademark lullaby, "Bye, oh, bye, oh bye-oh," until I fell asleep.
The reminiscence dovetails with this season, the time of year when some TV stations air "A Christmas Story" marathons on 24-hour loops.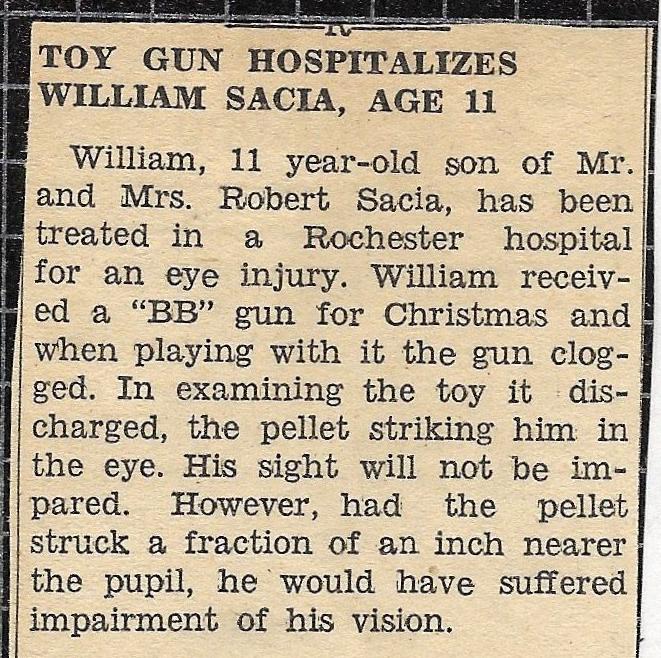 Help erasing guilt
In a lucky circumstance for me, Mary (Sacia) Jaeger of La Crosse recently came across a yellowed newspaper clipping that helped erase any lingering guilt I might have over my youthful indiscretion.
I learned that I wasn't the only one who experienced a real-life misfiring mishap, according to the 1957 article she slipped to me via email, with a subject line promising "A fun human interest story I would love to share!"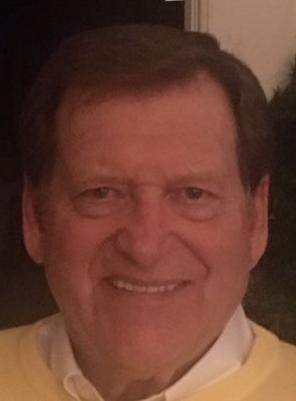 I'm not saying she tattled, as sisters are wont to do, but her accompanying note narced out her brother, Bill Sacia of La Crosse. And let's say Sacia wasn't as keen about sharing as Jaeger.
After some whining on my part, though, Sacia agreed to lift his embargo and spill the beans about his two-day stay in St. Mary's Hospital in Rochester, tethered to a bed — even if he is subjected now to some long-delayed ribbing from family and friends.
As Sacia tells it, his accident, in which he came within an eyelash of shooting his eye out, was the result of weather conditions rather than carelessness.
The BB gun with his name tag under the tree that Christmas was "the absolute Daisy Red Ryder gun" that would go on to movie fame, he recalled in an interview. Jaeger and Sacia's parents, Bob and Joyce Sacia of Sacia Orchards fame near Galesville, intoned the familiar parental warning not to shoot his eye out.
"After Christmas dinner, my younger brother and I decided we wanted to go out on a great hunt," Jaeger recalled.
A recent snow had devolved into rain, resulting in a frozen top layer of snow, which he said contributed to the mishap.
The gun misfired, so he used the usual technique of twisting the top, which would leave the barrel in place while the BB cylinder turned and released the BB, he said.
"What happened to me was I was holding the gun in front of me, with the butt on what I thought was the ground," but it actually was the crust atop the snow, Sacia recalled.
"It slipped through the crust, and that's how it became aimed at me. When the butt hit the ground, the BB released" — toward his eye.
"Fortunately, I was in the process of blinking, and it hit in the middle of my lid. It didn't perforate the eye. Thank God I had blinked," he said.
Details remain fuzzy, but Sacia figures he was taken to the local doctor, who sent him to what then was St. Francis Hospital in La Crosse, which referred him to St. Mary's for the best treatment option.
At St. Mary's, he was treated — his iris still has a slight scar from being torn — and strapped to a bed for a day or two to make sure he couldn't move. Doctors apparently feared that bodily movement of any sort might damage the iris more, he said.
Nurse with 'beautiful Irish brogue'
One memory that is clear is Sacia's recollection of a "wonderful Irish nurse who said, 'What happened, William?'"
Upon hearing his explanation, she said, "'Oh, my, we musn't let this get out' in a beautiful Irish brogue," he said.
And it didn't get out — until now — thanks to the fact that Jaeger is a bit of a tattletale who also noted that she and Sacia's wife, Bonnie, have teased him periodically over the years.
Oh, to be perfectly honest, Jaeger did suggest chicanery, writing, "So, if you see Bill at the play, at church or at a board meeting at a local savings and loan, just rub it in a little."
For the record, Jaeger isn't the typical taunting sister, expressing admiration for her brother as "an outstanding man."
Sacia, who retired after selling his software business, Automated Data Systems, a few years ago, insists that that was his only experience mirroring the shenanigans chronicled in "The Christmas Story."
Pressed on whether he ever stuck his tongue to a frosty flagpole, he replied with a laugh, "No, and if I did, I wouldn't volunteer to tell anybody about it like I am now."
Perhaps all he needs is a double-dog dare to try that.