Forty-five-plus years ago I met a young woman at the University of Wisconsin in Madison. She was pre-veterinary medicine student, too, and we were in many of the same undergrad classes. We dated a few times, but she moved on to veterinary school in St. Paul.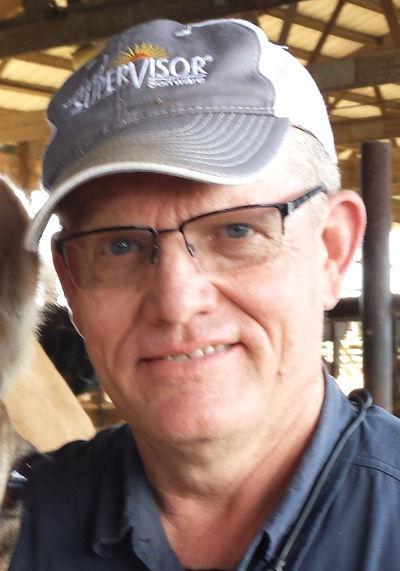 In July 1977, I was traveling through western Wisconsin and decided to visit her unannounced. I remember looking up her last name in the Sparta phone book, at a gas station payphone. I didn't know her dad's name but guessed correctly between the two listings for her last name.
Julie's little brother answered the phone.
"Hi my name is Paul Larson, is Julie there?"
No, she's out in the hayfield."
I got directions and drove out to their dairy farm. On a nervousness scale of 1 to 10, I was at 9.5. Julie seemed happy to see me.
Her family was haying that afternoon. Back then, they made small square bales and stacked them on a flat rack before hauling them back to the barn. Within an hour of my arrival, I was on a flat rack behind the baler, stacking bales.
Later on I learned that Julie and her sister's prospective suitors were invited out to the farm to meet the family. This really meant they were put through as much physical work as possible to see how long they lasted.
Fortunately about the only skill I had at age 21 was stacking bales on a wagon. I knew my future father-in-law was running the baler a couple gears faster than normal, just to see if I could handle the bales coming out of the baler. I did OK, and the bales didn't fall off the rack on the way back to the haymow. I was confident I had passed the bale-stacking test.
Sometime later, I was mowing the future in-laws' lawn with an Allis Chalmers G. The clutch is backwards for anyone raised on John Deere hand clutches. I drove into a woven fence and stretched out the wire. Julie's brother-in-law had just torn down an electric fence wire while pulling a wagon of hay home. That night at the supper table, my future father-in -law said, "Good God, I'm glad I don't have any more daughters, or I wouldn't have a damn thing left around here."
Thirty-some years later, I was the father testing out a prospective suitor. A young man had just ridden his bicycle 25 miles one way out to our dairy to visit our daughter. That afternoon, the PTO shaft on our TMR mixer had broken. There was only one way to get the 5 tons of feed off the mixer: with a fork. The good news was I had a young man eager to impress me. He stuck with it until all of the feed had been removed from the mixer. Good effort on his part, but I think he was looking forward to a "relaxing" 25-mile bike ride home. In my mind, he had passed a good character test.
On the surface, these stories might just seem like a little farmer humor, but they actually tell you quite a bit about a person's character. Sometimes the work just needs to be done. Seeing whether a suitor steps up to the plate when help is needed says a lot about him.