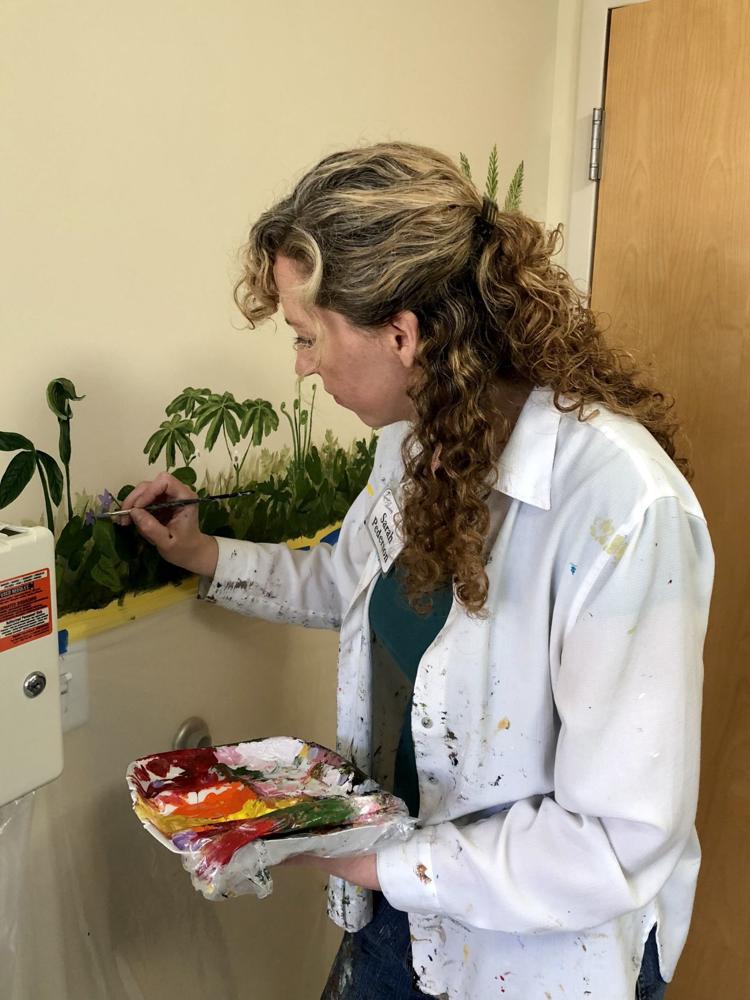 Hospitals are notorious for their bleak exam rooms and muted tones, but a new set of murals is adding a dose of whimsy and color to the pediatric oncology department at Gundersen Health System.
Lucid Painting's Sarah Pederson, 42, has been hard at work for the past few weeks beautifying walls throughout the department in the themes of flora, fauna and La Crosse.
The Coon Valley-based artist was contacted in the fall about using her talent to enliven the waiting room, two exam rooms, the restroom and a procedure room, funded by a grant from the Children's Miracle Network.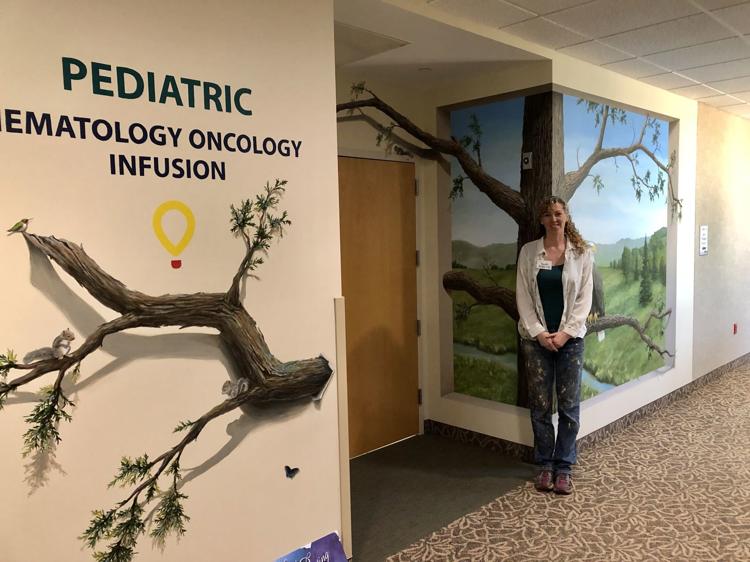 Pederson, who has a business degree and was a stay-at-home mom for many years, is a self-taught painter who began experimenting with the trompe l'oeil ("fool the eye") technique seven years ago.
Her intricate work, which appears three-dimensional, has earned a following: Pederson has been hired by about 20 commercial clients and many more residential clients to elevate their offices or children's bedrooms.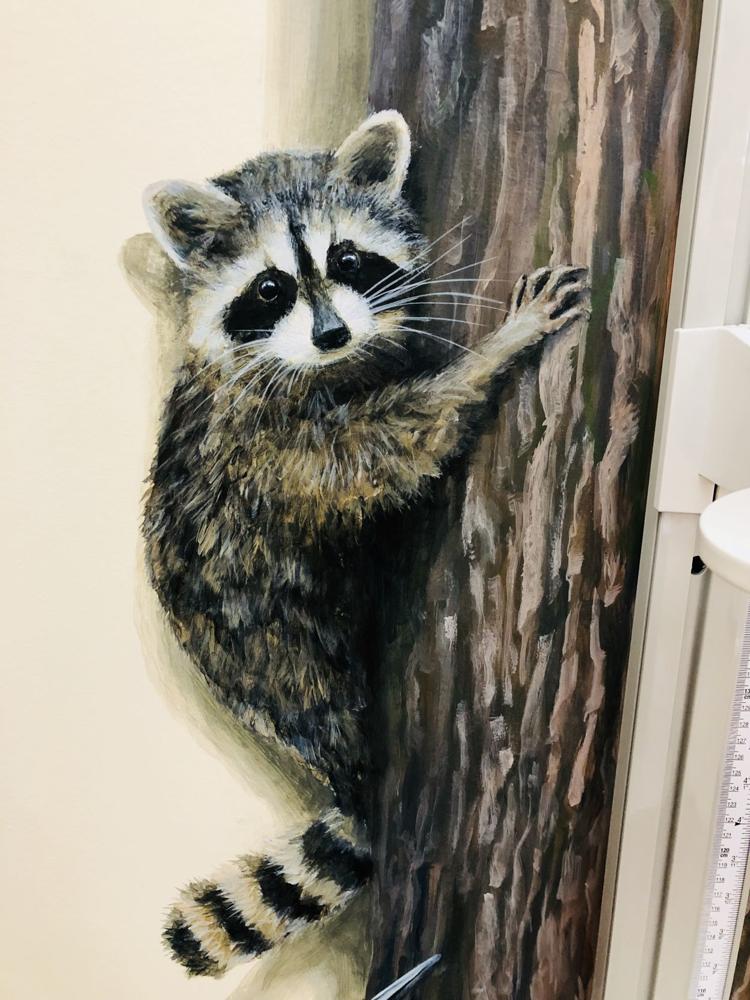 Being chosen for the pediatric oncology project was an honor, Pederson said, adding, "It means so much more to do a mural people are going to look at and it will help brighten their day. It really warms my heart to be able to paint here."
You have free articles remaining.
Pederson's imagery begins at the entrance of the unit, trees spanning each side, a stately bald eagle perched upon one and two scurrying squirrels occupying the other.
Inside the doors, a thick branch housing a nesting robin extends out an impossibly realistic looking window, while around the corner, another wall depicts the tree covered bluffs behind the Mississippi River, a backdrop for the Children's Miracle Network lettering and logo.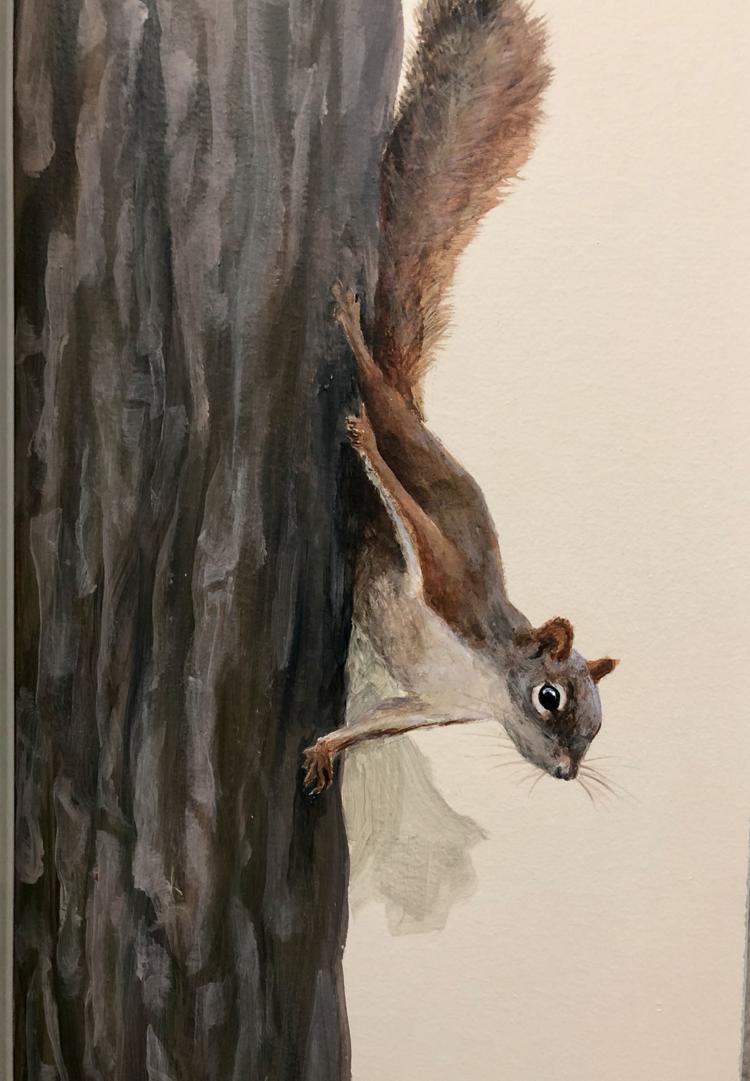 Hidden among the flowers and grasses in each of the murals are insects, amphibians and the Children's Miracle Network's iconic red and yellow balloon symbols. The covert creatures are perfect for a game of "I Spy" to occupy the minds of bored, stressed or antsy young patients.
"I love hiding little critters in there," Pederson said.
Pediatric oncologist Toni Peters says the murals, which are expected to be completed in mid-July, have earned the approval of kids, families and staff.
"It's great — we love it," Peters enthused. "It makes it a much nicer space to be in. Usually hospitals are all fluorescent lights and kind of a sad place to be. This brightens it up."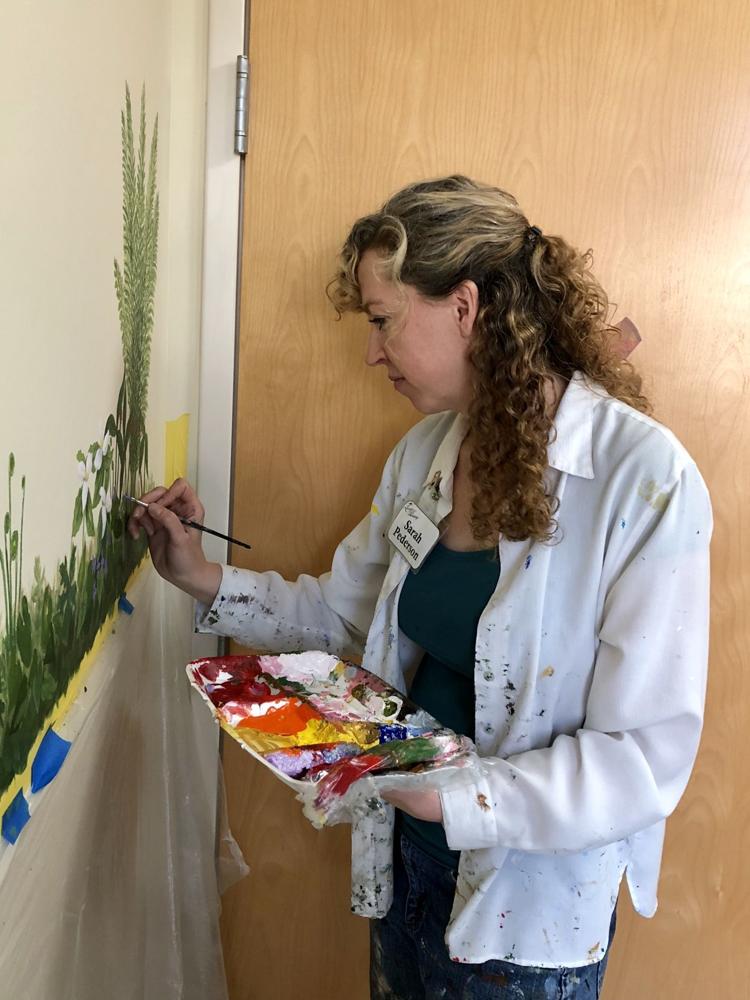 The murals not only bring a pop of lush colors to the beige walls, but impart a serene, calming quality to the space, with Pederson making sure to include symbols of hope. One space features a graying, weathered tree stump, a sad sight if not for the slim branch stemming from the base, growing outward and upward and bursting with fresh green leaves.
The image, Pederson says, is a reminder "not to give up."
"I'm just really grateful," she said, "for the opportunity to impact so many lives through artwork."