For the first time since its development, all nine of the Coulee COVID-19 Collaborative risk metrics registered red or yellow Wednesday, with hospital capacity entering the caution range.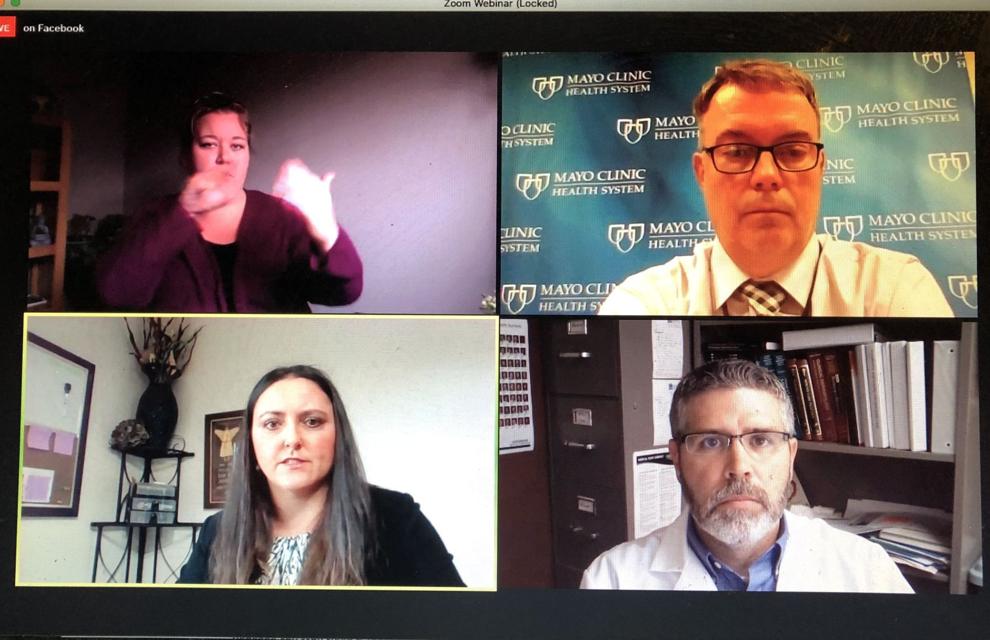 During a press conference Wednesday, Collaborative members Jen Rombalski, director of the La Crosse County Health Department, Dr. Todd Kowalkski of Gundersen Health System and Dr. Kevin Fitzgerald of Mayo Clinic Health System expressed worry about the upward trend in coronavirus cases and related hospitalizations both local and statewide.
"The case rate is trending in wrong direction," Rombalski said, noting "Wisconsin is in a crisis right now."
It took seven months for state cases to reach 100,000, Rombalski said, and only 36 days for them to double to over 200,000. In two months, the state's seven-day case average increased over 400%. 
Locally, the seven-day average case rate rose to 49 for the week ending Oct. 27, with the average age of those infected increasing from 23.7 to 40.6. The shift in positives among older demographics, Kowalksi said, is likely to increase hospitalizations for the virus, and currently 41.7% of local hospitalized patients are age 40-59. According to the Collaborative, 139 county residents have ever been hospitalized for the virus.
Statewide, hospital capacity has reached around 85%, with a field hospital opening near Milwaukee to accommodate the surge in patients. Both Gundersen and Mayo are currently equipped to serve all COVID-19 patients, Kowalski said, but if current trends continue the tide could quickly turn.
"We are not in a dire crisis in terms of our local health care capacity," Kowalski said. "However, we are really steeling for the strain of hospital capacity."
According to Fitzgerald, "We're seeing more employees in the healthcare setting having to quarantine due to exposure," noting, "What we do in our community really affects our ability to render healthcare ... really there is no excuse to be in large gatherings right now because you are really putting healthcare providers at risk."
In addition to the potential shortage in healthcare workers, those who have been working for the duration of the pandemic are experiencing burnout, say Kowalski and Fitzgerald, and contact tracers, Rombalski says, are similarly feeling the stress, trying to connect with hundreds of patient contacts quickly and effectively to contain further spread. 
Rombalski disagreed with President Trump's recent downplaying of the virus's severity and toll. Trump, who held a rally attended by thousands Tuesday in West Salem, claimed last week he is "going to shut down the virus" if re-elected and has repeatedly said the country is "rounding the turn" on COVID-19.
"The national message that we are turning a corner -- that is not the message we are getting from the data...it is not a reality that covid will cease after the election," Rombalski said.
The Trump rally, like any mass event, "is a great way for COVID-19 to spread," Rombalski said, noting that at this time even small scale gatherings are discouraged.
The Collaborative is asking for people not to interact with people outside their household, to use curbside pickup rather than dining in restaurants, to stay six feet apart in public places, to wear masks, to receive their flu shot and to be diligent about hand washing and sanitation. If the current case trajectory continues, individuals should refrain from holiday celebrations with extended family and friends. 
"The virus doesn't care if you're in a group of a dozen to 20 people who are your family members or a dozen to 20 people who are strangers," Fitzgerald said. Families should be prepared to cancel holiday events if case numbers remain high, he said, noting, "That's just the reality of where we are."
Until a vaccine is approved and readily available, all residents must continue to be practice precautions in order for the spread to slow. 
Says Kowalski, "The more we do the closer to the end of the tunnel we get. And it is a tunnel, not a cave, but we have to do it together."
Wednesday local case numbers
La Crosse County recorded 69 new confirmed COVID-19 cases with a 33.99% positivity rate Wednesday, according to data from the Wisconsin Department of Health Services.
The county has averaged 49.86 new cases per day over the past seven days, up from 45.57 on Tuesday and 43.14 a week ago. Total confirmed cases are up to 4,256, which grows to 4,417 when including probable cases.
Of Wednesday's cases, 17 were people in their 20s, 15 were in their 40s and 14 were in their 50s. There were eight new cases of people ages 10-19, five in their 30s, seven in their 60s, three in their 80s and one of people at least 90 years old. DHS also removed a case of people ages 0-9.
The county's seven- and 14-day positivity rates continue to rise. The seven-day rate is at 21.16%, up from 19.45% on Tuesday and 12.77% a week ago. The 14-day rate is at 16.22%, up from 15.10% on Tuesday and 12.07% a week ago. Total positivity is up to 11.64%, while total deaths remain at 21.
Coulee COVID-19 Collaborative weekly update
New case rate: 35.5 per 100,000 people per day (red); case trend as an estimate from new deaths trend: 24.2 per 100,000/day (red)
New hospitalization rate: 6.1 per 100,000 people per day (yellow, caution).
COVID care capacity: yellow, ability for all patients can be quickly tested and cared for approaching capacity
Cases interviewed within two days (85% goal): 67.7%, red
Identified contacts traced (90% goal): 61.5, red.
Contacts reached within one to two days (75% goal): 51.4, red.
Daily testing goal met (75% goal): 37.6%, red.
Testing turnaround time (85% within two days goal): 84.5%, yellow.
Positive test ratio (under 10% goal): 16.3%, red.
In the seven day period ending Oct. 28, 293 new local cases of coronavirus were confirmed, with 51.9% of patients female and 48.1% male. The greatest percentage of cases were among those 18 to 24 at 23.21, followed by 18.43% among those 59 to 59 and 13.65% among those 40 to 49. Individuals 30 to 39 comprised 13.31% of the positives and those 60 to 69 comprised 9.9%. All other age brackets accounted for under 9% of cases each. 
Of the 293 patients, 97 shared symptom levels, with 41.2% experiencing mild symptoms, 28.9% moderate and 22.7% severe. Just over 7% were asymptomatic. Source of virus contraction was reported for 148 of the patients, with 59.5% becoming infected via close contact, 39.9% through community spread and 0.7% from travel.
State data
Cases rose by 3,815 Wednesday for a running total of 210,126 lab confirmed positives. Negative tests have reached 1,795,161, up 6,003 from Tuesday. Another 174 Wisconsinites were hospitalized for COVID-19, with 10,810 ever hospitalized. Deaths increased by 45, bringing fatalities to 1,897.
"We are not in a dire crisis in terms of our local health care capacity ... However, we are really steeling for the strain of hospital capacity.",

Dr. Todd Kowalski, Gundersen Health System