A state grant announced Tuesday by Lt. Gov. Rebecca Kleefisch will pave the way to expansion of two Couleecap entrepreneurship programs in La Crosse and neighboring counties.
Kleefisch stopped in La Crosse to celebrate the $62,000 Wisconsin Economic Development Corp. grant, which will fund La Crosse and Viroqua Co-Starters programs, as well as a Pop-Up Shop program in La Crosse, Viroqua, Bangor and Sparta.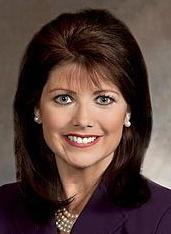 "When you talk about huge companies coming to Wisconsin, the Foxconns of the world or Haribo that makes the gummi bears, even the big Amazons, it's really cool. It makes exciting news for a day," Kleefisch said. "But at the end of the day, it's the small businesses that are woven into the fabric of who we are as a state. … They are the ones who turn around and hire friends and neighbors from the communities they live in."
Those people with the entrepreneurial spirit but without a business plan, prototype or supply chain need a hand to make that kind of impact.
"These are the types of people that the folks at Couleecap can actually help through the entrepreneurship support grant," she said.
The Co-Starters program includes a nine-week course facilitated by an experienced entrepreneur that helps brand-new entrepreneurs refine business ideas and connects them with mentors to help them create their business.
The lieutenant governor was particularly excited about the Pop-Up Shop program, which gives business owners the opportunity to test their business ideas in a live environment for three months with funding assistance to minimize risk.
"Pop-up shops is a movement where a community can infuse its entrepreneurs very quickly with the type of support financially and the type of support in community movement and the buzz that comes from having media and social media ablaze with a brand new and good reputation," Kleefisch said.
The program has existed in Viroqua for three years with Couleecap partnering with Viroqua Chamber Main Street last year through a similar grant. Viroqua Chamber Main Street executive director Nora Roughen-Schmidt described the program as a "grass-roots economic development" effort, adding that the organization was able to place 14 businesses into different locations though the program.
"It allows those aspiring to occupy a storefront rent-free with full support of all Chamber Main Street services from marketing and all kinds of other things for three months, so it gives them the opportunity to really see if this is going to be a good fit," Roughen-Schmidt said.
Some businesses succeed and some fail, but it gives entrepreneurs the change to try without a tremendous amount of risk.
"Now we're really in a good place to share that knowledge and some of those experiences with other communities," she said.
Couleecap executive director Hetti Brown is looking forward to expanding these programs in La Crosse's downtown and on the city's North Side, as well as neighboring communities like Sparta and Bangor.
"With this new funding, we're going to be able to continue and expand those programs and then move into other areas, like the town of Sparta, which we're really excited to do," Brown said. "In 2018, because of this grant, we're going to be able to assist 20 new businesses to start up and then assist 85 new businesses either as they're starting up or expanding their work."
The programs started as a way to address the needs of those living in poverty, in particular the need for jobs where they live and jobs that pay a living wage and offer benefits.
"That is why Couleecap, an anti-poverty organization, focuses so heavily on economic development, because it really is the driver to solve poverty," Brown said. "And without our partners, like the state, like the Wisconsin Economic Development Corporation, it would not be possible."
Thirty-six organizations applied for the grant and 11 were chosen, including Couleecap, which also received a $52,000 grant last year.
"I think the fact that we're back here with Couleecap and going through this again, I think it speaks volumes as to how the dollars were used last year in supporting the entrepreneurial spirit," said WEDC Secretary and CEO Mark Hogan.