Couple relives horrific crash to help La Crosse area first responders improve trauma care
Amy Silverman made an emotional revelation Thursday to the two Gundersen MedLink Air rescuers who saved her life when they tended to her broken, mangled and bleeding body in a ditch nearly 13 months ago.
Silverman choked back tears as she confided her secret to Mike Ashbacher and Tony Hovey during a review of the crash on Oct. 9, 2016. She and her boyfriend, Rick Gordon, lost their left legs below their knees after a car slammed into the Harley-Davidson motorcycle they were riding on Hwy. 35 in Trempealeau County and they were thrown, like two rag dolls, into a ditch.
"Something you guys don't know," Silverman said, her voice shaking, "I thank God every day for taking my leg and not my life. When it's late at night, and I realized I haven't thanked God, I do it then."
Touched by the emotion, flight nurse Hovey said, "This is making a positive impact," reflecting the fact that they all are moving forward with a resolve to turn what had been a gruesome tragedy into lessons for others.
The Northbrook, Ill., high school special education teacher and mother of two agreed with that assessment during the often-difficult-to-watch presentation that flight nurse Hovey and flight paramedic Ashbacher pulled together.
They developed the presentation for a symposium Friday at Gundersen to show first responders and other trauma care specialists that all elements of a hospital system must be in sync to save lives in otherwise horrific situations.
Reliving the scenario seemed as much of a therapeutic exercise for Silverman, Gordon, Hovey and Ashbacher, as well as three of Silverman's friends, as it would be a teaching moment at the symposium.
The four have developed strong bonds of friendship since Hovey and Ashbacher were dispatched to the scene and experienced their first encounter to the admittedly salty-tongued Silverman, who was cursing a blue streak as she writhed in pain.
Impact knocks off helmet
The impact of the car's hitting the motorcycle and being throw into the air had knocked off her helmet, resulting in her suffering a traumatic brain injury.
In addition to the fact that part of Silverman's tibia was missing and her fibula was crunched, leaving her left foot dangling by just a few shreds of muscle, her other injuries included a broken arm and other fractures, including a face so shattered that intubating her so she could breathe was a nearly impossible challenge.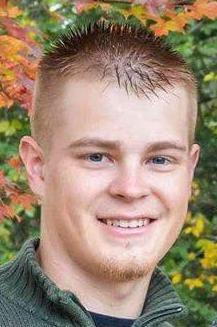 Trempealeau police officer Tim Moen, having reached the scene before MedLink, had been able to apply tourniquets to stanch the bleeding. Later, he would credit the fact that Silverman's and Gordon's bodies had landed relatively close together had made the task easier.
Quickly assessing the situation, the MedLink crew determined that Silverman's condition was more perilous.
Her disfigured leg was what Hovey described as a "distracting injury," but medical workers cannot let such injuries divert their attention, he said.
"Typically, you try to straighten it," Ashbacher said, but that only made Silverman's bleed more, so he had to return it to its original position.
Now able to see humor in the incident — a year removed from a situation that was deadly serious at the time — Silverman laughed and squeezed Gordon's hand when Ashbacher said, "She was hitting everybody."
For his part, Hovey said, "I wanted to put her down a rabbit hole. I used some MMA moves …" Motioning that he basically straddled Silverman to control her, he said he literally "pounded her" with ketamine, an analgesic used to relieve pain and calm a patient, as well as lidocaine, a tissue-numbing medication.
Even though Silverman already had a tourniquet on her leg, Hovey applied another one just to be safe because he couldn't tell whether the other one was working.
"I didn't have time to second-guess that, so I just did it," he said. "You err on the side of helping the patient."
Explaining why they focused on Silverman, Ashbacher said, "Rick, we could tell you were making sense … (leaving the decision) who can we help the most?
"We didn't have to give you any medicine to keep you from swearing," he said, drawing laughs from Silverman and her friends in the small conference room at Gundersen — laughter that grew louder when Rick quipped, "Do you have any more of that?"
'You trust your partner'
Recalling Ashbacher's approach to intubating Silverman, Hovey told the group, "He said, 'This doesn't look right' because of all the maxillofacial fractures."
Nonetheless, Ashbacher took his best shot, and it "was perfect," Hovey said. "You're a professional, and you trust your partner."
Meanwhile, the pair had to use Gundersen Med Comm to communicate details to the hospital about the patients, genders, physical conditions, expected arrival times and what types of treatments had been used to that point.
(The 51-year-old Silverman continues to be amused, and flattered, by the fact that they guesstimated her age as around 35. Hovey noted that her condition didn't make it easy, especially with no time to look for identification.)
All of that information is vital as soon as possible so that the hospital and emergency room can be prepared for what the patients need, what doctors and specialties might need to be called, whether to call in extra staff, etc.
Even though the accident scene was roughly 30 miles from Gundersen's La Crosse campus, the MedLink chopper could cover that in 11 minutes, which left precious little time for the hospital to gear up and staff up.
As it was, just 63 minutes transpired between the time of the initial page of the crew, assessment and treatment, preparation for flight and landing in La Crosse. Total time between the page and Silverman's arrival in a trauma treatment room was an hour and 11 minutes.
Hovey's presentation for the trauma conference, which is expected to be delivered to many other medical meetings, includes more than 30 recordings of communications funneled through MedComm among the MedLink crew and the hospital, city of Trempealeau and Trempealeau County law enforcement and rescue personnel, Gundersen Tri-State Ambulance, social workers and Mayo Clinic in Rochester, Minn., and the helicopter dispatched from there.
Part of the messaging relayed in this case was that the helicopter would be transporting "an approximately 35-year-old woman who was conscious and combative and had been intubated."
'Combative' description brings smiles
On Thursday, Silverman said, "That's funny" when Hovey mentioned the erroneous age again, and she smiled at the "combative" description.
She also interrupted the presentation to say, "As chaotic as this is, and as unbelievable as it was, I feel an incredible sense of calm and peace among you guys. ... You saved my life."
The MedLink AIR pilot, Dale Dougherty, had landed on the highway and would be tasked with transporting Silverman to La Crosse. After it became obvious that Gordon also would need the speed of a helicopter, they had to make sure that the area could accommodate two choppers.
You can't just order up another helicopter without determining whether it can land safely at the scene, Hovey said. If emergency conditions required it, a chopper could land in a field, and Gundersen could settle up later if any crops are damaged, he said.
In this case, it was as easy as asking a deputy to move his vehicle, said Hovey, who gave major kudos to Moen, who received the first lifesaving award his department has bestowed.
Another element of critical timing is when helicopters are on the ground, Hovey said, noting that it would be dangerous if both landed or took off at the same time, or if one was landing when the other was taking off.
What's more, having helicopters at the site with whirling blades and spinning tail rotors — depending on whether they need to land "hot" and keep running for a quick swoop to board a patient or whether they can shut down — requires more vigilance for those on the ground to protect themselves and patients as they wrestle with equipment and gurneys.
Often, the rescuers don't know the names of those injured, Hovey said, adding, "You start calling these people souls. When you first start, it seems odd, but then you think, 'Oh, that's what it is.'"
Name unknown, she was 'PSI 82'
Still an unknown entity upon arrival at Gundersen, Silverman became known "PSI 82," until her identity could be determined.
While the flight of a medical helicopter may seem smooth and enviable to those of us peering up and squinting against the sun — conditions are much different up there, Hovey said.
"Try 110 decibels of continuous noise, with pitching and rolling," he said, complicated with the uncertainty over whether the patient might become sick and vomit.
"Your partner makes or breaks you in the air, but you are two people with a shared goal," he said.
One slide of the presentation shows Silverman's fibula embedded in the car's fender — not merely denting the fender but impaling it. And not just a little chunk, but 10.5 centimeters of fibula.
Even though Silverman had seen the slide before, she said, "How in the HELL did that happen? I'd like to see it in slow motion, just to understand how that happened."
Of course, she doesn't know because she can't remember anything about the crash or much of her initial weeks out of months in the hospital and rehabilitation.
"I don't remember anything," Silverman said, adding, "I think that was God's way of protecting me, that I don't know everything I went through.
"But he remembers everything," she said, motioning to Gordon.
"I wish I didn't," he said.
Since Gordon had been flown to Mayo in Rochester and Silverman to Gundersen, and their lengthy periods of recuperation, it was nearly three months before they saw each other.
The first time Ashbach and Hovey visited Silverman in the hospital, Ashbach said, "Hi, I'm Mike and this is Tony."
Her response: "Hi, I'm Mike and this is Tony," because she had virtually no memory at the time and was in a phase of parroting back whatever people said to her.
Another slide carries the title of "What Wasn't Broken" and lists spirit, hope, will and faith.
That slide dovetails well with another slide, titled "Broken body but not broken spirit," as she was being put into the ambulance and signaling the camera with two birds — one on each hand.
Daughter: 'I wanted to tell her to fight'
The presentation also includes messages that friends and relatives submitted for inclusion, parts of which include:
From her daughter, Hanna: "I wanted to tell her to fight because I wouldn't be able to do without her. … My mom is the most amazing person I know, and I am so blessed to have her. She beat all odds and continues to amaze me."
Another person: "I always tell Amy that Phil (Amy's Father in heaven) said, 'NOT TODAY.'"
Gordon: "I looked at my feet and I saw Amy. I tried to get up, but I couldn't." Acknowledging being more spiritual since the crash, he also wrote, "everything happens for a reason, but I don't know the reason for this yet. … Amy and I are fortunate to have been placed in the hands of many people who had a part" in saving their lives.
Silverman, for her part, has written to Hovey's daughter Maizie, saying, "Your dad saved my life, and he is my true hero."
Silverman and Gordon, who had met a year before the crash and began living together just a month before, haven't been on a motorcycle and don't plan to again.
"We miss it, though," said Gordon, the father of a son and a daughter.
Silverman agreed, acknowledging that it had been his lifestyle for 36 years.
On the other hand, Silverman said her late father "would have frickin' killed us — he hated motorcycles."
In their amputee support group of about 25 people, Silverman said, about seven or eight had lost their limbs in motorcycle accidents.
The couple — Silverman generally uses two crutches to walk and Gordon, a cane — credit the support of family and friends for their ability to persevere.
Amy Vesely, one of those friends who accompanied them to La Crosse from Chicago, said, "I never heard her complain."
At the same time, Vesely said, there were times when she wondered whether her old friend would be back psychologically.
"I realized she was back on the day she realized she didn't have her leg," when Silverman pondered that only a short time before saying that was something she had to live with, Vesely said.
Three bone grafts, maybe more
Silverman has had three bone graft operations — two, using her own bones and the third, from a donor — to strengthen her fibula and may have to endure more.
She was able to recover from the traumatic brain injury without surgery. The same was true with her facial fractures, with recovery aided by using just a soft diet with little chewing, and no scarring.
Asked how they could remain so upbeat, Gordon said, "We never sat down and said, 'What do we do now?' We realize how miraculous this is.
"Every once in a while, you get angry, but get right out of it," he said.
"I don't see any other option," Silverman said. "I am grateful, and I want to live my life."
Silverman and Gordon said they are willing to share their stories because they believe they will help others who encounter misfortune and, in helping train responders, they may help save lives.
Amid several emails Silverman and Hovey have exchanged, Silverman found this message from him especially meaningful: "I truly believe that our legacy is not what we leave behind but what we inspire others to do and continue doing after we are gone."
Silverman's reaction: "I love it. I love it. That's really true."
In their cycling days, Silverman had grown tired of enjoying scenery that Gordon was not able to because he was driving. To ensure that he would be able enjoy the trips as much as she did, she began shooting videos with her cellphone for them to watch together.
One, which she found in her cellphone during recovery and titled, "10 minutes before the crash," actually was cut much closer.
Hovey was able to approximate the spot where she shot the video, and where the crash occurred.
It was a scant 11 seconds before a cataclysmic event imposed a monumental shift on their lives.
"I thank God every day for taking my leg and not my life. When it's late at night, and I realized I haven't thanked God, I do it then." Amy Silverman