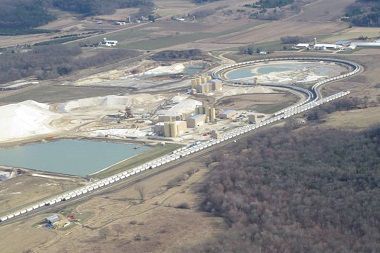 A judge has delayed ruling on whether Jackson County landowners can stop a proposed frac sand operation on the grounds it would be a nuisance.
Terracor Resources received conditional-use permits for a combined mine, processing and loading facility on about 945 acres between Black River Falls and Alma Center that could produce about 3 million tons of sand a year. The Canadian company has since been purchased out of bankruptcy by OmniTRAX, a Colorado shipping logistics firm.
Three families sued to block the project, which has yet to break ground or to receive state and federal permits to fill wetlands under the proposed rail terminal.
"It's going to be noise, it's going to be light, silica dust," said Tom Lister, the attorney representing the plaintiffs.
At issue is whether Wisconsin law allows plaintiffs to claim an anticipatory nuisance — that is, to argue a proposed activity would infringe on their rights to peacefully enjoy their land based on other similar activities.
"It just seems fundamentally completely unfair for you to be addressing this issue based on facts that have no certainty," said attorney Ron White, who is representing OmniTRAX in the case.
The same families have also sought to overturn the local permits.
Supervisors in the town of Adams agreed they violated open meeting laws and based their decision to grant a zoning change on misleading information, and a supervisor in Alma has been also charged with misconduct in office over allegations he voted to grant a license to a mining company that had agreed to lease his land. The county's district attorney has sought to void all the board's votes on mining since 2012.
Lister has argued conflicts of interest and procedural violations also invalidate actions by the county.
White said it makes no sense to argue the case in court when the mine owners have yet to secure state and federal permits, or even decide whether to go forward with the project.
"If it's not actually going to come to fruition why is the court spending time on it?" White said. "They'll get their day in court … why should they be able to do it now when we've gone through all that permitting. What company would possibly be able to conduct business if they can be shut down before they even begin?"
White said the case should be dismissed, and plaintiffs allowed to re-file once construction has begun.
Lister said at that point it would be too late for his clients, who have spent tens of thousands of dollars thus far on their case, to stop the mine.
"In the meantime they're going to create this mine," he said. "It doesn't take six years. It can be done from spring to fall."
La Crosse County Circuit Judge Scott Horne postponed ruling on whether to allow the case to proceed until July.
Horne is scheduled to hear arguments later this week on a similar claim against AllEnergy Sands, which has proposed a 750-acre mine and processing operation in the town of Hixton.
"It just seems fundamentally completely unfair for you to be addressing this issue based on facts that have no certainty." Attorney Ron White
"It just seems fundamentally completely unfair for you to be addressing this issue based on facts that have no certainty."

Attorney Ron White