'I thought I was dead'
Authorities release video of Houston County shootout, chase; investigation finds officers fired in self-defense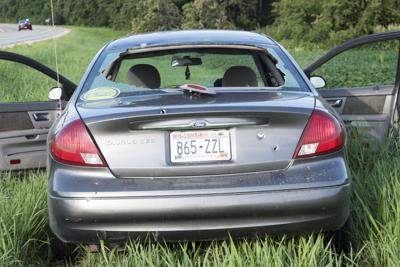 As La Crescent Police Officer Ryan Quanrud walked up to the idling car, saying "Hey, how's it going?" he noticed the shotgun barrel pointing out the window. A split second later the gun fired, sending a slug whizzing past his head.
The muzzle blast is visible in video captured by his squad car's dash cam.
"I thought I was dead," Quanrud later told state investigators. "I honestly thought I was gonna get shot right in the head."
Quanrud and another officer emptied their guns into the back of the Ford Taurus before the driver fled at speeds of up to 100 mph while his passenger fired at the pursuing squad cars.
Video and other evidence from the July 31 shootout and chase through Houston County was released this week by the Minnesota Bureau of Criminal Apprehension after Winona County Attorney Karin Sonneman determined the officers were justified in their use of force.
Quanrud, who has been a police officer for about six years, joined the La Crescent department in 2015. Frick has been licensed for eight years and with the department for the about four. Both returned to duty in September.

The suspects, Wyatt Helfrich, 20, and William Wallraff, 19, both are charged with attempted murder and remain in the Houston County jail on high cash bonds. Neither man's attorneys responded to messages Friday.
Helfrich is scheduled to appear in court Tuesday for an evidentiary hearing.
The videos, along with audio files and hundreds of pages of reports from the BCA investigation provide a detailed account of the events:
Disenchanted with their lives, the teens had earlier decided to leave town, according to interviews with investigators. Helfrich, who was on house arrest for drug charges, cut off his electronic monitoring bracelet at his grandmother's home in La Crosse, and they grabbed some clothes and guns from Wallraff's camper in Trempealeau County. Their destination was either Colorado or Texas.
They drove to Winona and were headed south when they stopped at a La Crescent Kwik Trip, where they drew notice of Quanrud and fellow officer Chris Frick, who pulled them over just south of town.
Wallraff said Helfrich was afraid he'd go to prison if caught and told him when they were stopped to load the guns, according to his statement; Helfrich then asked, "Are you ready for this?"
Helfrich told state investigators the gun went off accidentally, though he later said he was trying to "scare" the officer in hopes of getting away.
Quanrud retreated and began firing into the car, hitting Helfrich twice in the neck. Frick, who had just arrived on the scene, also returned fire before getting back in his car.
According to interviews, Helfrich drove, holding some clothing against his wounds to stanch the bleeding, while Walfraff fired his rifle out the shattered rear window at the officers behind them.
Frick's dash camera captured the sound of gunfire and thuds as 308 rounds struck his squad car. Investigators found evidence of two bullets in the Dodge Charger and another in a car parked along the highway in Hokah.
The chase ended after stop sticks shredded the tires and Helfrich drove off the road. The pair grabbed the guns and fled into a farm field before Wallraff suggested they give themselves up.
"I was like yeah," Helfrich told investigators. "Shoulda done that in the first place."
Helfrich was taken to Gundersen Medical Center, where he was treated and released. Sitting in the back of a police car, Wallraff asked what had happened to Helfrich and "the cop that first pulled us over."
"It sounds like everybody's OK," Caledonia Officer Nathan Pearson replied.
Wallraff, who had no prior criminal record, then asked if he was going to prison.
Pearson told him he'd be talking to investigators.
"Is it true about prison?" Wallraff asked.
"That guys get raped and stuff?"
"I don't know, man," Pearson replied. "I've never been there."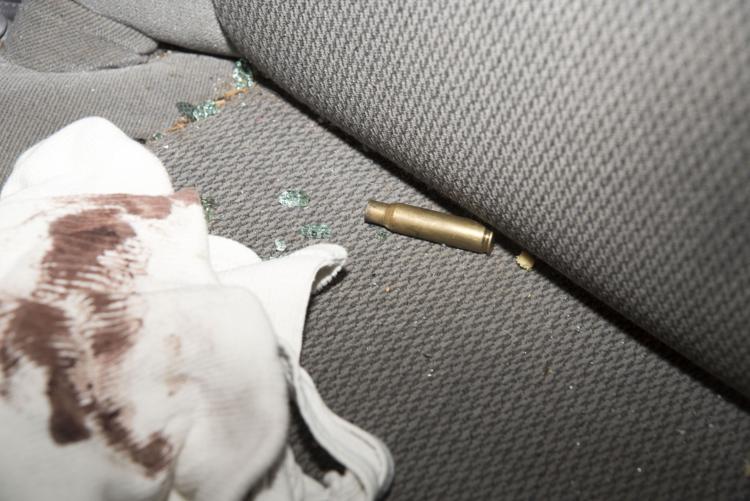 Though Helfrich was charged in May with possession of methamphetamine, both defendants told investigators they were sober the night of the shooting.
In an hourlong interview with BCA agents the following day, Helfrich insisted he was trying to move the shotgun into the back seat when it went off accidentally, and he blamed the incident on "corrupt" police who had no reason to stop him.
Wallraff was more contrite, telling the investigators he had no animosity toward police.
"I kinda got sss-sucked into it as soon as he made that first shot," Wallraff said. "We were talking about going hells blazing if we have to like get pulled over or something like that. I don't know why. I think I thought we were joking around. But same time I knew we weren't."