A La Crosse man was in court Friday after he was accused of using a stun gun on a bartender while trying to rob Dewey's Side Street Saloon on the North Side.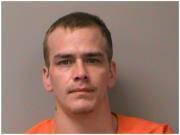 Chad M. Downs, 28, was charged in La Crosse County Circuit Court with attempted armed robbery, possession of an electric weapon, two counts of felony bail jumping and battery using a dangerous weapon, all as a repeat offender.
According to the criminal complaint, a woman went to the bar at 621 Saint Paul St. in La Crosse just before 12:30 a.m. Thursday, claiming that she left her ID in the bathroom. The bartender, who was in the process of closing up, answered the door and denied the woman entry.
While they were talking, Downs came up and deployed a stun gun at the bartender, according to the complaint. The bartender was able to get out her pepper spray and spray it at Downs, and he fled along with the woman.
Police were able to locate the woman, who gave her first name to the bartender, and the woman identified Downs as the attempted robber, according to the complaint. Downs was arrested late Thursday morning without incident.
Judge Todd Bjerke ordered Downs be held on a $20,000 cash bond with conditions that he not operate a vehicle, not contact any bars or taverns and have no weapons of any kind, including a pocket knife.
If released, Downs will also need to submit to drug testing and GPS monitoring with Justice Support Services and have no contact with the Dewey's, the bar's owner or the bartender he used the stun gun on.
Sign up for our Crime & Courts newsletter
Get the latest in local public safety news with this weekly email.