A Sparta man was charged Tuesday after threatening to shoot individuals while armed during a June 28 incident outside a bar.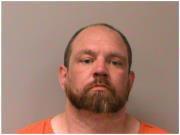 Jeremy Schroppel, 39, of Sparta appeared in La Crosse County Circuit Court on charges of possession of firearm by a felon and disorderly conduct-use of a dangerous weapon.
According to the criminal complaint, police were called at 10:51 p.m. June 28 to Bottoms Up on Copeland Avenue regarding reports of a male with a gun.
Officers were told Schroppel had been standing outside the bar, arguing with people in the neighboring apartment complex, and threatening to shoot people while brandishing a gun. Schroppel then fled in a truck with a female driver, according to the complaint.
A witness told officers Schroppel appeared to be giving another man $11 for drugs before the two walked to the railroad tracks. When they returned Schroppel told the man "If you run with my money, I will hunt you down," according to the complaint. Schroppel then talked to the driver of the truck, the witness said, and pulled out a gun. Another witness stated Schroppel said "Get the (expletive) out here right now" while holding the gun, according to the complaint.
Officers located the truck in which Schroppel was a passenger and pulled it over near Rose and Moore streets. Schroppel told officers he engaged in an argument with a man about $5 he was owed and a bike placed in the truck bed, but left without further incident.
Upon a search of the truck, officers located a 12 gauge shotgun with no rounds in the chamber, nor any bullets stored in the vehicle. After being questioned about the gun, Schroppel stated it was an antique and not in working order, and he was restoring it for a relative, according to the complaint.
After being placed under arrest, police located an unspent 12 gauge shotgun round in Schroppel's pants pocket.
Per the complaint, Schroppel has outstanding warrants in Illinois, "several of which have cautions of (Schroppel) being armed and dangerous." Schroppel is being held on $5,000 cash bond in La Crosse County Jail.