A judge Tuesday sentenced a La Crosse felon convicted in a drive-by shooting to 7½ years in prison.
Jeremy Rigelsky, 28, will begin serving the sentence in 2025 after he finishes prison terms imposed on prior cases.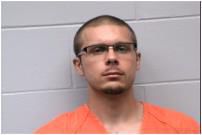 "The dangerousness of Mr. Rigelsky has not gone down in the last decade," La Crosse County Circuit Judge Gloria Doyle said. "I see very little chance, at this point in his life, of rehabilitation."
On Sept. 7, 2016, less than three months after his release from prison, Rigelsky at close range fired three shots into the passenger side of a car while driving south on the 800 block of Copeland Avenue in a stolen car, according to court records. One shot struck a backseat passenger in the thigh.
Days earlier, he threatened to kill a woman at gunpoint after they drove to near the Seventh Street boat landing and confronted three people walking on Mormon Coulee Road, showing a gun tucked in his waistband.
Rigelsky pleaded no contest to two reduced charges of first-degree recklessly endangering safety and being a felon in possession of a firearm as a repeat offender, while 11 other charges — including pointing a firearm at another — were dismissed but considered at sentencing.
Rigelsky served four prison terms in 10 years, including 3½ years for stabbing a fellow Logan High School student seven times with a paring knife in a school stairwell in October 2005.
"He hasn't really been out of prison for most of his adult life," assistant district attorney John Kellis said.
At the time of the shooting, Rigelsky was serving five years on probation for stealing drawings and a notepad in 2005 from the French Island home of Philip Schuth. He is serving a four-year prison sentence on that case imposed after his probation was revoked.
Prosecutors argued for a 10-year prison sentence, citing the seriousness of the charges and his criminal history, while his attorney asked for a lesser prison sentence. Defense attorney John Smerlinski said the shooting was in retaliation for a drug debt.
"I don't believe his intent was to kill anybody," he said.
Rigelsky, who receives credit for 391 days served, apologized to the victims during his short statement to the court.
"I hope they are recovering," he said.