A La Crosse man was arrested Tuesday afternoon with a blood alcohol concentration of nearly .5% after police say he threw a woman down and refused to let her leave.
Christopher R. Spande, 44, La Crosse, was charged in La Crosse County Circuit Court with threat to law enforcement officer, battery and disorderly conduct.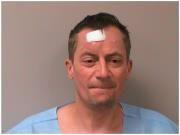 La Crosse police responded to a domestic incident at 4:46 p.m. Tuesday to find Spande lying on the floor, according to the complaint. The victim told police she got home from work at 4 p.m. to find Spande sleeping and intoxicated, so she began gathering her things to leave.
According to the complaint, while the woman tried to get her belongings together, Spande got up and pushed her to the ground twice, telling her he wasn't allowing her to leave and saying, "I'm gonna abuse you now."
The woman was able to duck under his arms and get space between them, then called Spande's family members to intervene, according to the complaint.
Police called an ambulance to assess Spande's condition, then took him to Gundersen Health System for evaluation. According to the report, Spande threatened to punch a police officer and kill a staff member at the hospital.
A blood alcohol test came back with a result of .496, which is more than six times the legal limit in Wisconsin. He remained at the hospital until he was medically cleared.
Judge Todd Bjerke ordered Spande released on a signature bond with the condition that he have no alcohol and work with Justice Support Services to maintain his sobriety.
"Most people are dead at that level, so you need to work on your drinking," Bjerke said.