A La Crosse man charged with ambushing and attempting to sexually assault a woman walking home is suspected in nine other incidents that include stalking and trying to grope a woman.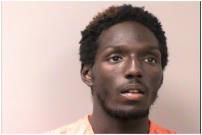 Raekwon Tillman, 21, followed a woman from downtown about 2 a.m. Sept. 8 before tackling and strangling her while trying to sexually assault her in a yard near 13th and State streets, according to the complaint filed in La Crosse County Circuit Court. She fought back with keys laced between her knuckles before a passerby responded to her screams for help and Tillman fled.
A day earlier, he exposed himself to a Western Technical College student at the college's Coleman Center, the complaint stated.
Tillman was charged Friday with attempted second-degree sexual assault, strangulation, felony intimidation of a victim, lewd and lascivious behavior and disorderly conduct.
Prosecutors also are expected to charge Tillman in an incident early May 28, during which he is accused of wrapping his arms around two women and pushed himself against them while they were walking home near 14th and State streets.
Police suspect Tillman is involved in nine incidents between Aug. 1 and Sept. 8 that include reports that he tried to grope a woman on the La Crosse River Marsh trails, followed women to their Viterbo University dorm rooms and followed students around WTC's campus, according to the complaint.
Tillman, who remains jailed on a $50,000 cash bond, is barred from the Viterbo University, University of Wisconsin-La Crosse or Western Technical College campuses.