Prosecutors Friday charged a 61-year-old La Crosse man accused of planning to meet someone he thought was a 15-year-old boy.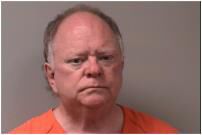 William Ross showed for a meeting Thursday in the town of Campbell after a La Crosse police investigator posing as the teen replied to his Craigslist ad seeking sex, according to the complaint filed in La Crosse County Circuit Court.
The two engaged in an sexually explicit conversation after the investigator said he was a minor, according to the complaint. Police arrested Ross near the Interstate 90 rest stop.
Ross told investigators he planned on "just talking" with the teen.
"You know, there's nothing wrong with just meeting the person," he told police, according to the complaint.
Ross did not allow police to search his phone because it contained "private stuff," including pictures of his son and grandchildren, according to the complaint.
Ross is charged with use of a computer to facilitate a child sex crime and attempted sexual assault of a child younger than 16. He is free on a signature bond.