Christopher Cleaves turned a child into a mother.
He met her early Aug. 14, 2015, outside a gas station.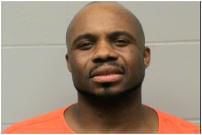 He groped her behind a dumpster and, during the next two days, sexually assaulted her at least three times at the Affordable Inn along Monitor Street.
La Crosse County Circuit Judge Elliott Levine sentenced Cleaves to 12 years in prison and eight years on extended supervision after finding him guilty of three counts of second-degree sexual assault of a child younger than 16 during a March 2 court trial.
"I think you saw an opportunity that night, and you took it," Levine said.
Assistant District Attorney Noel Lawrence asked Cleaves spend 20 years imprisoned, arguing impregnating a runaway teen compounded his crime.
"She was about as vulnerable as could be," she said. "She had nowhere to go."
Cleaves subjected the victim to a trial the day after she took her ACT and continued delays in the legal process. The victim, who did not make a statement during the hearing, is enrolled in school, employed and raising a child who won't know her biological father, Lawrence said.
Cleaves, who has convictions for armed robbery, escape, possession of a firearm by a felon and other crimes, refuses to accept responsibility for his conduct and shifts blame to the victim, Lawrence said.
"There is one person and one person alone who is responsible for having sex with a minor and that is Mr. Cleaves," she said.
It's unfair to portray Cleaves as a predator prowling for minors, defense attorney Shirlene Perrin said. She asked the court consider that the victim, who had "relationships with men before" was roaming the streets at 2 a.m. and did not take emergency contraception after her encounter with Cleaves.
"She wasn't a 15-year-old who was sitting in a library when Mr. Cleaves approached her," Perrin said. "She also made choices."
Perrin asked the judge impose a stayed prison term, arguing Cleaves is undeserving of the potential harsh sentence the convictions carry.
"There's no evidence he will do it again," she said.
Cleaves apologized to the victim, although he said he never told the teen she couldn't leave the motel. He asked for mercy, arguing that a prison term would undo the progress he has made in re-entry programs.
"I'm so remorseful for it. How could I not be?" he said. "But I don't want to give my life up and just go to prison."