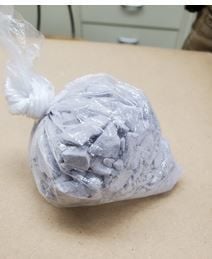 To the casual observer, 111 grams of fentanyl doesn't look like much. The drug appears as a clump of gray powder in a small plastic bag.
But La Crosse Police Capt. Jason Melby says there is much more to the bag than meets the eye.
"When it's sold by the tenth of a gram, it's clear that's a lot of doses," Melby said.
The prevalence of fentanyl is a worrisome trend to law enforcement and health professionals in the area. More than 140 grams with a street value of $28,000 were seized during two recent La Crosse County drug busts, and Melby said local law enforcement is seeing more and more of the drug.
"We've had experience with fentanyl all the way back to 10 years ago, but we didn't see its prevalence as an everyday drug on the street until a year or two ago," he said.
Melby described fentanyl as a stronger form of heroin that's attractive to established users looking for an elevated high.
"It's highly dangerous and easily overdosed on," he said.
Unlike heroin, fentanyl is a synthetic opioid. Legal fentanyl is 50 to 100 times more potent than morphine and is used to treat severe pain. It's often prescribed to patients with advanced forms of cancer.
Most overdose cases stem from illegally manufactured fentanyl, which is more profitable on the street than heroin due to its concentrated form.
"Fentanyl is incredibly potent — it's 100% more potent than heroin," said Dr. Chris Eberlein, medical director for Tri-State Ambulance and a Gundersen Health System emergency services physician.
The drug is often cut with heroin or cocaine — sometimes without the user's knowledge.
"They don't know the concentration of drugs they're getting," Eberlein said. "It could be the same as heroin, or it could be 100 times as potent."
Nationwide, according to the federal Centers for Disease Control, 31,000 people died from deaths involving synthetic opioids in 2018, a 10% increase from the previous year.
The drug could be factoring into an increase in local overdose deaths. Eberlein said after a multi-year decline, fatal overdoses in La Crosse County this year have already exceeded the 2019 total.
He said other factors are at work, including social isolation from the COVID-19 pandemic, economic stress and addicts cancelling mental-health appointments. He stressed that resources exist for addicts to turn their lives around.
"The way out is reaching out for help," he said. "We have help for people who are addicted."
Melby said getting 140 grams of fentanyl off the street has made a significant difference. The week before the drug bust, La Crosse police responded to seven overdose calls, five of which were fatal. In the week after, there has been just one overdose, and that was non-fatal.
"That's why these arrests and seizures are so vital to our community," Melby said. "We really believe these seizures have saved lives."
Sign up for our Crime & Courts newsletter
Get the latest in local public safety news with this weekly email.