A judge Thursday sentenced an Onalaska woman shot while burglarizing a business in the town of Holland to 4½ years in prison.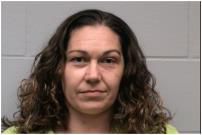 Amy Zielke, 37, will serve the sentence alongside prison terms imposed in four other burglary cases in La Crosse and Trempealeau counties. She also will serve four years on extended supervision.
Zielke was on probation for burglary on Oct. 10 when the owner of Gibbons Auto Service in the town of Holland shot her in the leg while she was burglarizing the business.
She was treated for the gunshot wound at Gundersen Health System.
"She's very lucky she wasn't killed," La Crosse County Deputy District Attorney Jessica Skemp said. "That's something the owner won't recover from. To make that decision to pull the trigger."
Zielke pleaded guilty to burglary. A charge of concealing stolen property was dismissed but considered by the court at sentencing.
Prosecutors in early 2016 charged Zielke with trying to break into Kratt Lumber on Nov. 24 and burglarizing a Holmen car wash of cash and electronics on Dec. 18 for drug money while on bond for burglary in Trempealeau County.
She was charged in another case with breaking into Fiesta Mexicana, 5200 Mormon Coulee Road, on April 12, 2016, and fleeing police while on bond.
La Crosse County Circuit Judge Elliott Levine on June 22 placed Zielke on concurrent terms of five years on probation and ordered her to complete drug court after she pleaded guilty to two burglary charges. She also was sentenced to four years on probation in Trempealeau County for burglary.
Zielke's probation was revoked in three La Crosse and Trempealeau county cases. She is serving concurrent four-year prison terms.
Skemp asked Zielke serve no more than four extra years in prison for her most recent case, while her defense attorney argued she serve four years concurrent to her other cases.
Zielke told the judge she understands the impact of her crime on the victim and, now sober, recognizes the magnitude of her decisions.
"I'm not a monster," she said. "I had a bad addiction problem."
Zielke said she aims to contribute to society and to become a better mother to her four children.
"I want it to be known that I've come a long way since Oct. 10," she said. "That day was life changing for me. I realized I could be dead, either from that gunshot or from the drugs."
Describing burglary as a "property crime" diminishes the impact it has on victims, Circuit Judge Scott Horne said. In this case, he said, there was an invasion of personal property and an intrusion on the family's sense of security.
"There's no doubt you suffer from drug addiction," Horne told Zielke, "but that doesn't excuse criminal behavior."