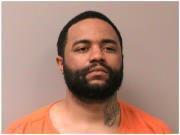 A La Crosse man was charged Thursday on 13 counts after abusing a woman, taking her dog and fleeing police.
Dominique Boyland, 31, was charged with possession with intent to deliver heroin; theft of movable property; resisting an officer; three counts of disorderly conduct/domestic abuse; three counts of misdemeanor bail jumping/new crime; false imprisonment/domestic abuse; two counts of criminal damage to property/domestic abuse; and misdemeanor battery/domestic abuse.
According to the criminal complaint, Boyland pushed and kicked a woman April 9, and later when she tried to drive away in her car, grabbed a window.
When the car stopped after a few blocks, Boyland took the keys, put dirt in the fuel tank and shortly after shoved the victim. Boyland broke two car windows and drove off, leaving the victim at a park.
On April 11, Boyland blocked the same victim from leaving a hotel room and smashed and broke her phone. The victim told police Boyland had destroyed up to a dozen of her phones in the past two months, and stated "she does believe that at some point he is going to kill her."
On April 14, the victim reported Boyland had taken her dog and threatened to kill it if she didn't go with him. She also told police she had recently gotten another dog, which Boyland had previously kicked and thrown at a wall.
Boyland later called the victim to say he had thrown her dog in a trash can, according to the complaint, and would not give her its location unless she gave him access to her phone's "cloud."
A relative of the victim told police she had seen Boyland become physical in the past and suspected Boyland was responsible for a previous fire at the victim's apartment and that he had threatened to set fire to the victim's parents' garage.
Officers located Boyland at a hotel April 14 before he fled on foot. After officers detained Boyland, they found $315 in cash and a digital scale with residue on his person. A baggie of drugs believed to be dropped by Boyland was discovered. The baggie, weighing 22.2 grams, was found to contain heroin and possibly fentanyl.
UPDATE: Police report a community tip led to the safe return of the dog.
Boyland was given $10,000 cash bond by Judge Gloria Doyle.