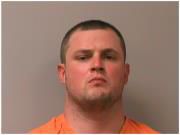 A Spring Grove, Minnesota, man is being held on first-degree intentional homicide charges in connection with an overnight shooting in downtown La Crosse.
Timothy Neal Young, 31, is being held without bond in La Crosse County Jail accused with shooting an individual at the former Twisted Moose Bar, now La Crosse Bierhaus, early Saturday.
At 12:47 a.m., the La Crosse Police Department responded to an incident at 128 Third St. S. and found an individual suffering from a gunshot wound.
Young fled the scene before being apprehended by police a short time later and taken into custody.
The victim was transported to a local hospital and is currently on life support.
While police stated no further details about the victim are being released at this time, neighbors of the victim said they were in shock, calling the victim, a 2019 Central High School graduate and La Crosse resident "the sweetest kid" and noting he helped with yard work and volunteered.
La Crosse Bierhaus, in a Facebook post late Saturday morning, stated, "Due to the tragic events which occurred in downtown La Crosse last night, La Crosse Bierhaus will be closed this weekend. Pending a police investigation we can not comment further at this time except to ask that you please keep the family of the victim in your thoughts and prayers."
The investigation is active and ongoing, and anyone with information on the case is asked to contact the La Crosse Police Department at 608-782-7575.
Tips can anonymously be provided to the La Crosse Area Crime Stoppers at 608-7849 TIPS (8477) or online at www.lacrossecrimestoppers.com. Individuals can also download the Crime Stoppers App "P3" to submit a tip via mobile phone.
In late May, Young was briefly reported missing by his father. The Spring Grove Fire Department, which named him as a firefighter with their team, asked for assistance in locating Young, who was reported safe about a week later.